Core Workouts From the World's Fittest Man
By Joe Decker | For Active.com
In these videos, renowned fitness trainer Joe Decker shows you the best core workouts he knows to get your mid-section strong, powerful and looking its best.
Joe Decker
Joe Decker is an ultra-endurance power athlete and renowned fitness trainer who hashelped thousands of people get into shape. He has completed many of theworld's toughest endurance events, including the Badwater 135, and theGrand Slam of UltraRunning. In 2000, Joe broke the Guinness WorldRecords? Twenty-four-hour Physical Fitness Challenge to help inspireand motivate people to get fit. He is recognized as "The World'sFittest Man." Visit his website at www.gutcheckfitness.com. You can also sign up for a customized strength training plan by Joe on Active Trainer.
Fitness Tips, Training & Advice
4 Things You Should Know
About Your Metabolism
Get the facts on your metabolism and learn how to burn more calories and fat.
Read More
SAVE UP TO $10

on events
PLUS EXCLUSIVE ACCESS TO THESE BENEFITS…
NO REGISTRATION PROCESSING FEES

on over 26,000 events on ACTIVE.com

EVENT COUPONS & FREE ENTRIES

for events across the country

FREE CUSTOM TRAINING PLANS

for running, cycling, strength training & more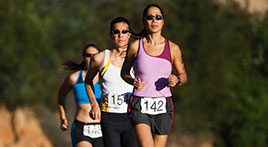 How do I save money on events?
Join ACTIVE Advantage
Save up to $10 in processing fees on every ACTIVE.com event registration
Look for this tag

to identify events with an ACTIVE Advantage discount coupon
"I took a look at Active Advantage and simple math won me over. I've already made back the cost of the membership in savings."
- LeeAnn L.
&nbsp
JOIN ACTIVE TO SAVE AND SHARE YOUR ACTIVITIES.