July 03, 2021
Colour 5K Norwich 2021
Hoveton Hall • Hoveton

Norwich

,

Norfolk

,

United Kingdom

NR12 8RJ
Organized by Inspire Races Events
Colour5k is one of the craziest fun runs you will ever experience and great to do with friends, family or colleagues. The aim is to have a good time: You can run, walk or stroll at your pace - speed is not a priority, colour is…..
Every kilometre there is a colour zone that runners pass through. Here, willing helpers known as the Colour Bandits shower you and your white t-shirt with our special 100% safe colour powder, with each colour zone having a specific colour. As you go, the colours build, until by the end of the course you have become a masterpiece.
Event details and schedule
Norwich Colour5k Information Document
Saturday July 3rd at Hoveton Hall Estate
Thank you for signing up the Norwich Colour5k, we look forward to seeing your true colours!
Run Details:
Location – Hoveton Hall Estate, Hoveton, Norwich NR12 8RJ
Car Park will be clearly marked please follow marshal instructions
Run Start Time: 12:00pm Kids 1km Fun Run
12:15pm 5km Fun Run
Only runners, Colour Bandits and Race officials may enter The Colour Zones
Minors must be accompanied by an adult 18+
Refreshments – there will be an assortment of hot and cold food stalls
Test your skills on a rodeo bull.
Music
There will be medical team onsite
Toilets
At the Event Photos
Photos of you and your friends will be available to view and tag on facebook.com/colour5k. If you're planning to tweet your colourful selves, please use #Colour5k
Registration:
Registration Tent opens at 10:00am, best to arrive early to avoid the queues.
Runners- Please go to registration to collect your COLOUR5K T-Shirt
Colour Bandits –Please go to registration to collect your COLOUR5K T-Shirt
10:00 am Registration Opens
11:30am Colour Bandit Briefing
11:40 Children's Race Briefing
11:40 Children's Colour Bandits to Positions
11:45 Children's Warm Up with Mr Dod
12:00am Colour Bandits in Position
12:00 Children's Run Starts
12:05 5km Race Briefing
12: 10 5km Warm Up with Mr Dod
12:15 5km Run Starts
1:30pm Colour Extravaganzas at the finish line
The Kids fun run is a 1K Loop with three colour zones
5Km course is a set around the beautiful Hoveton Hall grounds
Pass through 5 Colour Zones and collect 5 Colours
There will be a water station on the course and at the finish line
There are 5 colour zones which represent each KM you run. Each zone has Colour Bandits ready to cover you in colour. If you wish to avoid the colour stay to the centre of the zone.

o

1KM – RED ZONE 1
o

2KM – ORANGE ZONE 2
o

3KM – GREEN ZONE 3
o

4KM – BLUE ZONE 4
o

5KM – PURPLE ZONE 5 – This is also the finish line
Collect your medal, bottle of water and cup of colour.
There will be one colour extravaganza at the end of the race.

o

You will be given a free cup of Colour at the finish line and the Event Announcer will count you down 3, 2, 1. Creating a massive plume of COLOUR!
YOUR FREE WHITE COLOUR5K T-SHIRT (Which you collect on race day)
Arrive in your normal running kit. There are NO changing facilities
Bring a clean t-shirt and jumper.
Event Schedule The Course Colour Zones Finish Line Colour Extravaganza What to wear
If you have any further questions, please contact us at hello@colour5k.co.uk
We look forward to see your true colours!
Hoveton Hall
Hoveton
Norwich
,
Norfolk
,
United Kingdom
NR12 8RJ
Media
3 Photos and Videos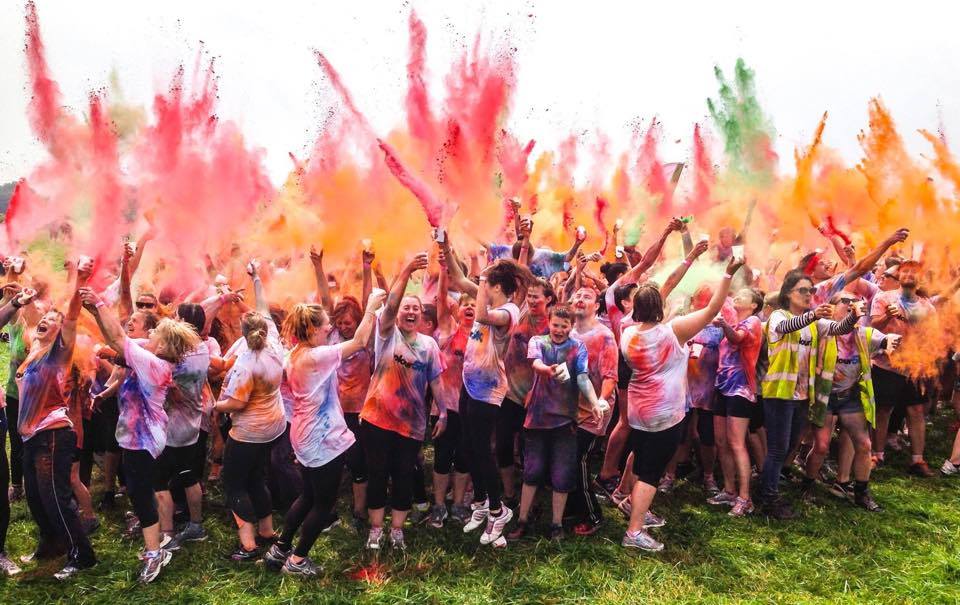 More events from this organizer