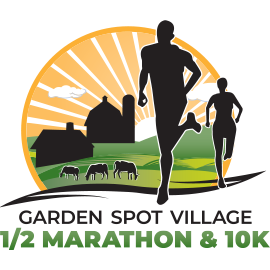 March 26 - 27, 2021
2021 Garden Spot Village Half Marathon & 10k
Garden Spot Village • 433 S Kinzer Avenue

New Holland

,

PA

17557
Organized by

Garden Spot Village
The Garden Spot Village Half Marathon and 10K is a race unlike any other. Taking place in the heart of Pennsylvania Dutch Country, the Garden Spot Village Half Marathon offers runners an opportunity to run through the beautiful Amish farmlands of Pennsylvania.
This is a run for everyone whether you are a beginner, experienced, leisure or competitive runner. There is plenty of space available for family, friends and spectators. Don't miss this exciting time!
Event details and schedule
Frequently Asked Questions
What is the Garden Spot Village 1/2 Marathon and 10K?
These are some of the best races in Pennsylvania! The Garden Spot Village 1/2 Marathon and 10K are competitive races through the farmlands of Lancaster County, Pennsylvania.
When and where is the Garden Spot Village 1/2 Marathon and 10K?
The Garden Spot Village 1/2 Marathon and 10K is Saturday, March 27, 2021 at 8am. It's held at the Garden Spot Village campus at 433 S Kinzer Ave, New Holland, PA 17557.
Is there a virtual event this year?
Yes, we will offer the virtual option, and if we are not able to hold the in-person event, all registrations will be transferred to the virtual.
How does the virtual race work?
Run your own race (either the 10K or the Half Marathon) on the course of your choice between 8am on Friday, March 19 and midnight on Saturday, March 27. Upload your race results and photos at gsv.run/post-your-time by Sunday, March 28. Submit your information based on the honor system. (NOTE: Runners completing the virtual race option are not eligible for awards.) We will mail race swag bags including t-shirt, custom bib, finisher's medal, mask, sunglasses, and more, to you by the end of April.
What happened to the full marathon?
Garden Spot thought it best to focus on a 1/2 Marathon and add a 10K, as well as, continue to sponsor the Kids Run for several reasons. Unfortunately, fewer of us are running marathons and our marathon registrations have been dropping year-after-year. In addition, we were restricted to the 2nd weekend in April which is often too close to Boston, even to run the half as a taper. Finally, our USATF Certification expired. The main reason was the dwindling registrations. Because we moved the event to the first Saturday in April for 2019 we've already had feedback that Boston runners are signing up to run us as a taper.
Where should I park?
There will be plenty of space for parking. When you enter the campus, there will be volunteers to help direct you to parking locations.
What is Garden Spot Village 1/2 Marathon known for?
Many people say the Garden Spot Village ½ Marathon and 10k is one of the best organized races they have ever ran. It's Lancaster County, so we have rolling hills, amish farmland, and You can read runner testimonials here.
When can I pick up my Race Pack?
Race Packs can be picked up the day before the race starting at 2pm and on the morning of the race starting at 6:30am at the registration tent.
Can I pick up a Race Pack for a friend?
Yes, you are welcome to pick up a Race Pack and bib for a friend. Please be prepared to present identification.
Are walk-ins welcome?
This year, due to COVID-19 restrictions, we have capped our event attendance. We are NOT accepting walk up registrations.
Can I walk the 1/2 Marathon and 10K?
Yes! Walkers are welcome. Walkers will start at 8am. The finish line will remain open for 5 hours.
Will there be pacers for the 1/2 Marathon?
Because we will be starting our runners in waves this year to assist with social distancing, runners will self-seed in groups based on their estimated finish time. We will not have pacers this year.
Kids Run? What is that?
Garden Spot Village and the ELANCO Public Library have teamed up to promote healthy lifestyles for kids in kindergarten through 8th grade. The kids not only benefit from the activity and training but they get to experience the thrill of a race start and finish coming down the same finisher's shoot that the runners will use the following day with cheering crowds, medal and all. For more information, please visit Kids page.
Who is Garden Spot Village?
Founded on faith in 1990, Garden Spot Village is a licensed, non-profit provider of innovative housing and lifestyle services that enrich the lives of older adults as an expression of Christ's love.
Its flagship community, Garden Spot Village, opened its doors in 1996. A resort-style community for residents 55 and over, it provides a dynamic environment where individuals and couples can pursue purpose-filled lives. Located on a scenic 220-acre campus in New Holland, Pennsylvania, Garden Spot Village features award-winning architecture, exceptional amenities, more than 40 social clubs and an abundant schedule of activities.
Garden Spot also owns and operates Maple Farm, a household-model skilled care campus in Akron, Pennsylvania. In addition to its residential offerings, Garden Spot provides healthcare services on campus, and Garden Spot Village At Home personal care and companionship services to residents of Garden Spot Village and the greater New Holland community.
The organization embraces teamwork, excellence, service, stewardship, innovation and integrity. Garden Spot Village is affiliated with the Lancaster Mennonite Conference of the Mennonite Church, the Atlantic Coast Conference of Mennonite Church USA, Mennonite Health Services, LeadingAge PA, and LeadingAge.
I'm not from around here. Where can I stay and what is there to do?
Despite the rural atmosphere of New Holland and Lancaster County, we are actually located in a small yet thriving town that's only a short drive away from Lancaster city. There are several Bed & Breakfasts within walking distance, and the closest continental airport is less than 50 miles away. You can find more information on our travel page.
Where are the results from the previous marathons?
You can find all results and photos from past years on the past events page.
Is there a map I can print out of the course?
Yes. Our printable Runner's Map is located on our Course page.
Time Limit
There is a 5-hour time limit for the 13.1 mile 1/2 marathon and the 10K course.
Can I run while pushing a stroller?
Yes, but you do so at your own risk.
Can my dog run with me?
Service animals are the only animals allowed on the course.
I have a question!
You can ask us personally by calling us at 717.355.6000 or sending us a message on our contact page.
March 26 - 27, 2021
Friday, Saturday
Garden Spot Village
433 S Kinzer Avenue
New Holland
,
PA
17557
Media
1 Photos and Videos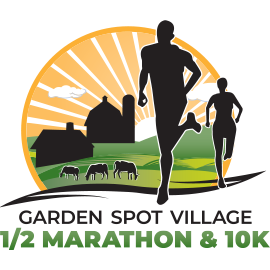 More events from this organizer