My name is Melissa Mayorgas and I'm just your average mom of two far-from-average boys. I want to share with you the story of how Team Muscle Makers has come to be and how YOU can make a muscle and make a difference!

In 2011, I made a resolution to train for and run a half marathon, not for anyone else's benefit but my own. In January of 2012, I completed my first half marathon. I was asked several times over the course of the race weekend which charity I was running for, and I didn't have an answer. This really laid heavy on my heart. Knowing that I wanted to continue running, why would I not run for a charity? I knew immediately that I needed to run for muscular dystrophy.

Some of you may know that my son, Parker, has a rare congenital muscle disease. This extremely rare form of Muscular Dystrophy is called Recessive Desmin Myofibrillar Myophathy. To date there are only a few other documented. It is considered a slowly progressive and life-limiting form of MD. This diagnosis came after nearly 10 years of misdiagnosis and with the help of his team at Rady and the NIH.

Parker was diagnosed with UCMD when he was just two years old. Our family pediatrician referred us to a muscle disease specialist after Parker's third visit to the doctor's office for unexplained falls. After a few appointments at the MDA funded muscle disease clinic, several blood tests and a muscle biopsy, Parker was officially diagnosed. Then, 10 years later, he received a corrected diagnosis of something even more rare. The Muscular Dystrophy Association and the muscle disease clinic at Rady Children's Hospital have been an important part of our family since Parker's diagnosis. We have been blessed to be among the recipients of MDA's support to families of children with muscular dystrophy, and have been treated by an amazing MDA-funded clinic at Rady Children's Hospital in San Diego. The decision for me to run for the muscular dystrophy was a no-brainer. The MDA helps provide treatment, durable medical equipment and support services for those affected by Muscular Dystrophy.
And then there is the reasearch! They are constantly researching treatment for muscle disease and I belive one day we will have a cure! Right now there is even a scientist at UCSD that is working on a specific experimental gene therapy for Parker.
Parker's disease continues to progress slowly, but we won't stop fighting. In 2019 he was diagnosed witth heart failure caused by his muscle disease. In 2020 he took a rapid decline and ended up in patient at Rady for three months in acute heart failure which led to the need for a VAD placement and finally a heart transplant on Halloween.

That's where Team Muscle Makers comes in - we will be participating in the 2023 Walt Disney World Marathon Weekend. Not only am I running, but I have a whole team of family and friends who love Parker and believe in the cause that will be running alongside me. We hope you'll be a part of our team, or contribute by making a donation.
Event details and schedule
January 04 - 08, 2023
Wednesday, Thursday, Friday, Saturday, Sunday
Walt Disney World Resort
3111 World Dr
Orlando
,
FL
32830
Media
2 Photos and Videos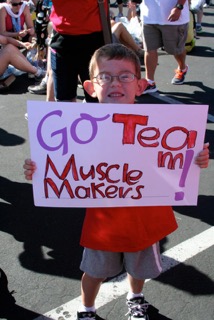 More events from this organizer