TriFactor's Bike & CycleRun is back after 5 years!

Featuring yet another unique multi-sport format, challenge yourself to a criterium-styled experience, speeding through the heart of Singapore on closed roads.

Choose from both Individual and Team options for the Bike-only race, or a Duathlon with a twist to cycle through the Finish Line!
Find out more at trifactor.asia! #RaceLikeNoOther
* Registration closes 28 April 2023, 2359h.
--
Event details and schedule
TriFactor Bike & CycleRun 2023
Date : 28 May 2023, Sunday
Location : Republic Ave, Nicoll Highway
--
Tentative Schedule (Subject to change)
3.30am : Transition Opens
4.30am : Flag Off Long CycleRun (Ind)
5.00am : Flag Off Bike 49km (Ind)
5.35am : Flag Off Standard CycleRun (Ind)
5.50am : Flag Off Standard CycleRun (Relay)
6.00am : Flag Off Sprint CycleRun (Ind)
6.40am : Flag Off Team Bike 56km (Relay)
7.00am : Flag Off Freshmen CycleRun (Ind)
8.45am : Flag Off Kids TBC
9.30am : Prize Presentation
10:30am : End of Event
--
Distances & Age Groups Categories
CYCLERUN CATEGORIES
Ind Long CycleRun (28km Bike / 10km Run / 28km Bike)
Open 18 - 34 / Veteran 35 - 49 / Masters 50+
Ind Standard CycleRun (21km Bike / 10km Run / 21km Bike)
Open 18 - 34 / Veteran 35 - 49 / Masters 50+
Ind Sprint (21km Bike / 5km Run / 14km Bike)
Open 16 - 34 / Veteran 35 - 49 / Masters 50+
Ind Freshmen (14km Bike / 2km Run / 14km Bike)
Youth / 13 - 14 / Open 16 - 34 / Veteran 35 - 49 / Masters 50+
Standard CycleRun RELAY (21km Bike / 10km Run / 21km Bike)
Mixed 3rd, 2nd, 1st ; 2 Participants only
BIKE CATEGORIES
Individual Bike 49km (7 Loops of 7km)
Open 18 - 34 / Veteran 35 - 49 / Masters 50+
Individual Bike KIDS
More details coming soon
Team Bike 56km RELAY (2 Loops of 7km per participant) - NEW!
Mixed 3rd, 2nd, 1st ; 4 Participants only
--
Race Pack Collection
Date: 20th - 21st May 2023 (Sat - Sun)
Time: 11AM – 7.30PM
Location: Shimano Cycling World @ Sportshub
Nicoll Highway, Republic Avenue
,
Singapore
397692
Media
4 Photos and Videos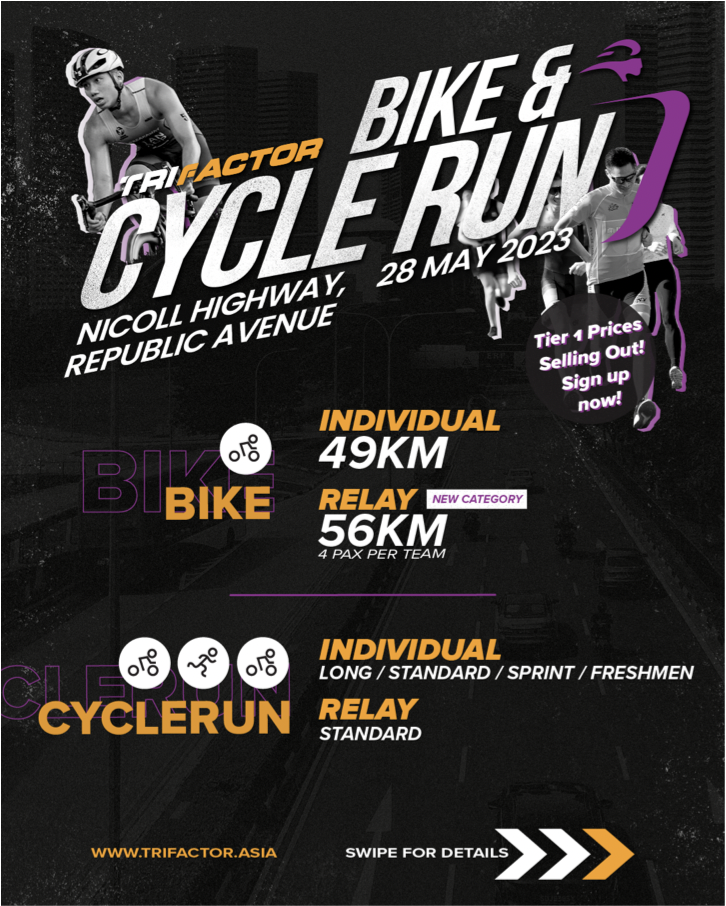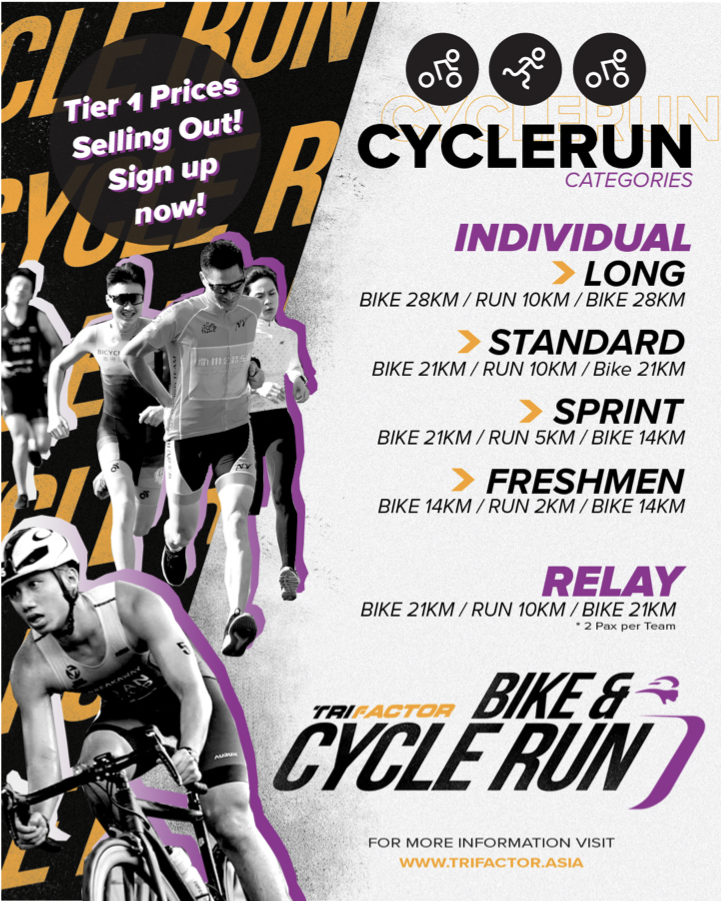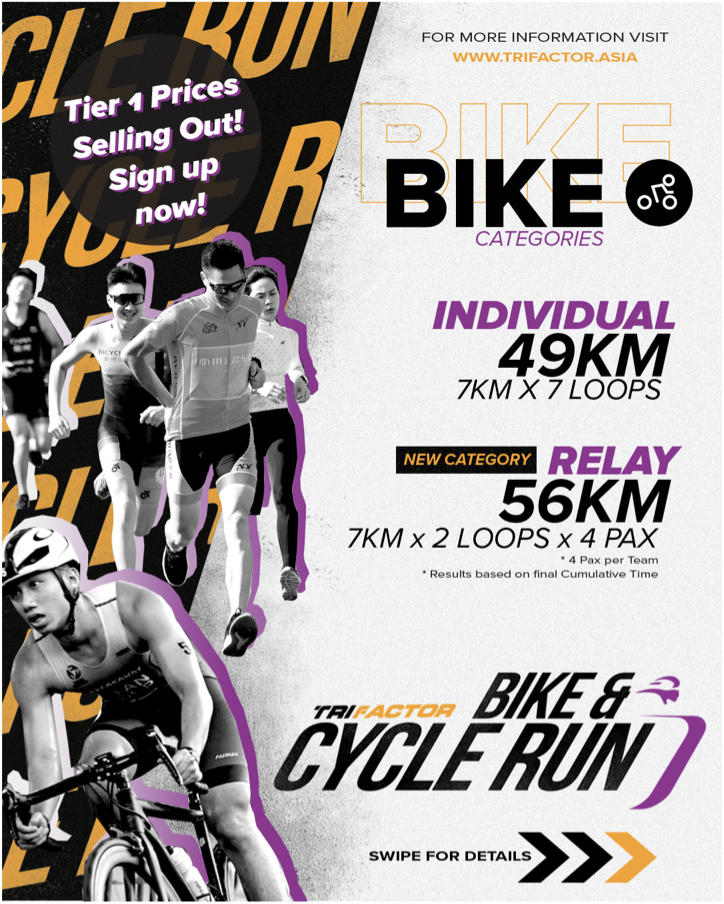 More events from this organizer