How Runners Can Benefit From a Shoe Fit
By Dr. Vonda Wright, Orthopedic Surgeon
In this video, orthopedic surgeon Dr. Vonda Wright takes you along for a running shoe fit and what benefits you can expect from this important task.
Dr. Vonda Wright
Dr. Vonda Wright, MD is an orthopaedic surgeon, author, researcher and runner. Her goal is to keep you on the road and out of the doctors' office with the best advice to Fortify your body with injury prevention, Achieve great racing with Total Body Cross Training for Runners and Revive you for race recovery. Dr. Wright wants to see "How F.A.R. can you go?!" Download her 26.2 Chapter ebook, "Run F.A.R." at VondaWright.com and via Twitter @DrVondaWright.
Running Tips, Training & Advice
12 Most Sought-After
Running Resolutions
Whether you're a wanna-be runner or an experienced racer, everyone sets goals for the new year. We compiled a list of...
Read More
SAVE UP TO $10

on events
PLUS EXCLUSIVE ACCESS TO THESE BENEFITS…
NO REGISTRATION PROCESSING FEES

on over 26,000 events on ACTIVE.com

EVENT COUPONS & FREE ENTRIES

for events across the country

FREE CUSTOM TRAINING PLANS

for running, cycling, strength training & more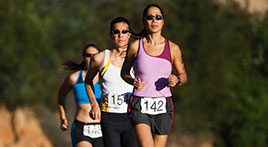 How do I save money on events?
Join ACTIVE Advantage
Save up to $10 in processing fees on every ACTIVE.com event registration
Look for this tag

to identify events with an ACTIVE Advantage discount coupon
"I took a look at Active Advantage and simple math won me over. I've already made back the cost of the membership in savings."
- LeeAnn L.
&nbsp
JOIN ACTIVE TO SAVE AND SHARE YOUR ACTIVITIES.