If you want to experience an Extreme course, you will love Fish Out Of Water Extreme 5k XC Race brought to you by the Friends Of Weeki Wachee and Weeki Wachee HighSchool XC Team. In order to participate in this run you must have the ability to traverse uneven and unstable sugar sand/ lime rock terrain for 3.11 miles indpendently or with little assistance of a companion. You must have the ability to withstand exposure to the outdoors and tolerate bright sunlight for up to one hour.Please keep in mind that on this course you may have potential animal encounters. Such as but not limited to Deer,Coyote,Bobcat,Florida Panther, Raccoon, Armadillo, Snakes; Diamondback Rattle Snake, Cotton Mouth, Coach Whip, Corn Snake,RoughGreenSnake,BlackRacer, Gopher Tortoise,Six-Lined Racerunner ,Ticks, Mosquitos,Horse Flies, and Wasps. Strollers will not be permitted on this course. The Friends Of Week iWachee is a non-for profit group that helps support the needs of Weeki Wachee Springs State Park. We are happy to be partnering up with Weeki Wachee High School XC Team.
All proceeds will go to The Friends Of Weeki Wachee as well as Weeki Wachee High School XC Team.
Event details and schedule
Attention Runners: Packet Pick -up will start on Friday, February 1 from 10 am- 7pm, at Weeki Wachee Springs State Park. We encourage you to pick up your packets on this day in order to avoid long wait times. You may also pick up your packets on Saturday, February 2 starting at 7:30 am - 8:30 am.Please dress according to the weather. Feel free to dress up in your Mermaid attire. We are pleased to announce that Gators Dockside will have a food tent selling the best wings in the City of Live Mermaids.
Again, we ask you read the information about the facts and description regarding this 5K XC Course. For more information please see our web site; WEEKIWACHEE.COM .
Friends Of Weeki Wachee Springs State Park
Get ACTIVE on the Go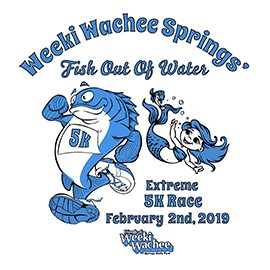 Map & Direction
Weeki Wachee Springs State Park
•
6131 Commerical Way
Weeki Wachee
,
FL
34606
Get Directions