GLOW WITH US IN THE DARK!!!
Light up the night with us at the GLOW IN THE DARK 5K RUN/WALK on AUGUST 19, 2017 at the beautiful California Lutheran University Campus, supporting the Thousand Oaks Police Charitable Foundation, with its efforts in funding the crime prevention programs, educational programs and police volunteer programs in the City of Thousand oaks.
The amazingly fun family friendly event is title sponsored by Logix Credit Union! Conejo Awards is the presenting sponsor and we cannot thank these amazing organizations for their support in creating this high energy FUNraiser!
The GLOW IN THE DARK 5K RUN/WALK is an event designed for all people of all ages and athletic abilities. Runners and walkers are welcome to join in the fun for an evening filled with glow sticks, black lights, face and body painting!
Come join us for 3.1 miles of black light, music and neon fun. Before the race you and your friends will each get a chance to visit all the booths to receive glow accessssories and paint to adorn yourselves to the height of glowy fashion!
Our start and finish lines are positively glowing and black light zones are featured throughout the course - a perfect photo opportunity for you and your team!
Once you have triumphantly reached the finish line, you will be greeted by a celebratory dance party and a chance to show off your neon colors and your fabulous dance moves!
REGISTER NOW AND YOU WILL ALSO RECEIVE:
GLOW IN THE DARK 5K RUN/WALK FINISHERS MEDALLION
GLOW IN THE DARK 5K RUN/WALK T-SHIRT
Event details and schedule
EVENT DETAILS AND FREQUENTLY ASKED QUESTIONS
IF YOU DID NOT MAKE EARLY REGISTRATION - YOU STILL CAN REGISTER. Registrations will open on the site starting at 6pm.
Is the event timed?
The GLOW IN THE DARK 5K RUN/WALK is not timed, but instead provides a fun, family-friendly experience with law enforcement for participants of all ages and athletic abilities.
Are Walkers Welcome at the GLOW IN THE DARK 5K RUN/WALK?
We gladly welcome walkers of all types to the event. As a courtesy though we ask that all walkers remain toward the end of the starting line.
May I bring a stroller to the event?
This is a family-friendly experience event and we welcome strollers. We ask that participants bringing strollers remain toward the end of the starting line as a courtesy to the other runners.
Are dogs allowed at the GLOW IN THE DARK 5K RUN/WALK?
No dogs are allowed at the event. GLOW IN THE DARK 5K RUN/WALK makes exceptions for service animals.
Can friends and family attend the pre-party event if they do not participate in the race?
Yes, friends and family are welcome to join you and encourage you throughout the race.
Is there alcohol at the event? Can I bring my own?
This is a family-friendly event and there is no alcohol allowed on the premise.
Do you want to create team:

A team can be as small as two people and as large as you can imagine.. Just have a team leader create the team, then the leader will know who is joining. You cannot close a team to private entries though...

DISCOUNTS
When registration opens, there are early registration discounts available. Also, there will be discount codes provided occasionally on our Facebook page - Thousand Oaks Police Charitable Foundation. Please like our Facebook page to keep updated on the latest details and available discounts.
PACKET PICKUP
All packages will be available at the event starting at 6pm on the 19th. Kingsman Park!!!
What do I need to bring with me to pickup my packet?
Please bring your confirmation email and/or your registration receipt as proof of payment. Receipts may be printed, or pulled up on a smartphone. These items were emailed to you shortly following your registration. In case of lost or deleted confirmation emails, please contact the Thousand Oaks Police Charitable Foundation office to request a new copy or our event chair at thelmuth@conejoawards.com. If you cannot find your receipt or confirmation before packet pick-up, a volunteer will be able to look up your registration on site.
Can someone else pick up my race packet for me?
Yes, someone else may request your packet. This person will need to present your confirmation email in order to receive your items.
REFUND POLICY
The GLOW IN THE DARK 5K RUN/WALK does not issue refunds in any situation, including but not limited to: inclement weather, family emergencies, medical emergencies, event cancellation and extended wait times in lines.
What is the GLOW IN THE DARK 5K RUN/WALK weather policy?
Participant safety is the first priority. We reserve the right to cancel any event that may be deemed as "dangerous" to participants. These secarious include, but may not be limited to: strong winds, thunder, lightning, heavy precipitation, fire or natural disasters. Event cancellation is a final resort for our event directors, and the decision is made on-site at the time of the event. Refunds will not be issued in the event of a cancellation.
About Us
Our Mission
The Thousand Oaks Police Charitable Foundation (TOPCF) was organized to promote community welfare through support of public safety and volunteer programs. In addition, our objective is to enhance the quality of life within the community and to deter crime through education and support from the community.
Thousand Oaks Police Charitable Foundation
Get ACTIVE on the Go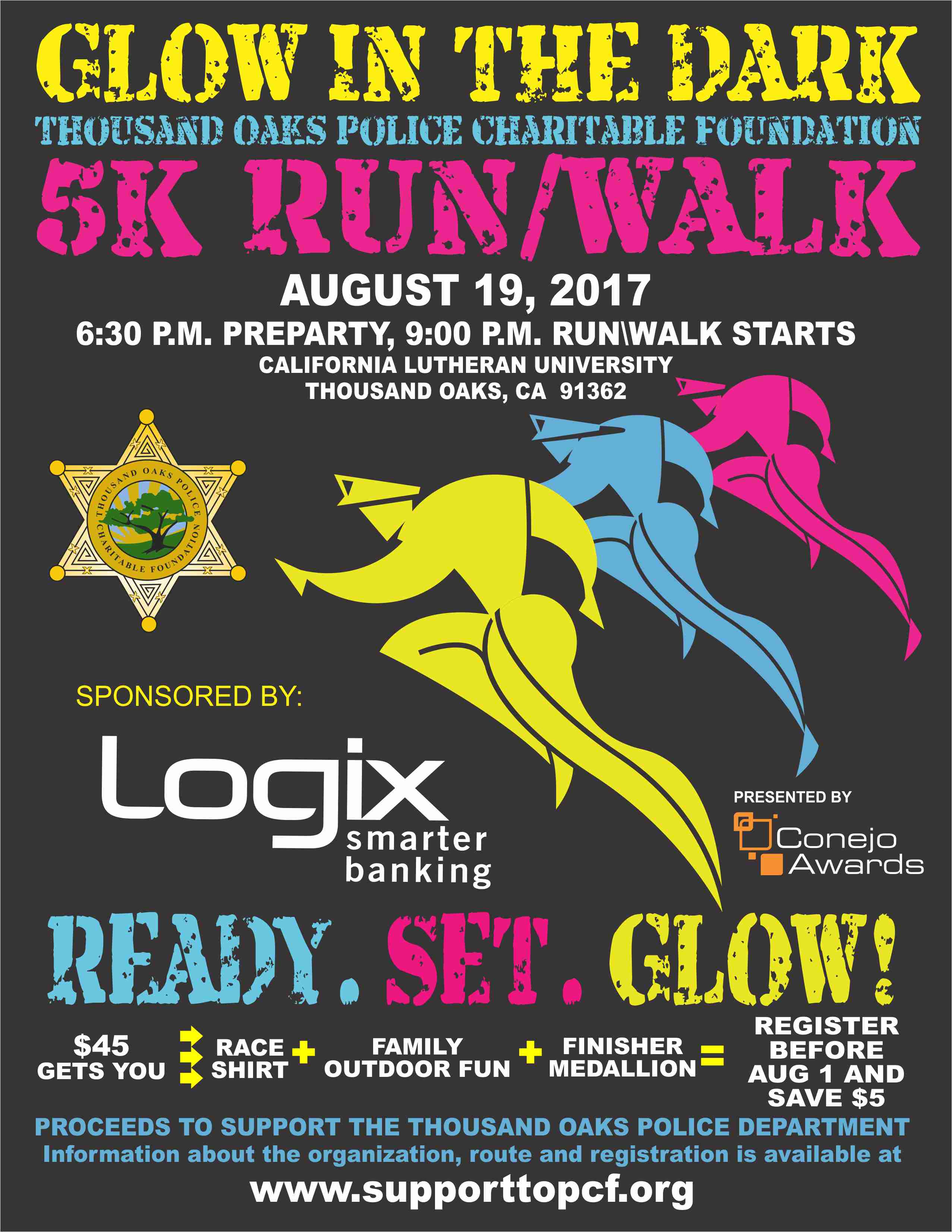 Map & Direction
California Lutheran University
•
CLU Campus 60 Olsen Road
Thousand Oaks
,
CA
91362
Get Directions