The 4th Annual Heroes of St Pete 5K/10K plus One Mile Walk and Kid's races start and end at the Police Memorial Monument on Demens Landing the evening ofApril 1st.
The 5K follows a route onto Bayshore Drive NE then partially up the Pier then back towards the Vinoy and past before the u-turn back to the Demens Landing. The 10K continues past the Vinoy onto North Shore Drive up to Coffee Pot and over the Snell Isle Blvd Bridge along the shore then u-turns back. Ample water stops and volunteers to guide you safely along. Then at the Demens Landing you are treated to a BBQ with adult beverages (Proper ID required). Great award tiles and Fit2Run Gift Certificates to M/F winnners in both races.
The One Mile Walk proceeds out to Bayshore Drive NE and back.
The Kid's races for ages 3 to 12 in four heats in Demens Landing. The Kid's 12 and under registered for the 5K or 10K can run in Kid's dashes for FREE! All children recieve a finishers medal and trophies to Boy/Girl winners three deep in each of the four age categories.
Event details and schedule
Day of registration commences at the Demens Landing venue at 4:00 pm. Early registration and packet pick-up at the Fit2Run Race Headquarters on 2nd Street and 3rd Avenue store hours from March 27th to March 30, and Thursday March 31 till 5:00 pm.
4:00 pm Day of registration till race start at 6:30 pm
5:20 pm Warm up for the Kids
5:30 pm Kid's races

5:30 Ages 3 to 4 yrs run 100 meters
5:32 Ages 5 to 6 yrs run 200 meters
5:35 Ages 7 to 9 yrs run 400 meters
5:40 Ages 10 to 12 yrs run 800 meters

6:00 pm Warm-ups conducted by area Fitness Centers
6:30 pm 5K & 10K Coral Start ( based on estimated 5K finish time)

6:30 pm 28:00 minutes and under
6:32 pm 28:00 to 35:00 minutes
6:34 pm 35:00 to 45:00 minutes
6:36 pm 45:00 to 55:00 minutes
6:38 pm 55:00 minutes and over incl strollers and runners with pets (non retractable leashes please)

7:00 pm After Party at the Demens Landing Venue
7:50 pm 5K awards
8:30 pm 10 awards
Parking at area parking lots
Garment parcel drop at the Fit2Run tent
Easy access to Denems Landing I-175 or I-375 east to the end to 1st Street North
Heroes of St. Pete Police
Get ACTIVE on the Go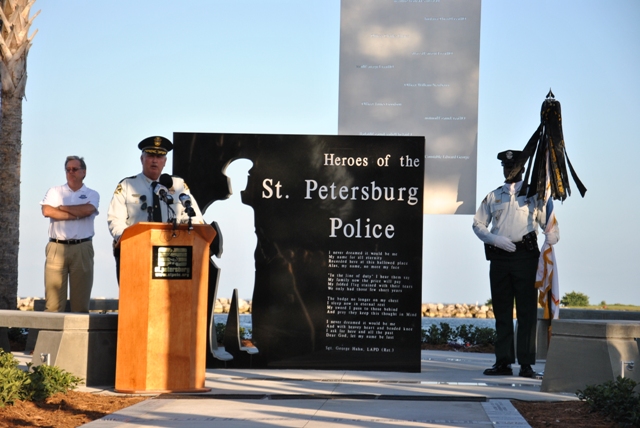 Map & Direction
Demens Landing St. Petersburg
•
Demens Landing
St. Petersburg
,
FL
33701
Get Directions