Event Description
FitRec's 5K Causeway Color Run!
Kick off the summer with FitRec's 5K Causeway Color Run at South Padre Island. Join the new social fitness movement and enjoy our vibrant colors! Finish Line and after party will be held at RE/MAX Elite.
FitRec IS THE NEW SOCIAL FITNESS APP!
The app allows you to find workout partners, join pick-up games, and create groups for fitness and recreational sports. FitRec is invested in connecting people so they can join TOGETHER to get motivated, get moving, and get fit. Our mission is to establish fitness communities in neighborhoods, cities, nations and eventually around the world.
Event details and schedule
Packet Pick-Up & Race Update


Packet Pickup: Footworks is hosting our packet pickup Friday to make your race day a smoother experience. You will get your shirts, glasses, and bibs. Your bags will be available at the end of the race with your packet of color to throw at the finish line. Stop by Footworks Friday between 12-6pm. Packets will also be available race day at Clayton's Beach Bar between 6:15-6:45am.

Course Update: We want to give you the biggest bang for your buck so we are extending the length of the race! Don't worry. We are adding approximately .26 miles to the course. This is due to road closures and determining the safest route for the runners. See the updated course map below. (running down Gulf Blvd) https://goo.gl/maps/qAK5GD5Nsru

Parking/Shuttle: You are welcome to find parking on Port Isabel neer the start line. We will not provide shuttle service post race. Parking will also be available at Clayton's Beach Bar. Shuttle service will be available from Clayton's to the start line between 6:20-7:20.

Sea Turtle Inc. is providing tickets for you to stop by and tour their facilities that day. We have other discounts and giveaways that you don't want to miss!! Come ready for a fun-filled day.
If you are looking for a place to spend the night, Pearl South Padre Hotel and Resorts is offering a special discount for our Color Run participants. Check out the link below for your discount.
FitRec 10K Fun Color Run / Pearl South Padre Resort
Our gold sponsor, Tropical Smoothie will be handing out samples at the finish line. You won't want to miss it!! (add logo)
Don't forget to check out our free mobile application designed to allow individuals create or join a community to inspire a fit and healthy lifestyle. The New Social Fitness App FitRec is available in the Google Play and Apple Stores.
https://play.google.com/store/apps/details?id=com.fitrecApp
https://itunes.apple.com/us/app/fitrec/id1183833997?mt=8
RACE GUIDE & RULES
Welcome to our Second Annual Color Run! As a company, we believe that building personal fitness communities and maintaining a healthier and more active lifestyle go hand in hand. What better way to pair these than with a community color run! Our run will start at the beginning of the Queen Isabella Causeway and end up at our host location, Clayton's Beach Bar.
We can't wait for you to enjoy the fun atmosphere! We have created the Race Guide to provide you with all the information needed to make your Run experience as smooth as possible. PLEASE READ THE WHOLE THING.
The race will begin at 7:30AM. We will stagger the runners on Queen Isabella Causeway by the Dolphin Docks facility.
This will not be a timed run event. The emphasis is to enjoy the fun of the color run!
White Color Run t-shirts, sunglasses and bib numbers are included in the registration packet. If needed please bring your own mask/bandana if you have asthma or other breathing concerns with the color powder during the run.
Individual color packets will be provided at the finish line for your Color Run celebration. Please help us keep the area clean by disposing your color packet trash in trash cans!
Participation medals will be awarded at the end. Prizes and giveaways during post-race celebration.
Clayton's Beach Bar will be open post-race hosting our vendors.
Part of the proceeds of your registration fee will be donated to Sea Turtle Inc. They will be open for post-race tours of their new facility.
Packet pick-up Location and Time will be emailed soon.
Parking details will be emailed soon.
What to Bring on Race Day?
I.D. if you are picking up packets for yourself or other runners
Don't forget you smile 😊
Race Bags & Metals
At the of the end of the race every participant will receive a race bag and a metal of participation. Use the bags to collect the goodies from local vendors at the end of the event.
Race day traffic and parking at SPI will be crazy, so be smart and plan to check in early! We will follow up with parking and shuttle services in an email prior to the event
Runners and Walkers
We will release runners in waves every 3-5 minutes. This is not a timed run so enjoy the color zones and the run. Take your time in our color zones but please don't stop because this will cause congestion.
Do not throw color powder directly on people's faces. Aim below the shoulders.
Make sure you hold on to you bib number and that it is visible on the front of your shirt. This is how you will get past security at the start. You can wear your run T-shirt or a plain white one. Can I dress up in costume? We encourage you to be as creative as possible!
No alcohol or drugs are allowed at the event.
If you are running with a stroller, please start at the back of the pack.
Though the color will eventually wash out of just about everything, you may not want to bring your expensive equipment, clothing, or running shoes...
Watch over and direct your small children that are running with you in the race.
Be courteous and respectful to all who are participating in the event including volunteers and race officials.
Everyone can wear safety/sun glasses, a bandana, or a dust mask. We especially encourage it if you have any respiratory problems such as asthma.
End Of Race Party
All visitors can participate in the post run color throws that will occur every 15 minutes until we count down to the end of the race. We have the brightest colors out there and they all are environmentally safe and bio degradable. Color packs will be available for purchase for family and friends who want to shower you with color powder after the race.
Stay for a while and check out the local fitness vendors, tour Sea Turtle Inc, or have a drink at Clayton's Beach Bar. We will also be setting up beach volleyball games.
Snap a photo in our post event photo area.
Cleaning Station: We will have air blower stations set up to dust you off before the ride home.
A good solid shower will get rid of most if not all of the color powder. Can't wait to see you all next Year!
Get ACTIVE on the Go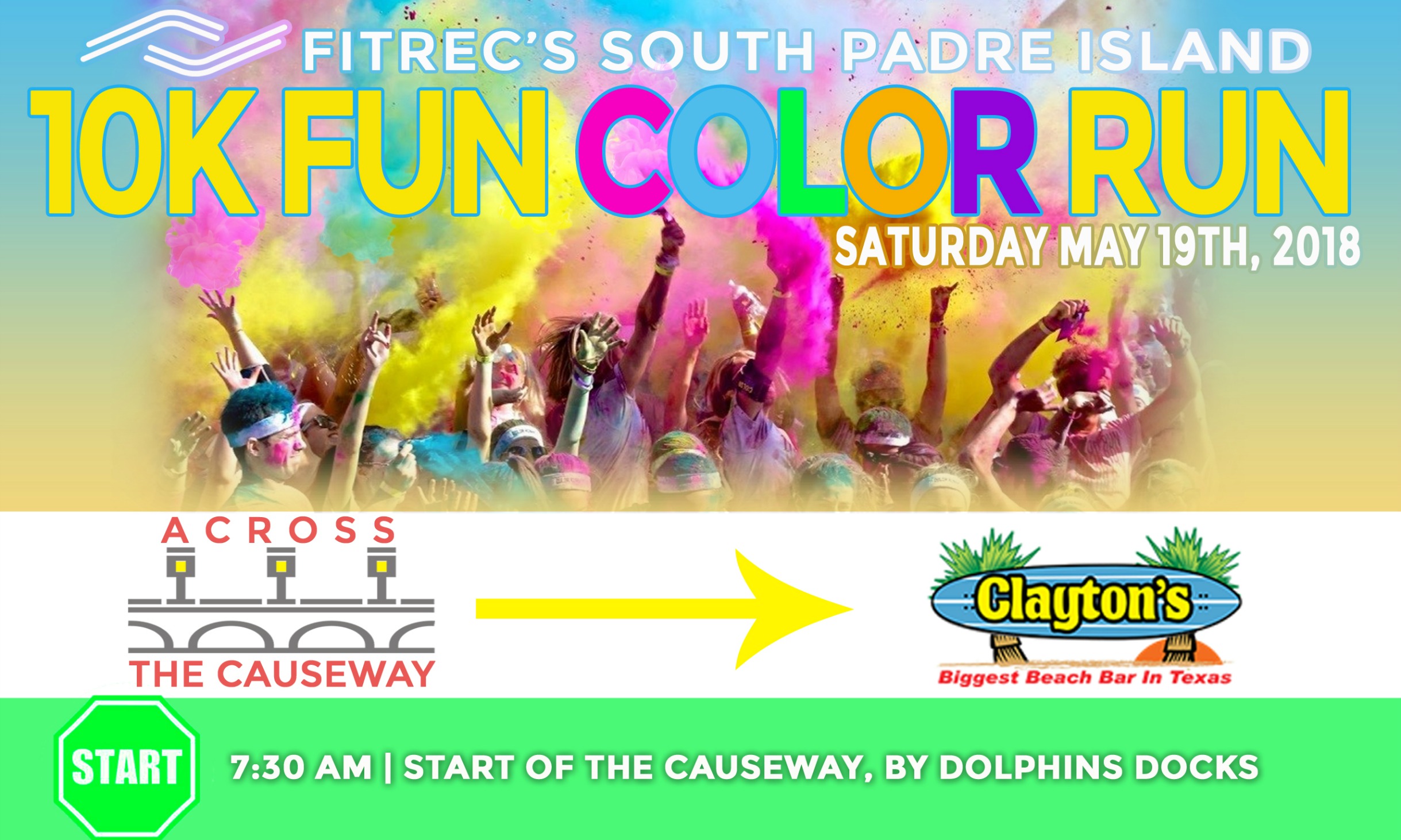 Map & Direction
South Padre Island
•
6900 Padre Blvd
South Padre Island
,
TX
78597
Get Directions