*THIS RACE IS USUALLY $25, SIGN UP NOW FOR $20! Join our Facebook Community of more than 23,000 members
HERE!
2020 was a crazy year and we are all interested to see what 2021 brings. We hope it's full of good vibes, healing and plenty of toilet paper! Did you know that National Toilet Paper Day takes place on August 26, 2021? We thought one way to honor this day is to celebrate that we survived the Toilet Paper Apocalypse of 2020! Toilet paper became such a hot commodity through the pandemic and this medal will be a way to remember this crazy time in our history. So lace up those shoes, keep six feet away from everyone else and race for the toilet paper! Since it's a virtual race you will be able to avoid the crowds but still participate in event with other people around the world!
Plus, we will be donating at least 20% of each registration to Water Mission, which is an amazing organization that builds safe water, sanitation and hygiene, solutions in developing countries and disaster areas. From their website they report the following:
In the last three months, teams across our nine country programs have been providing safe water solutions amid COVID-19 to slow the spread of the virus in vulnerable communities, such as refugee settlements.
Your support has been integral to our ongoing response to the health crisis and has allowed us to install more than 400 hand-washing stations globally.
*For a limited time you can purchase an official shirt and/or hoodie HERE! (these are sold on another site, through Threadless.com so none of our promo codes apply to these).
What:
This is a virtual race. You choose to complete 1 Mile, 5K, 10K, 13.1 or 26.2. You complete your race on your own and submit your time to us. Then we ship your medal directly to you.
When:
Complete your race anytime in August or September 2021, event better if it's August 26th!
*Medals and bibs will start shipping out July 15th. After that they ship out within 2 to 5 days of signing up.
Where:
You choose the course and you time yourself (you'll report your finishing time to us).
Why
: To bring the world together and to celebrate that we survived the 2020 Toilet Paper Apocalypse.
COST:
$25, which includes your medal, bib and shipping. Plus, at least 20% of every entry will be donated to Water Mission.
*We are in no way affiliated with this charity, we like to choose a different charity for each of our races and are happy to raise funds for them.
Event details and schedule
A virtual race is a race that can be run (or walked) from any location you choose. You can run, jog, or walk on the road, on the trail, on the treadmill, at the gym or on the track (or even at another race). You get to run your own race, at your own pace, and time it yourself. Running and walking on your own, or with friends! And your medal will be shipped directly to you. Complete a virtual 5Ks, 10K, half marathon and more!
August 21 - 31, 2021
Monday, Tuesday, Wednesday, Thursday, Friday, Saturday, Sunday
Media
2 Photos and Videos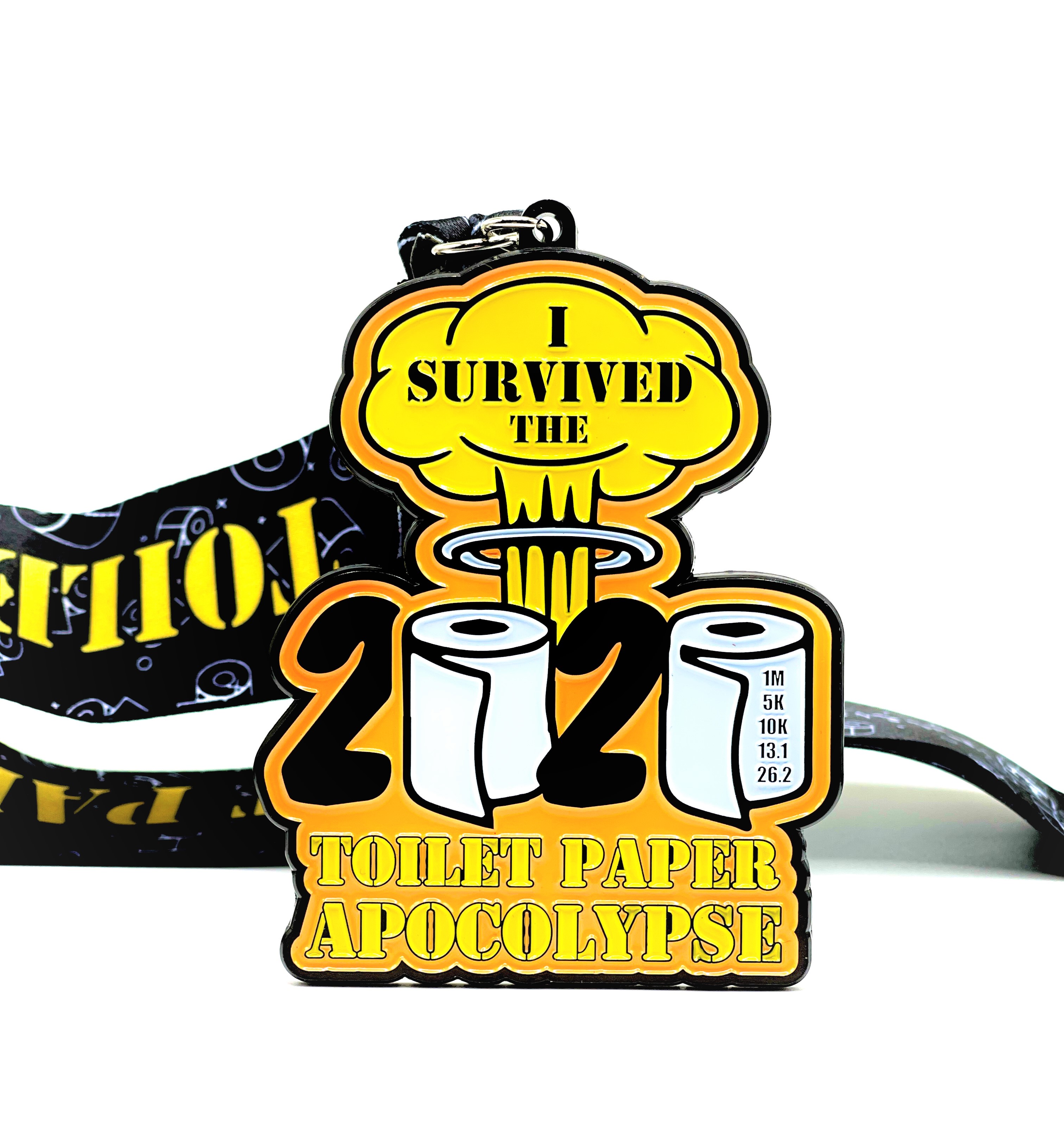 More events from this organizer