The Inaugural Dash for disABILITIES KRA 5K Walk-Run, will be held Sept 12th with a start and finish in the beautiful Smothers Park located on the riverfront of downtown Owensboro, Kentucky. This evening race will begin at 6:00 pm in front of McConnell Plaza and will follow a relatively flat course. Runners and walkers will proceed down West 2nd street, past O.Z. Tyler Distillery and English Park, and the Owensboro Convention Center to finish back at the Plaza. Finishers will have the opportunity to view the 7:00 sunset as the award ceremony begins.
This 5K Walk-Run is being held in conjunction with the 2017 Annual Training Conference of the Kentucky Rehabilitation Association (KRA.) KRA is a member organization that promotes ethical and state of the art practice in the rehabilitation with the goal of the personal and economic independence of persons with disabilities. Entry fees will be used to provide educational scholarships to students seeking a degree in a rehabilitation program.
Event details and schedule
Inaugural Dash for disabilities 5K Walk/Run
Course Rules & Regulations
Registration begins at 5:00 PM
Race starts at 6:00 PM
Awards ceremony will begin at 7:00 PM
You will not be allowed on the course before the official start
You may not participate with another participant's bib number.
You are not able to exchange your bib number for any reason.
5K runners may run or walk. 5K walkers MUST walk the entire event.
You must obey all directions by course monitors, police and safety personnel.
Unregistered participants, unauthorized vehicles, skateboards, roller skates and in-line skates or other motorized devices are not allowed. (Exceptions will be made for disability accommodations)
No pets or animals allowed on the course (Exceptions will be made for disability accommodations)
You are welcome to wear headphones.
For your safety and the safety of others, please allow room for faster individuals to pass you. If you are running or walking with friends, please do not line-up more than two abreast.
Race officials may cancel, delay or change the race to a non-scored event in care of extreme weather or other conditions that may affect the safety and health of the participants. In the event of cancellation, no refunds will be issued.
All race regulations comply with liability insurance requirements and ensure your safety and the fairness of the race.

While we encourage walkers, we may have to ask that if your pace is slower than 15 minutes per mile you use the sidewalk when we have to close the course and re-open the streets. You will still be allowed to finish on the field and collect your runner goodies.
Kentucky Rehabilitation Association
Get ACTIVE on the Go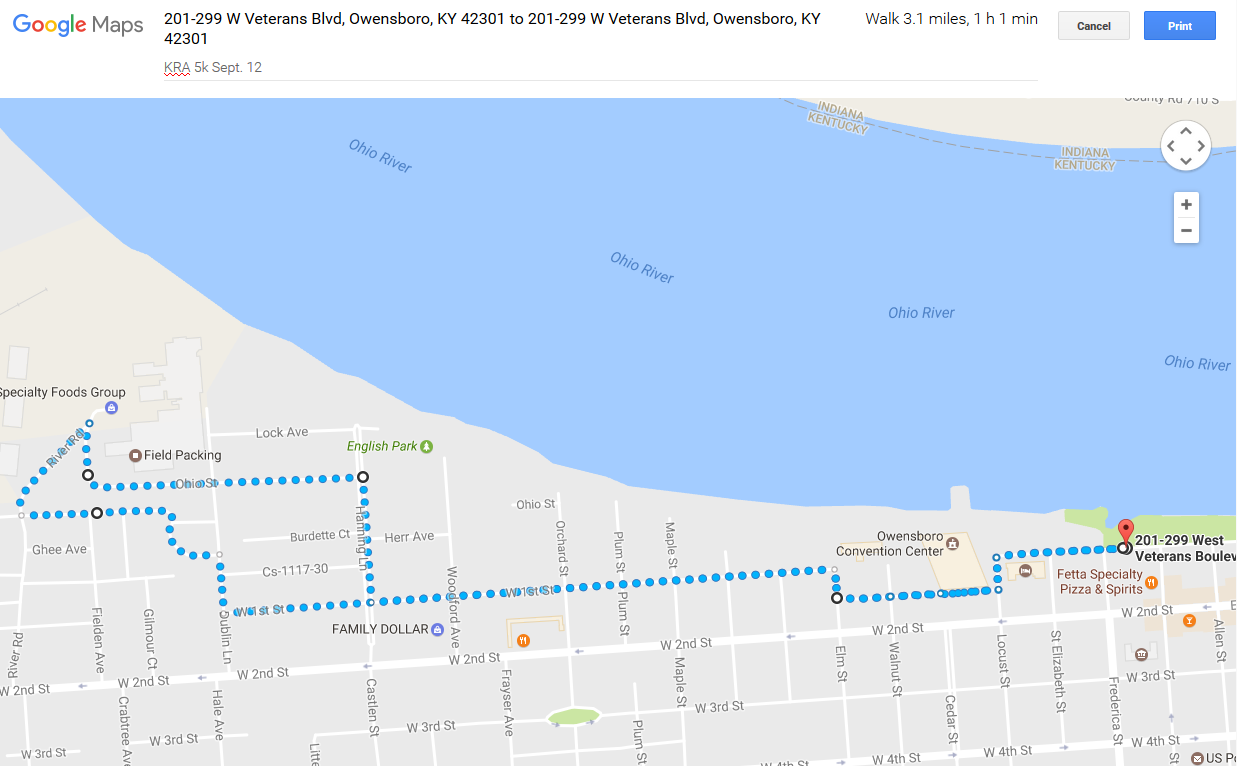 Map & Direction
McConnell Plaza (Smothers Park)
•
W. Veterans Blvd
Owensboro
,
KY
42301
Get Directions