WE ARE BACK! Celebrating five years of swimming, biking and running at FIU Wellness & Recreation - BBC. The City Bikes Biscayne Bay Triathlon (formerly FIU 2575) is a sprint & international distance race and NEW for 2019 we have an off-road triathlon and open water swim races. From 2012-2019 our triathletes continue the challenge: "Are you the fastest?"
City Bikes Biscayne Bay Triathlon happens annually at the Biscayne Bay Campus and is the fastest, flattest and most picturesque course in Florida. The race will take you on a swim in the calm waters of Biscayne Bay, biking on a closed course with no vehicle traffic past protected mangrove restorations and running with views of Sandspur Island through shaded protected habitats.
Event Refund Policy: All entries to the event are NON-REFUNDABLE but are TRANSFERRABLE for a $10 fee. Withdrawal requests must be received in writing via E-mail to fiutriclub@fiu.edu.
FIU STUDENTS RACE FOR FREE! But you MUST register by November 1, 2017, after that it will increase to $50!!! Email your name, phone number, and panther ID to reddickc@fiu.edu with "FIU TRI 2016" in the subject line to receive a VIP registration link just for you!
BACK BY POPULAR DEMAND - SPRINT CLUB CHALLENGE
Be part of the SPRINT CLUB CHALLENGE, at the finish line our volunteers will greet you with finisher medals representing your club's logo. Overall prize is given to our SUPER CLUB, the largest amount of members in attendance. Clubs who register by 10/20/2019 and send us their official club logo will be represented on the official race website, race tshirt and receive a signature finisher medal ribbon representing their club.
The club to race the fastest wins our SPRINT CLUB CHALLENGE!!!
Our 2019 Club Challengers are:
Event details and schedule
Adult & High School (All Distances)
Race Date: Sunday, December 3, 2017
Start Time: 7:00 a.m.
Distances: Sprint-500 meters + 10 miles + 2.8 miles: Internal- 800 meters + 20 miles + 5 miles: Off-road-500 meters + 10 miles + 2.8 miles: Open Water Swim: 2.4 miles or 1.2 miles
Time Limit: 3 hours
Location:
FIU Biscayne Bay Campus
3000 NE 151st St
North Miami, FL 33181
Individual Entry:
SPRINT & OFF-ROAD: $89 USD (Open – 7/30/19) INTERNL: $109 (Open - 7/30/19)
SPRINT & OFF-ROAD: $99 USD (8/1/19 – 10/31/19) INTERNL: $119 (8/1/19 - 10/31/19)
SPRINT & OFF-ROAD: $109 USD (11/1/19 – Close) INTERNL: $129 (11/1/19 - Close)
Relay Entry:
SPRINT & OFF-ROAD: $149 USD (Open – 7/30/19) INTERNL: $169 (Open - 7/30/19)
SPRINT & OFF-ROAD:$159 USD (8/1/19 – 10/31/19) INTERNL: $179 (8/1/19 - 10/31/19)
SPRINT & OFF-ROAD:$169 USD (11/1/19 – Close) INTERNL: $189 (11/1/19 - Close)
Collegiate & High School Entry:
$59 USD MUST show spring/summer schedule at packet pick up
Florida International University TRI ACADEMY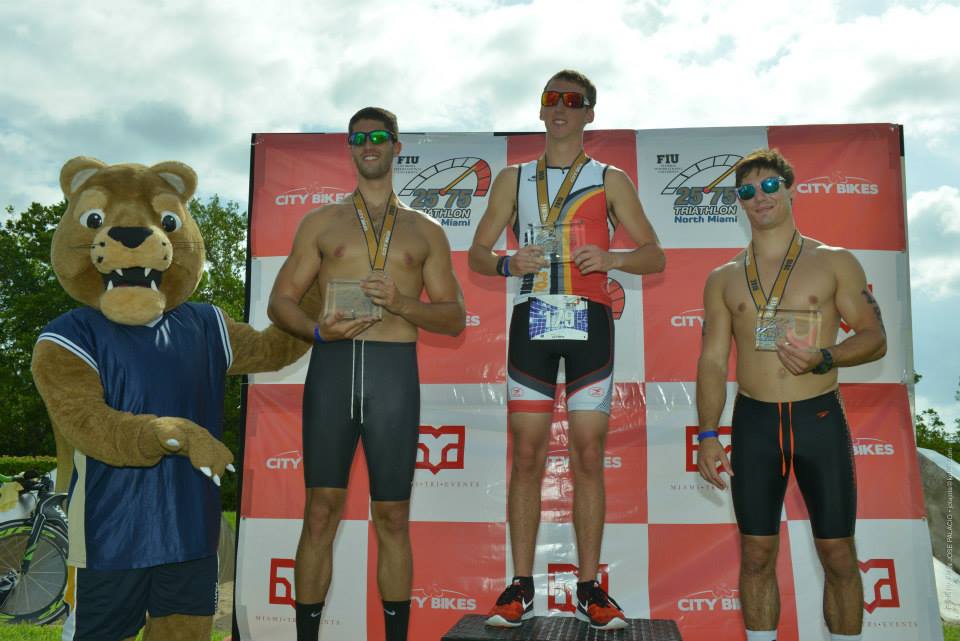 Map & Direction
FIU Wellness and Recreation Center - BBC
•
3000 NE 151 Street WUC 160
North Miami
,
FL
33181
Get Directions