Description
This class/activity is closed to further registration.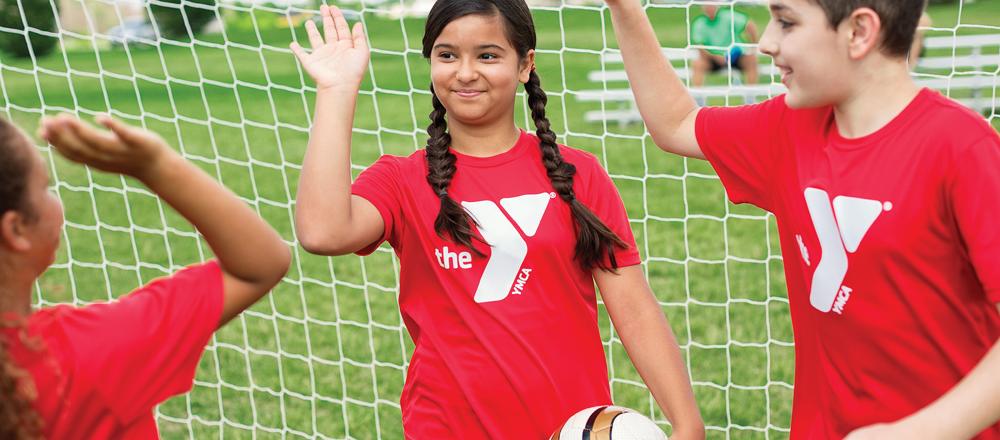 This is a great non competitive program where youth can become comfortable with the game of soccer. We focus on Fun, Character Development, Team Work, Sportsmanship, Participation, & Basic Skills Development. Teams will have one practice during the week and games on Saturdays.
Coach's meeting: September 27 at 6:30 pm.
*Register by September 12th, 2016 and save $25.00!*
Prerequisites:
There are no prerequisites for this activity.
Equipment Requirements:
Please bring closed toe shoes, a water bottle and athletic wear.
For more information regarding this or any of our classes, please call 727-375-9622.
Class Instructor: Huy Lu
---
*Register by September 12th, 2016 and save $25.00!*
Age Category
Youth/Teens
Location
James P. Gills - Seven Springs MS Fields at James P Gills YMCA Branch
Prerequisites
YMCA - Basic Membership
or YMCA - 16/17 School Age Participant
or NP - Employee Family PT Access
or NP - Employee Family FT Access
or JPG - Employee Family PT Access
or JPG - Employee Family FT Access
or HP - Employee Family PT Access
or HP - Employee Family FT Access
or HC - Employee Family PT Access
or HC - Employee Family FT Access
or GRC - Employee Family PT Access
or GRC - Employee Family FT Access
or GPH - Employee Family PT Access
or GPH - Employee Family FT Access
or CIT - Employee Family PT Access
or CIT - Employee Family FT Access
or CL - One Week Family Pass
or CL - Employee Family PT Access
or CL - Employee Family FT Access
or NP - Two Plus MQSA
or NP - Two Plus Association - Corporate
or NP - Two Plus Association
or JPG - Two Plus MQSA
or JPG - Two Plus Association - Corporate
or JPG - Two Plus Association
or HP - Two Plus MQSA
or HP - Two Plus Association - Corporate
or HP - Two Plus Association
or HC - Two Plus MQSA
or HC - Two Plus Association - Corporate
or HC - Two Plus Association
or GRC - Two Plus MQSA
or GRC - Two Plus Association - Corporate
or GRC - Two Plus Association
or GPH - Two Plus MQSA
or GPH - Two Plus Association - Corporate
or GPH - Two Plus Association
or CIT - Two Plus MQSA
or CIT - Two Plus Association - Corporate
or CIT - Two Plus Association
or CLW - Two Plus MQSA
or CLW - Two Plus Association - Corporate
or CLW - Two Plus Association
or NP - Three Plus MQSA
or NP - Three Plus Association - Corporate
or NP - Three Plus Association
or JPG - Three Plus MQSA
or JPG - Three Plus Association - Corporate
or JPG - Three Plus Association
or HP - Three Plus MQSA
or HP - Three Plus Association - Corporate
or HP - Three Plus Association
or HC - Three Plus MQSA
or HC - Three Plus Association - Corporate
or HC - Three Plus Association
or GRC - Three Plus MQSA
or GRC - Three Plus Association - Corporate
or GRC - Three Plus Association
or GPH - Three Plus MQSA
or GPH - Three Plus Association - Corporate
or GPH - Three Plus Association
or CIT - Three Plus MQSA
or CIT - Three Plus Association - Corporate
or CIT - Three Plus Association
or CLW - Three Plus MQSA
or CLW - Three Plus Association - Corporate
or CLW - Three Plus Association
or NP - One Plus MQSA
or NP - One Plus Association - Corporate
or NP - One Plus Association
or JPG - One Plus MQSA
or JPG - One Plus Association - Corporate
or JPG - One Plus Association
or HP - One Plus MQSA
or HP - One Plus Association - Corporate
or HP - One Plus Association
or HC - One Plus MQSA
or HC - One Plus Association - Corporate
or HC - One Plus Association
or GRC - One Plus MQSA
or GRC - One Plus Association - Corporate
or GRC - One Plus Association
or GPH - One Plus MQSA
or GPH - One Plus Association - Corporate
or GPH - One Plus Association
or CIT - One Plus MQSA
or CIT - One Plus Association - Corporate
or CIT - One Plus Association
or CLW - One Plus MQSA
or CLW - One Plus Association - Corporate
or CLW - One Plus Association
or YMCA - Basic Membership
Map & Direction
James P Gills YMCA Branch
•
8411 Photonics Drive
New Port Richey
,
FL
34655
Get Directions