It is our honor and great pleasure to inform you about our 2nd Annual "Super Bulldog Jog" 5K & Health Fair. The event will take place on the Garfield High School Campus on Saturday, May 19, 2018.

With this event, we hope to continue to promote health awareness for our students and their families, which is why it will be held during the month of May again, "National Physical Fitness and Sports" month. In addition to our Health and Fitness goals, the "5K Jog and Health Fair" will also raise funds to provide financial assistance to our student population that plans on attending college.
Located exclusively on the school's campus, the "Bulldog Health Fair" will include pre and post-run festivities (beginning at 7am) featuring a variety of food vendors, live entertainment, as well as health and fitness experts.
We hope to obtain the support from our very own Garfield students, their families and the proud community of East Los Angeles. We would love for you to join us!
---------------------------------------------------------------------------------------------------------------------
Es un honor y un gran placer informarle acerca de nuestro 2º anual "Súper Bulldog Jog" 5K y Feria de la Salud. El evento se llevará a cabo en el plantel de la escuela secundaria Garfield, el sábado, 19 de mayo del 2018.
Con este evento, esperamos seguir promoviendo conciencia de la salud para nuestros estudiantes y sus familias, por lo que se llevará a cabo durante el mes mayo, el mes "Nacional de Educación Física y Deportes." Además de nuestras metas de salud, la carrera de 5K y feria de salud también recaudará fondos para proporcionar ayuda financiera a nuestros estudiantes que planean asistir a la universidad.
Situado exclusivamente en el plantel de la escuela, la "Feria de la Salud Bulldog" incluirá festejos antes y después de la carrera (comenzando a las 7am) con una variedad de vendedores de comida, entretenimiento en vivo, y expertos en salud.
Esperamos contar con el apoyo de nuestros estudiantes de Garfield, sus familias y la comunidad orgullosa del este de Los Ángeles. ¡Nos encantaría que nos acompañara!
Event details and schedule
Early Packet Pick-Up

Friday - May 18th

4-6pm @ Garfield High School

By the Basketball Courts

Bring Email Confirmation Reciept and ID.

Online Registration Will Close on Friday - May 18, 2018 @ NOON!

You can still register however during packet pickup on
Friday - May 18th 4-6pm

OR

Day of Event

Saturday - May 19th 7-7:45am

CASH ONLY!!!

Parking: Street parking available around school in residential area. Some limited parking will also be available in the nearby Elementary School
Fourth Street Elementary
420 Amalia Ave, Los Angeles, CA 90022
It is recommended you arrive early!

No Pets Allowed at Event!

Strollers are welcome at event, however will not be allowed during the 5K run/walk for your and everyone else's safety. Please plan accordingly.

Event Time: 7am-12pm
Puppy Dash for Disabilities ½ Mile Track 2 Lap Start: 8:00 a.m.

5K Run Start: 8:30 a.m.
***(Must Register by Monday, April 30th for Guaranteed Finisher's Medal and/or T-Shirt)**


Pre- and Post-Run Activities: 7a.m.-12p.m.
*Health Screenings
*Fitness Tips
*Nutrition Education
Location:
Garfield H.S.
5101 E. Sixth St.
Los Angeles, CA 90022
---------------------------------------------------------------------------------------------------------------------

Recogida anticipada de paquetes Viernes - 18 de mayo 4-6pm @ Garfield High School Por las canchas de baloncesto Por favor de traer el recibo de confirmación por correo
electrónico y identificación. El registro en línea se cerrará el viernes
18 de mayo de 2018 a mediodía. Sin embargo, aún puede registrarse durante la
recolección de paquetes el Viernes - 18 de mayo 4-6 p.m. O Día del evento Sábado - 19 de mayo 7-7: 45 am ¡¡¡SOLAMENTE EFECTIVO!!! Estacionamiento:

Estacionamiento en la calle disponible alrededor
de la escuela en el área residencial.
Algunos estacionamientos limitados también estarán
disponibles en la cercana Escuela Primaria. Escuela Primaria Fourth Street:
420 Amalia Ave, Los Ángeles, CA 90022 ¡Se recomienda llegar temprano! No se permiten mascotas en el evento! Cariolas de bebe son bienvenidos en el evento,
sin embargo no serán permitidos durante la
carrera / caminata de 5K para su seguridad y la de
los demás. Por favor planear por adelantado.
Hora del Evento: 7am-12pm
Carrera Puppy Dash Para
Discapacidades½ Milla Pista de 2 Vueltas: 8:00 a.m.
Carrera de 5K: 8:30 a.m.
***(
Debe Registrarse Antes del Lunes 30 de Abril Para Recibir Una Medalla y/o Camiseta
)**
Actividades Antes y Después de la Carrera: 7a.m.-12p.m.
*Exámenes de Salud
*Consejos de Aptitud
*Educacíon Nutricional
Ubicacíon:
Garfield H.S.
5101 E. Sixth St.
Los Angeles, CA 90022
Garfield Senior High School (LAUSD)
Get ACTIVE on the Go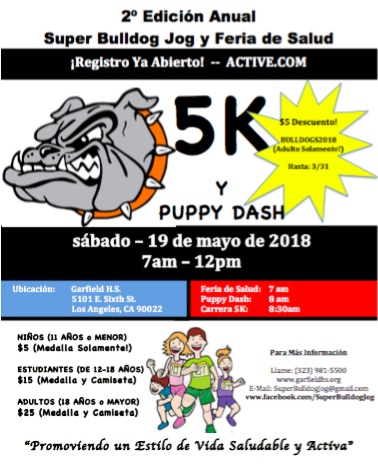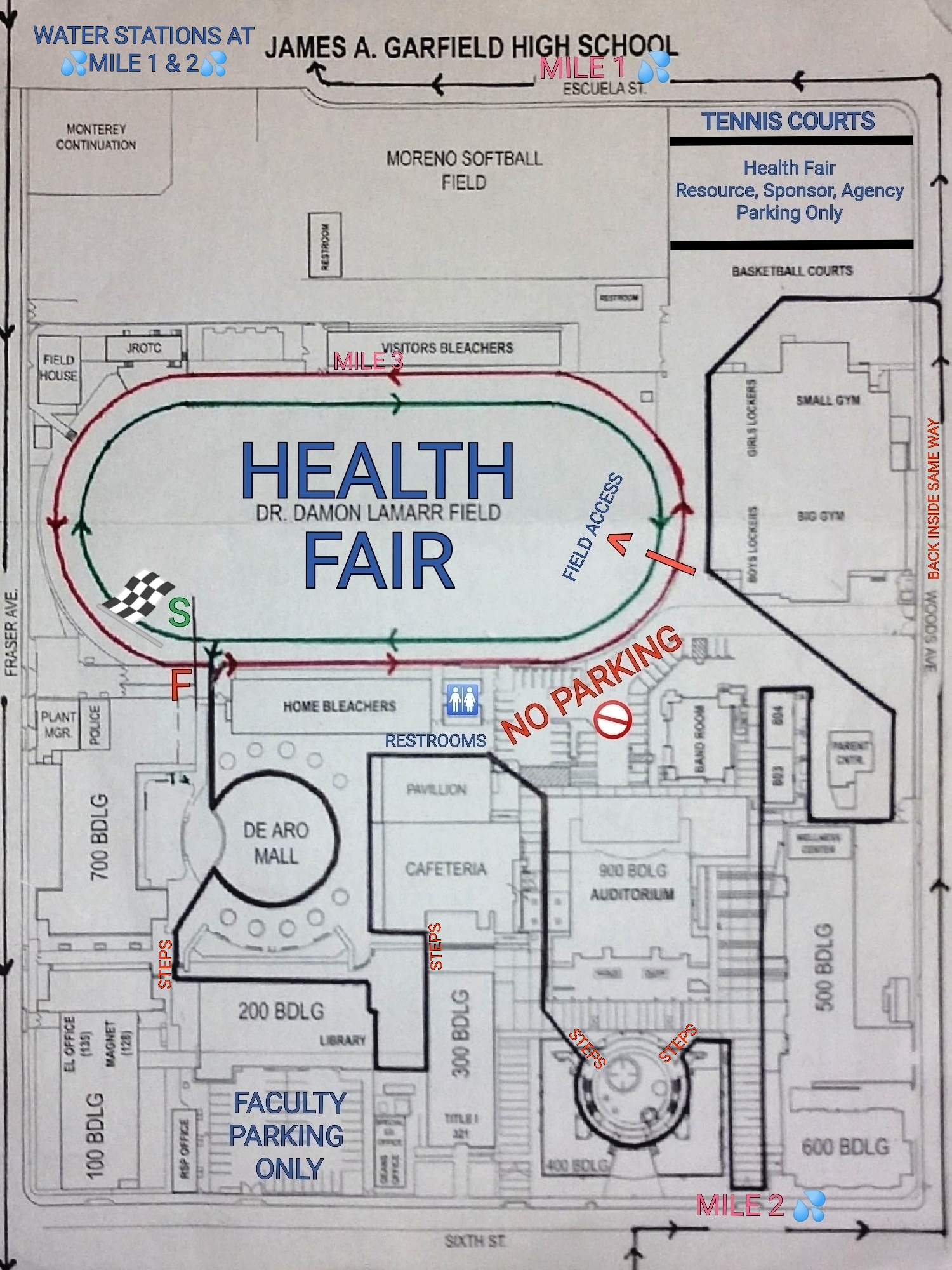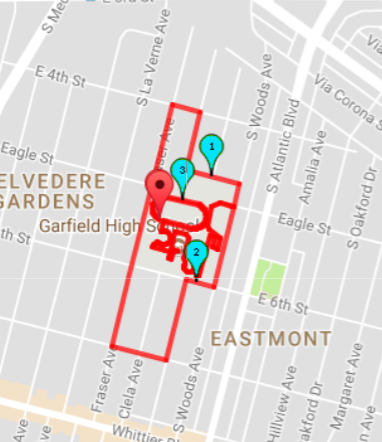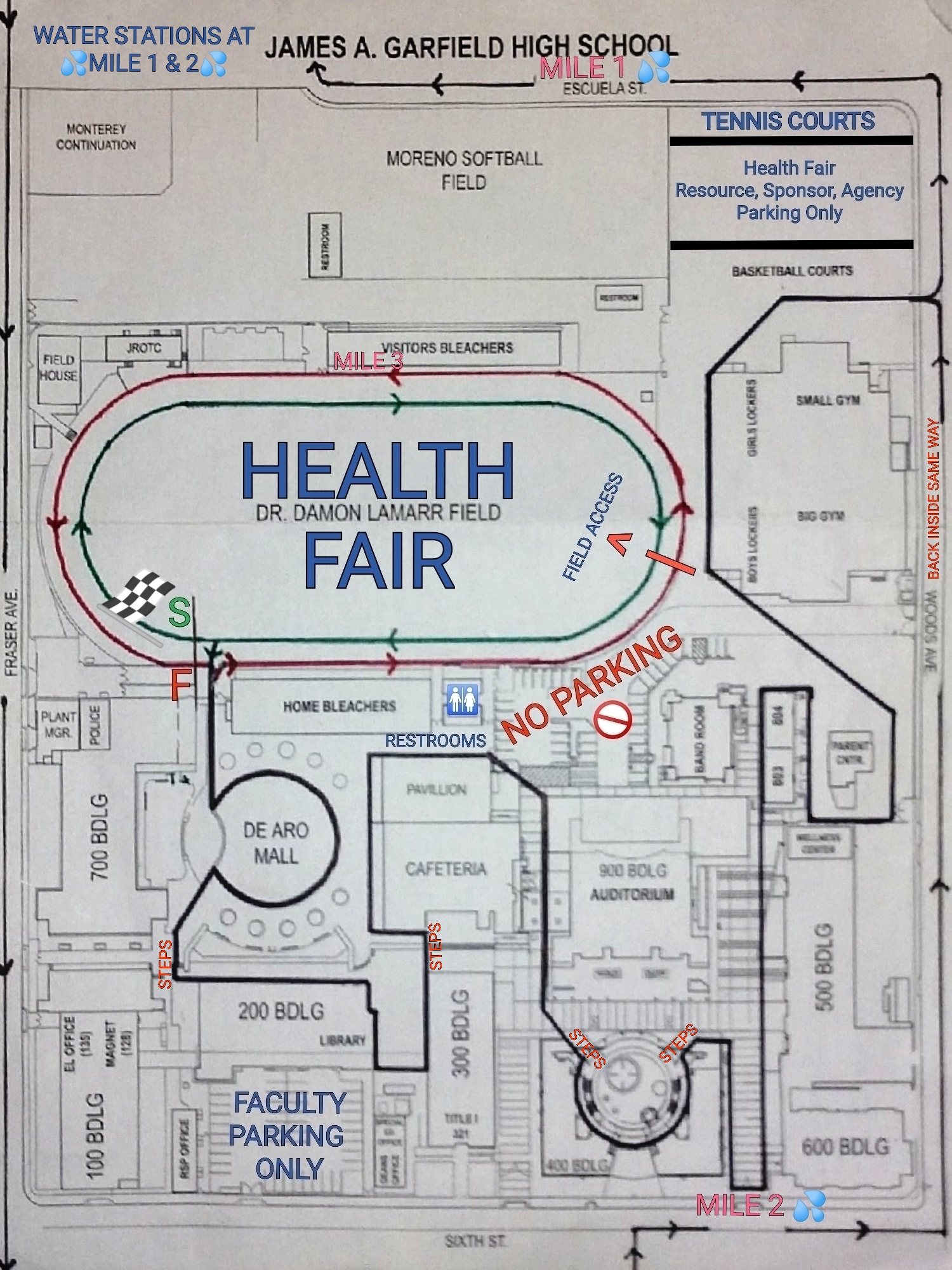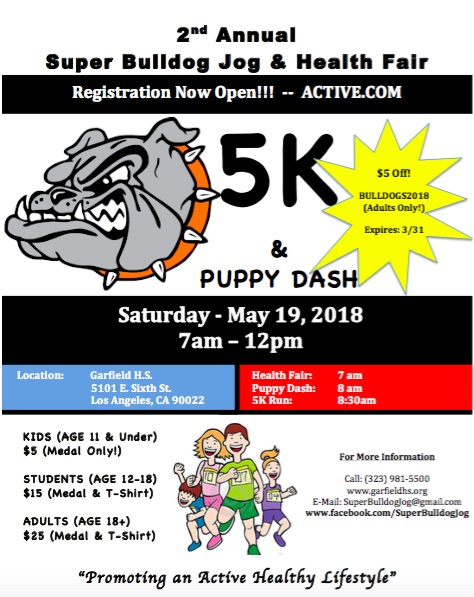 Map & Direction
James A. Garfield Senior High School
•
5101 E. Sixth Street
Los Angeles
,
CA
90022
Get Directions