TRiKC's Longview Jr. Triathlon provides a fun and healthy opportunity to help children stay active this summer. By combining swimming, biking and running in one sport, participants benefit from a well-rounded fitness activity while enhancing their endurance and strength, all while having fun. For a quarter of a century we have been inspiring new generations to be fit, strong, and fast triathletes. Please join us this year for more pulse-pounding action!
USA Triathlon previously designated the Longview Jr. Triahtlon as part of its Grand Prix Youth Series and has recognized this triathlon as one of the best USAT sanctioned events. The TRiKC Longview Jr. Triathlon was selected to be in the Series based on strict criteria that included sanctioning compliance, safety, quality and athlete support.
This youth triathlon is open to children ages 1 to 17. All participants are automatically entered in a drawing for a free bicycle.
More information is available at our youth triathlon web page.
Free Bicycle Drawing: All participants are automatically entered in a drawing for a free bicycle.
Distances / Age Divisions: TRI FOR TOTS: ages 1-6, 25 yard kiddie pool swim, .5 mile bike, .25 mile run. SUPER-SPRINT: ages 5-7, 50 yard pool swim, 1.5 mile bike, and .5 mile run. SPRINT: ages 6-10: 100 yard pool swim, 3 mile bike, and 1 mile run. LONG COURSE: ages 11-14: 200 yard pool swim, 6 mile bike, and 2 mile run. JUNIOR ELITE: ages 15-17, 300 yard swim, 9 mile bike, 3 mile run.
Tri for Tots: We welcome all kids 6 and under to our Tri for Tots™ Triathlon Division. Now everyone can get into the action with a 25 yard kiddie pool swim, a .5 mile bike, and .25 run. This will be a non-competitive event with relaxed rules. Floats, water wings, tricycles, training wheels, and parents on the course for this portion of the event are all legal! 
Junior Elite Division: Our Elite Division features the next generation of triathletes, ages 15 to 17. Race with the best and be the best!
Relay Up: The Relay competition is open to squads which can be all boys, all girls, or coed. The squad must consist of two or three athletes. To determine if you are a long course or short course relay squad, add the ages of all three relay squad members (two member teams will count the age of the oldest team member twice). Relay squads which consist of youth who ages that add up to 27 or less will compete in the short course. Relay squads which consist of youth who ages add up to 28 or more will compete in the long course. Relay members register individually. The parent of participants under 18 must sign the release online or at packet pickup. IMPORTANT: ONE PARENT REGISTERS AS A NON-PARTICIPATING RELAY CAPTAIN, WHICH WILL NOT COUNT TOWARDS THE RELAY TEAMS CAPACITY. The parent who signs up for the non-participating team captain creates the name of the relay team. There is no fee to do this. Thereafter, the parent of each youth relay team member then registers the youth using the assigned relay team name from the Team Captain by signing up for either the Sprint Course Relay or the Long Course Relay. Each youth member of the team must be registered by a parent. CLICK THE REGISTER NOW BUTTON FOR A RELAY SQUAD TO REGISTER AS A NON-PARTICIPATING RELAY CAPTAIN. If you have a problem registering your relay squad online, send an email to trikctriclub@gmail.com and we will register you manually. 
Register the Entire Family: Families who enter three or more siblings in the Individual Division receive an entry fee discount of 20% per participant (except in the Tri for Tots and Team divisions). Each family member must be registered individually. To obtain the discount, use the code TRIFAM18 at checkout.
Awards: Elite boys: 1st, 2nd; Elite girls: 1st, 2nd; Long course boys: 1st, 2nd, 3rd; Long course girls: 1st, 2nd, 3rd; Sprint course boys: 1st, 2nd, 3rd; Sprint course girls: 1st. 2nd, 3rd; Super-Sprint course boys: 1st, 2nd, 3rd; Super-Sprint course girls: 1st, 2nd, 3rd; Long course teams: 1st, 2nd; Short course teams: 1st, 2nd.
Midwest Triathlon Youth Championship Series:Be part of the Midwest Triathlon Youth Championship Series in which youth triathletes to compete head-to-head for a chance to be crowned the Midwest Triathlon Youth Champion! Youth triathletes will participate in the JCC Youth Triathlon, the TRiKC Longview Jr Triathlon, the Midwest Ironkid Triathlon, and the grand final JCPRD U Kids Triathlon. Both male and female competitors will earn points in their respective age groups of 7 and under, 8, 9, 10, 11, 12, 13, and 14. Visit www.trikids.us for more information or to enter.
General Triathlon Information & TRiKC Discount: The premier triathlon resource in the Kansas City area is www.TRiKC.org. Check it out for the latest multisport news. If you have a current registered TRiKC family membership or Youth membership with TRiKC, you receive a $5.00 discount per child off the "individual entry" fee for the Longview Jr. Triathlon! Visit the TRiKC web page for the discount code.
USA Triathlon (Important): This event is sanctioned by USA Triathlon. All youth participants must have USAT license to participate. The license must be purchased in advance of the race. Visit USAtriathlon.com to purchase a youth membership online.
For Safety's Sake: Approved bike helmets are required. The USAT rules require helmets that meet the US national standard for bicycle helmet safety. All helmets must meet or exceed the CPSC standard. The CPSC approval sticker is required to be in the helmet. Radio/stereo headsets are not permitted. Any parent assisting a child will result in disqualification. Due to hot and humid conditions that may exist during this time of year, drink plenty of water before and during the race.
Training Tips: Work out with your friends or parents. - Watch out for cars or other obstacles when riding your bike. Remember to always wear your helmet. - Don't go too hard too fast. Save your energy. - Don't train hard every day. - Warm up those cold muscles. - Practice your transitions. You should practice your transitions from swim to bike and bike to run. - Train with a smile. Most importantly you should have fun. Race hard, try your best and have a great time! Everyone who finishes is a winner!!!
USA Triathlon Rules: The rules for the sport of triathlon can be found on the USA Triathlon web page. 
Elite Youth Triathlon Training: SBR Elite Training and Racing is a triathlon youth development program for junior triathletes ages 8 through 16. Team members are trained by USA Triathlon coaches that are committed to building champions in the sport of triathlon. For more information regarding the program, visit http://www.sbrelite.com.
Event details and schedule
Get Ready to Race! The TRiKC Longview Jr Triathlon will be held on Sunday, July 22, starting at 7:15am.
Orientation and Packet Pickup: Participants and parents who have not participated in the Longview Jr. Triathlon within the last three years must to attend th pre-race clinic on Saturday, July 21 at 3:00pm. All others may pick up their packet on Saturday, July 21, 2:30 p.m. The clinic and packet pickup will be held at the Longview Recreation Center. Participants will receive a packet consisting of a race number, event T-shirt, course information, and tips on various aspects of the race.
Longview Recreation Center: The triathlon is held at the Longview Recreation Center which is located at 3801 SW Longview Road, Lee's Summit, Missouri. 64081. The Center is just minutes off Interstate 470 in Lee's Summit (Kansas City Metro Area). The triathlon is held in association with the Lee's Summit Parks and Recreation Dept.
Chip Timing: The TRiKC LONGVIEW JR. TRIATHLON will have chip timing.
No Refunds: There are NO refunds or transfers of entries.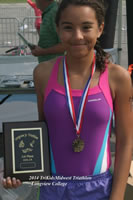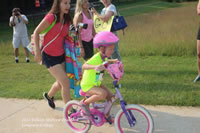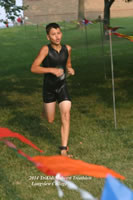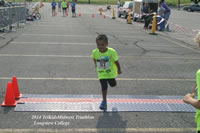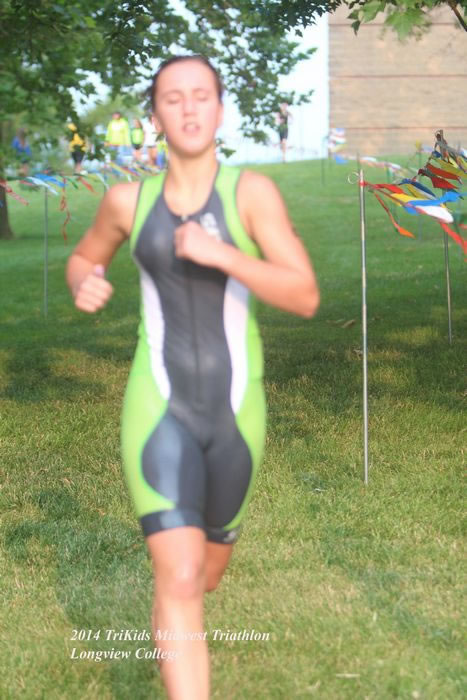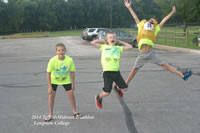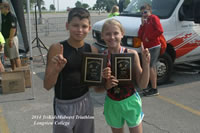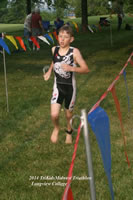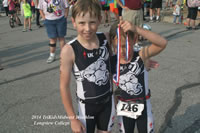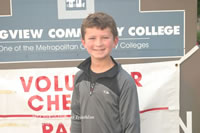 Map & Direction
Lee's Summit
•
3801 SW Longview Road
Lee's Summit
,
MO
64081
Get Directions