Hosted at the world famous Homestead-Miami Speedway in Miami, FL, this is the only Ultra event of its kind in the United States. Over the course of 24 hours, skaters will test their worth to skate as many miles as they can. Skate a little or skate a lot, the fun doesnt stop until the clock does!
24 Hour Ultra Skate is a skateboard endurance event to answer the simple question, "How far can one go on a skateboard?" The 24-hour Ultra Skate was a concept brought to skateboard riding in 2006, by James Peters – creator of Paved Wave, the soul of distance skateboarding. In Seattle Washington. James was at the forefront of the skateboarding-as-transportation scene and created the Ultraskate as an extension of his passion. What started as a low-key event in a park, James set the initial 24-hour record distance records by himself and has now turned it into an international event with multiple races across the globe. All of the 24-hour events follow the same rules and share unified records and world rankings. The 24-hour Ultra Skate at Homestead-Miami Speedway is home to the United States' 24-hour event, held annually for all to come and test their physical and mental strength.
The track that we use for 24 hours is the outer most oval path and the pit road at Homestead-Miami Speedway. The loop measures 1.46 miles around, skated counter clockwise. The track is made up of asphalt on turns 1,2,3 and 4 and smooth concrete on pit road.
You may compete in the event as an Individual skateboarder, Stand Up Paddle skateboarder or as a 4 person relay team.
The Homestead-Miami 24-hour Ultra Skate recognizes and awards participants for distance benchmarks (Individual)- 100 miles, 200 miles, 250 miles and 300 miles.
There are awards for the top 3 in- Overall best distance Men, Overall best distance Women, Overall best distance Stand Up Paddle, Best distance 13 & Under, 14-18, 19-29, 30-39,40-49, and 50+.
Event details and schedule
Getting into Homestead Speedway:
On event day you will drive your vehicle to Gate 18 located on Palm Drive ( S.W. 344 St.) and check in with gate guard.
On the infield of the speedway you may set up your camp and park you car in the Mechanic bays on pit road. They are covered garage bays that are open front and back. The mechanic bays have power outlets. You may bring any essentials you may need to survive 24 hours of skateboarding. Campers and tents are also allowed on the property during the event.
Entry is free for friends, family and fans.
Meals:
There will be 3 catered meals provided for riders. Lunch, Dinner and breakfast the next morning. This will be simple meals that will not provide nowhere near the calories you will burn. Bring additional food and snacks for yourself. You will not make it 24 hours on these three meals. A good rule of thumb to follow is 300 calories of food and 32 ounces of water consumed per hour.
Water:
Water cooler will be provided for you to fill your own bottle or Camelbak. It's up to you to bring electrolyte drinks or additives.
Race Schedule:
Thursday January 17 – Check in/Registration- (LOCATION TO BE DETERMINED) Event T-shits, Meal bracelet and an ankle bracelet-timing chip will be given. (Timing chip has to be returned after Race) If you don't wear it your laps won't count. DO NOT remove it on a break, forget it and then skate uncounted laps. They will not add the laps to the system.
FRIDAY January 18
0730 – Riders meeting and race start.
0800 (next-day) – Race End. Gather belongings and make way to podium for awards ceremony following shortly after. Transportation is not provided from the track after the race.
Etiquette on the Course:
1. Ultra Skate is a sanctioned Skate IDSA event and follow all the rules set by the IDSA. Any questions of what equipment my be allowed then referred to www.theidsa.org. and look under Official Rules.
2. If you're out on the track skating, you're wearing a helmet. NO EXCEPTIONS
3. Your distance skated is counted by full laps completed. If time expires and you did not complete the final lap it will not count.
4. Support crew can ride with you around the course and hand you food and water at anytime during the event as long as support crew is staying out of the way of other riders and not pulling or assisting you to move forward in any physical way.
5. Please keep the track clean. There are trashcans on pit road. If we are badass enough to skate for 24 hours then we can hold our trash for 1.46 miles. We are guests here at Homestead Speedway, let's be respectful. NO ALCOHOL or GLASS BOTTLES allowed on the riding course.
6. Treat the Ultra-skate as personal quest more than a race. You will go though a lot during a 24-hour period. This event will challenge you physically and emotionally. This event can be as intense as you make it. We all have our milestones that we are trying to reach but listen to your body and skate within you ability. Your health is the top priority here. Race directors my pull you from the track if there is any concern of safety.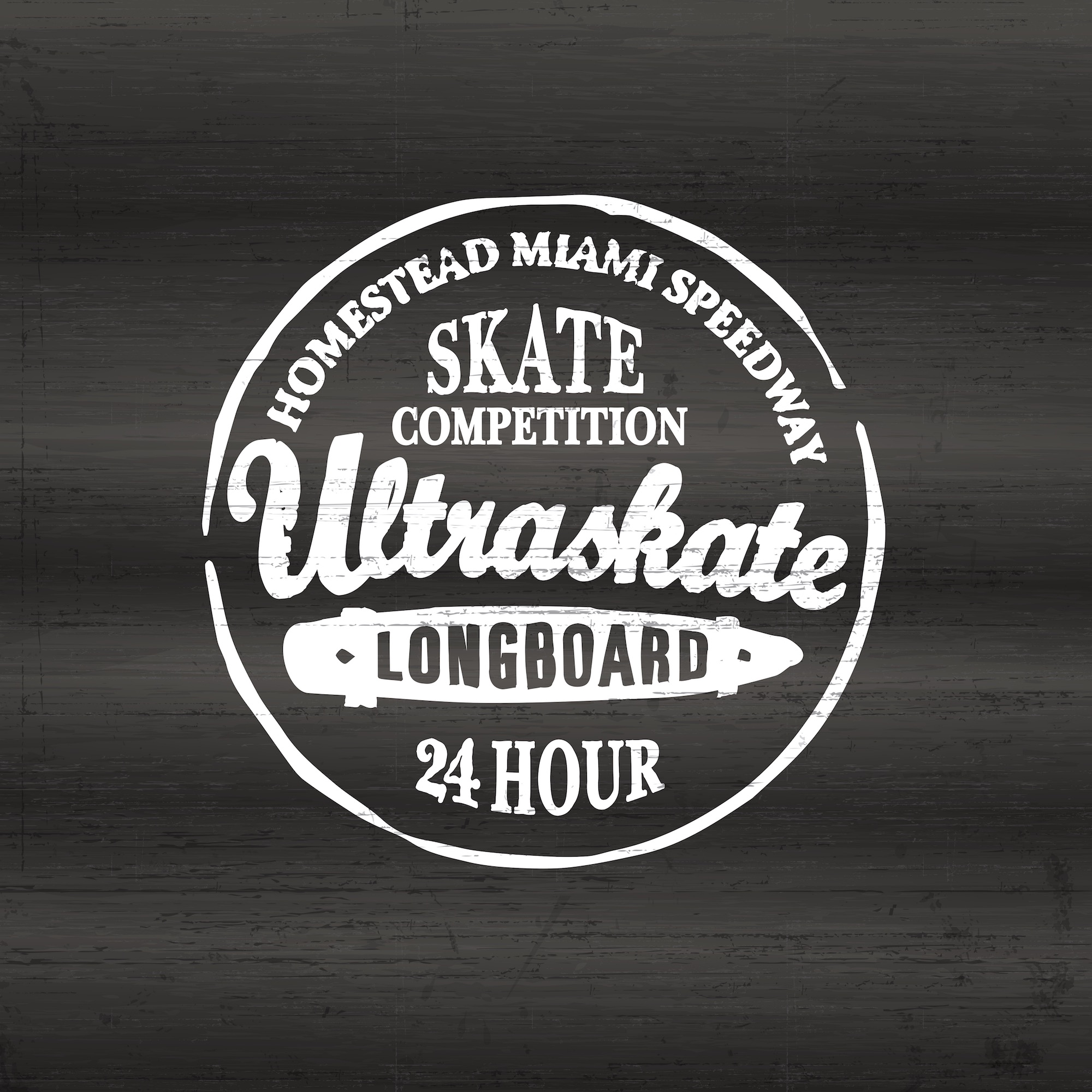 Map & Direction
Homestead Miami Speedway
•
1 Speedway Blvd.
Homestead,
,
FL
33035
Get Directions