About this event
Success!
We'll send your reminder 2 days before this event closes so you don't miss out.
Reminder canceled
You will no longer receive email alerts about this activity.
24 hour skating event
Skate a little or skate a lot, it's up to you. How far can you go in 24 hours? Set a personal best or go for the World Record!
You may compete in the event as an
Individual skateboarder
Individual Paddle skateboarder (Strictly paddling, no foot pushing)
Individual Push/Paddle (Using your feet and a Paddle)
Individual Quad Skates
Individual Inline Speed Skaters
4 person relay team (One rider at a time). Disciplines may be the same or mixed.
Boarders and Quad Skates will use the outermost oval path and the pit road at Homestead-Miami Speedway. The loop measures 1.46 miles around, skated counter clockwise. The track is made up of lightly pitted asphalt on turns 1,2,3 and 4 and smooth concrete on pit road.
Inline Speed Skaters will use the inside road course that measures 2 miles every loop and share pit road with the Skateboarders crossing the timing system.
The Homestead-Miami 24-hour Ultra Skate recognizes and awards participants for distance benchmarks (Individual)- 100 miles, 150 miles, 200 miles, 250 miles and 300 miles.
There are awards for the top 3 in each discipline skated- Overall best distance Open, Overall best distance Women, Overall best distance for Clydesdale (200lb+), Overall best distance 4 person Team Relay.
Best distance in Open age divisions- 13 & Under, 14-18, 19-29, 30-39,40-49, 50-59, 60+ (There must be a minimum number of 10 participants in each category for awards).
The Ultraskate will have 3 meals during the 24 hour period. Lunch and Dinner the first race day and breakfast the following morning will be provided. Please plan accordingly for extra meals you may want.
We will also have water coolers and Ice for everyone competing. You are responsible for any other type of fluids or electrolytes you may need to survive.
You can sign up your support crew to also receive one event shirt and partake in all the meals served during the event.
Course Etiquette
1. Ultra Skate is a sanctioned Skate IDSA event and follows all the rules set by the IDSA. Any questions of what equipment may be allowed then referred to www.theidsa.org. and look under Official Rules.
2. If you're out on the track skating, you're wearing a helmet. NO EXCEPTIONS
3. Your distance skated is counted by full laps completed. If time expires and you did not complete the final lap it will not count.
4. NO Support crew on the track, they may assist skaters from the "Pit Road" support area only.
5. Please keep the track clean. There are trash cans on pit road. If we are tough enough to skate for 24 hours then we can hold our trash for 1.46/2 miles. We are guests here at Homestead Speedway, let's be respectful. NO ALCOHOL or GLASS BOTTLES allowed on the riding course.
6. Treat the Ultra-skate as a personal quest more than a race. You will go through a lot during a 24-hour period. This event will challenge you physically and mentally. This event can be as intense as you make it. We all have our milestones that we are trying to reach but listen to your body and skate within your ability. Your health is the top priority here. Race directors may pull you from the track if there is any concern of safety.
IDSA sanctioned race. IDSA membership required, race follows all rules and regulations set by IDSA.
YES, helmets required!
Event details and schedule
Schedule
Friday February 18th 2022
3:00 PM- Speedway opens for packet pickup and camping setup.

6:00 -9:00 PM- Sponsor workshops and demos. Track open for test rides.

10:00 PM- Quiet time, Lights out on track and entry gate to Speedway closes.
Saturday February 19th 2022
06:00 AM- Wake up call, entry gates to track reopen and packet pickup continues.

07:50 AM – Riders meeting on Pit Road, Timing chip and helmet check.

08:00 AM– Race Starts

12 noon- catered lunch for skaters and registered support crews.

6:00 PM- catered dinner for skaters and registered support crews.

Midnight, Gate 18 will be locked, no re-entry till the morning.
Sunday February 20th 2022
06:00 AM- Wake up call, catered breakfast for skaters and registered support crews.

08:00 AM- Timing system is shut down and the race is concluded.

09:00 AM- Gather belongings and make way to the podium for the awards ceremony.

6:00 PM- After Ultra Party- Skatebird Miami Skatepark - 533 NE 83rd Street. Miami Florida 33138.
Getting Into Homestead-Miami Speedway
On event day you will drive your vehicle to Gate 18 located on Palm Drive ( S.W. 344 St.) and check in with the gate guard.
On the infield of the speedway you may set up your camp and park your car in the Mechanic bays on pit road. They are covered garage bays that are open front and back. The mechanic bays have power outlets. You may bring any essentials you may need to survive 24 hours of skateboarding. Campers and tents are also allowed on the property during the event.
Entry is free for friends, family and fans.
February 19 - 20, 2022
Saturday, Sunday
Homestead Miami Speedway
1 Speedway Blvd.
Homestead,
,
FL
33035
Individual - Individual Age group/open
4 Person Team - Individual Age group/open
Other-Support Crew - Individual Age group/open
Media
2 Photos and Videos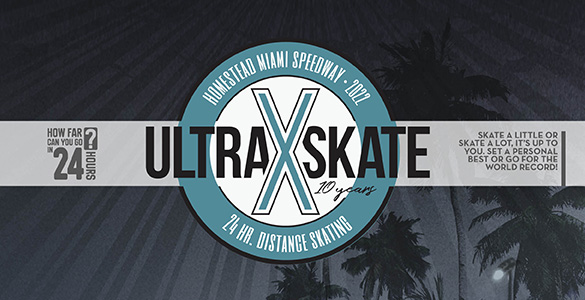 More events from this organizer