The 45th Bermuda Triangle Challenge is a running festival held each year in Bermuda over the American Martin Luther King, Jr. holiday weekend, including:
The Front Street Mile races – Friday early evening race under the lights. The only races held at night in Bermuda, these are sure to set the tone for the rest of your weekend. (Note: the Front Street Mile race can only be entered as part of the Bermuda Triangle Challenge)
10k Run or Walk – Saturday
Half Marathon – Sunday
Marathon – Sunday
Can't get enough? Here's your chance to combine your passion for running into one awesome experience with the Bermuda Triangle Challenge - 3 races in 3 days. The Bermuda Triangle Half or Full Challenge includes the Front Street Mile race on Friday, the 10k on Saturday, and the Half Marathon or Marathon on Sunday.
In addition to BIG TIME bragging rights, participants will receive a Bermuda Triangle Jacket and finishers medals for each event, and if that's not enough, a special 4th (triangle shaped) medal to commemorate surviving the Bermuda Triangle Challenge.
The Bermuda Triangle Challenge features scenic race courses past lush foliage, changing blue hues of ocean waters, and pastel colored buildings. It's easy to see why they call Bermuda paradise. The event also includes on-course entertainment and a runners finish festival.
Just a short flight of 2 hours or less from most US east coast cities and Toronto, Bermuda only feels like it's a million miles away. Surrounded by crystal clear water warmed by the Gulf Stream, Bermuda is the ideal winter-time destination for the active minded traveler.
All events are sanctioned & certified by the Bermuda National Athletics Association (BNAA), the national governing body for track & field and road running in Bermuda.
Register soon - prices increase September 1, 2019!
 ____________________________________
Event details and schedule
Friday January 17th, 2020 - Front Street Mile – 7:00pm - Front St. Hamilton (Course Map)
Saturday January 18th, 2020 – 10k Run & Walk – 9:00am - National Sports Centre, - Prospect, Devonshire 

Sunday January 19th, 2020 – Half Marathon & Marathon – 7:15am start for the Marathon from Dockyard (finish on Front Street in the City of Hamilton) and 9:00am start for the Half Marathon from Front Street in the City of Hamilton 
EVENT RECORDS
Mile
Women – Kenia Sinclair (Jamaica) – 4:44
Men – Leonard Mucheru (Kenya) – 4:02 
10k
Women - Grete Waitz (Norway) – 31:41
Men - Geoff Smith (Great Britain) -28:14
Half Marathon
Women – Elfenesh Alemu (Ethiopia) – 1:11
Men - Jordan Chipangama (Zambia) – 1:04
Marathon
Women - Elena Makolova (Russia) – 2:41
Men - Andy Holden (Great Britain) – 2:15
WHAT DO I GET FOR PARTICIPATING?
Besides running in one of the most beautiful island destinations you will receive:
A light-weight, breathable running shirt to commemorate your participation in the event.

Incredible finisher medals for each race, including a 4th medal if you complete the Bermuda Triangle Challenge.

A runners jacket for those entering the Bermuda Triangle Challenge.

Live music, entertainment, and refreshments at the Saturday and Sunday runners villages.
PACKET PICK UP and RUNNER EXPO
You will be able to pick up runner packets, t-shirts, and other materials at the Runners Expo at the Hamilton Princess Hotel on:
Friday January 17th from 11:00 to 6:00, or

Saturday January 18th from 3:00 to 6:00
 Race Day – Only number pick up can be completed on race day at the respective starting lines (no t-shirts or other materials will be available)
The 2020 Bermuda Triangle Challenge will also include a twist on the traditional race expo and will include a flavor of Bermuda vendors and locally-made items. More details to be provided as they become available.
COURSE

The Front Street Mile begins just east of Burnaby Hill on Front Street. Runners proceed west, around the iconic bird cage, and then head east until the turning point at the longtail statue at the foot of King Street. Heading back west, runners will finish in front of the flag pole. (Course Map)
10k – The 10k course begins and ends at Bermuda's National Stadium. Runners will run down Montpelier Road, to Middle Road, and continue on Middle Road into Flatts Village. Runners will then turn onto North Shore Road and follow until Barkers Hill roundabout at which time they will turn onto Palmetto Road. Runners will take a left onto Frog Lane and follow Frog Lane back to the finish at the Bermuda Sports Centre. (Course Map)
Half Marathon - The Half Marathon course will begin near the Runners Village in Barr's Bay Park on Pitts Bay Road in the City of Hamilton. The course will run east toward Front Street and Trimingham Hill. Runners will then turn east on South Shore Road and continue on the scenic South Shore Road for approximately 4 miles. Runner will then turn left on Devils Hole Hill Road to Harrington Sound Road where the runners will head west. The course continues into Flatts Village and runs along the beautiful and scenic North Shore Road for approximately 4.5 miles. At the end of North Shore Road, runners will turn left onto St. John's Road and back toward the finish on Pitts Bay Road at Barr's Bay Park. (Course Map)
Marathon – for the first time, in 2020, the Marathon course will begin in the historic Dockyard in Somerset. Runners will run from the docks at Dockyard and continue for about 1 mile and turn left onto scenic Lagoon Road, and then turning left onto Malabar Road, over Watford Bridge onto Mangrove Bay Road, taking a left at the 3.2 mile mark onto Beacon Hill Road and the Bermuda Railway Trail. Running on the Bermuda Railway trail is an exciting addition to this years course offering a scenic quiet run on wide trails through Somerset and into Southampton for approximately 4.3 miles, leaving the trail briefly to run over the iconic Somerset Bridge, the smallest drawbridge in the world. At about the 7.5 mile mark the course continues back onto Middle Road and onto South Shore Road at Barnes Corner. The Course then follows the exceptionally scenic South Shore Road for approximately 6 miles past some of the most famous Bermuda beaches including Horseshoe Bay, Jobson's Cove and Warwick Long Bay. Turning onto Middle Road, the course continues for approximately .7 miles until runners meet up with the half marathon course at the junction of Trimingham Hill and South Road. (Course Map)
TIMING
We have once again partnered with Bermuda Timing Systems (BTS) for this year's event. All Mile, 10k, Half Marathon and Marathon participants will be timed using timing tags attached to race bibs.
T-SHIRTS:
Every participant signing up prior to November 1 will be guaranteed a runners shirt of their selected size. We will have additional t-shirts available for runners signing up after November 1 and will try to accommodate their size and selection but, unfortunately, because of shipping constraints, this cannot be guaranteed.
You will have a choice between a men's or women's cut shirt. Shirts are ordered based on the sizes indicated during online registration. Again, because of shipping restrictions, we won't be able to allow switching of sizes at packet pick-up.
The restrictions are the same for the jackets.

AWARDS
For the 10k, Half Marathon, Marathon, Triangle Half Challenge, and Triangle Full Challenge, there will be women's and men's awards for the top three finishers in the following age categories:
Overall winner (overall winners are not eligible for age group awards)
12 - 15 (Only for the 10k)
16 - 19
20 - 29
30 – 39
40 – 49
50 – 59
60 – 69
70 – 79
80+
Claiming Awards
As results become available, runners will be able to claim their awards at the awards ceremony prior to the last participant finishing. We do NOT ship unclaimed awards.
Again, we are unable to mail awards, so if you are unable to be present for the awards-giving, please designate another individual to pick up your award for you.
NOTE: The BNAA reserves the right to add/delete categories and awards prior to race based on participation.
REFUNDS AND TRANSFERS
Registration fees are non-refundable. Event registrations are non-transferable between individuals, events, or years.  Deferrals can be arranged by speaking with Race Management.
TIME LIMITS
There is a 2:30 time limit on the 10k (due to walkers), a 3:30 time limit on the Half-Marathon and a 7:00 hour time limit on the Marathon.
In order to comply with the agreement with the Government of Bermuda, streets comprising the route will be reopened to vehicular traffic on a set schedule.
DOGS AND STROLLERS
While we LOVE dogs and LOVE kids, for your safety dogs and strollers will NOT be allowed for this event.
MEDICAL/FIRST AID
St. John's Ambulance will provide medical assistance, if needed, along the course and at the finish line. Should you need medical attention at the finish line, let a volunteer know and you'll be escorted to the medical tent located nearby. Announcements can always be made at the DJ booth as well. Any life-threatening problems should call 911. All runners should receive a doctor's acknowledgment that the participant is medically fit to participate in the weekend's races. 
WATER STOPS
Water will be provided at the Start and Finish lines, and both water and Gatorade will be available at multiple water stops throughout the 10k, half marathon, and marathon races. For the full marathon, there will also be three gel stations and for the half marathon there will be two gel stations. See course maps for detailed locations of water stops, gel stations, and port-a-potties.
WEATHER POLICY
Races are held, rain or shine, unless the BNAA determines that conditions are too dangerous. This will be based on a prudent decision made on race weekend or race day by BNAA and local law enforcement officials. If the race is canceled due to inclement weather we will be unable to provide refunds or deferrals to the following year. This position is consistent with most international running body recommendations and with the protocol of sharing the risks associated with the sport of running. In the event of inclement weather or unforeseen circumstances, BNAA reserves the right to alter, cancel, or eliminate any/all portions of the race.
PARKING AND TRANSPORTATION
Some hotels are within walking distance to the starting lines of the Front St. Mile and the Half Marathon. Transportation will be provided for a small charge via shuttle buses from the Hamilton Princess to the starting line of the 10k. Runners should sign up for transportation during the registration process. An early morning chartered ferry will also be provided to runners from the Front Street Ferry docks to Dockyard for those participating in the Marathon.
For runners staying at our other partner hotels, the Coco Reef Resort or the Grotto Bay Resort, transportation will be provided for a small fee to the start lines of the Front St. Mile, 10k, Half Marathon, and to the ferry docks in Hamilton for the Marathon.
A full shuttle and ferry schedule will be provided closer to the date of the race.
POST RACE CELEBRATION
DO NOT STOP AT FINISH LINE – Keep moving onto the infield of the National Sports Centre after the 10k or into Barr's Bay Park after the finish of the Half Marathon or Marathon. Join us for entertainment, vendors, food, refreshments, and fun to be had by all! 
SPONSORS
Bermuda Tourism Authority
Chubb Bermuda
Zurich Insurance
Conyers Dill & Pearman
Butterfield & Vallis
Dunkley's Dairy
Hamilton Princess
Bermuda Triangle Challenge
Get ACTIVE on the Go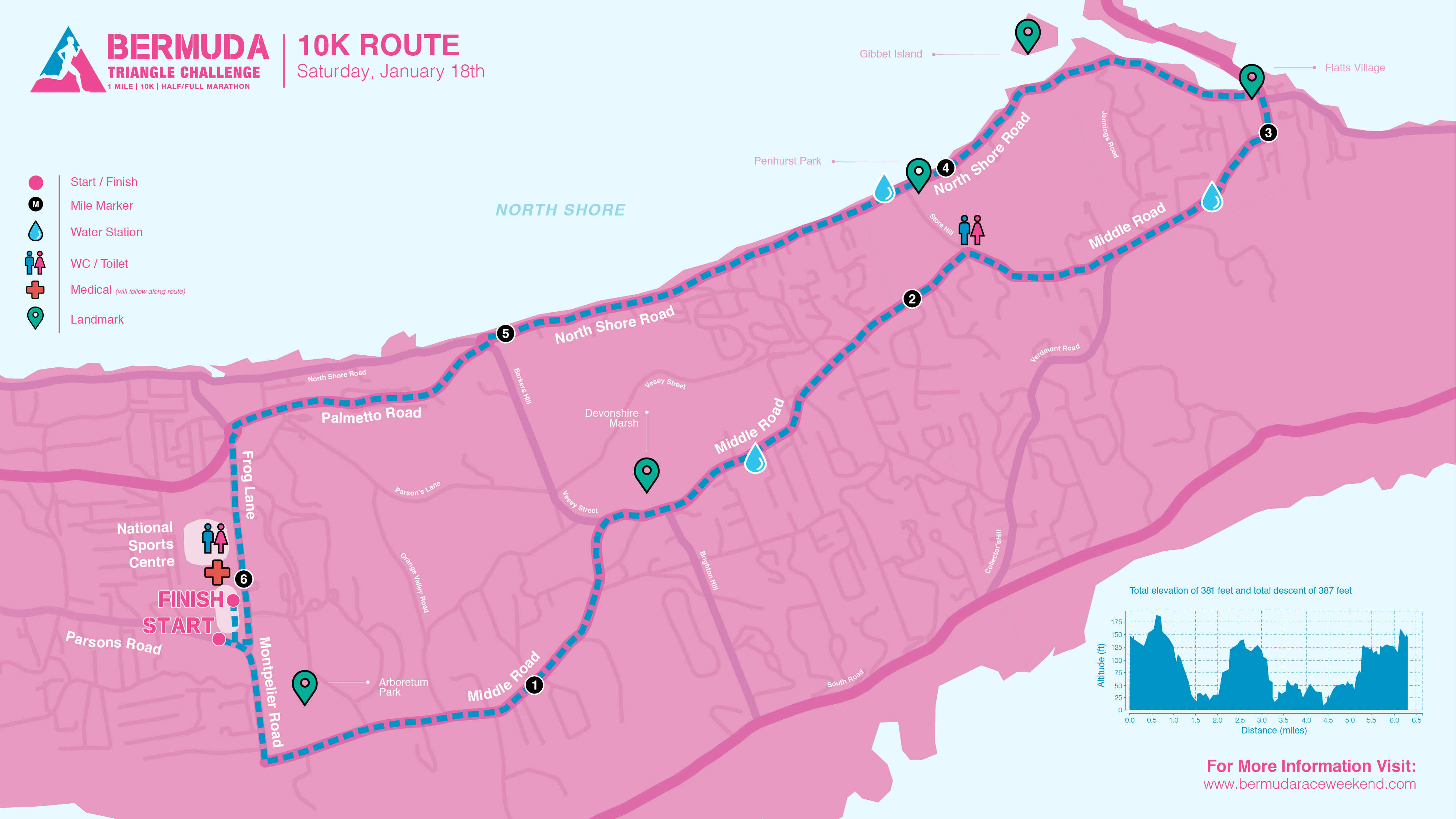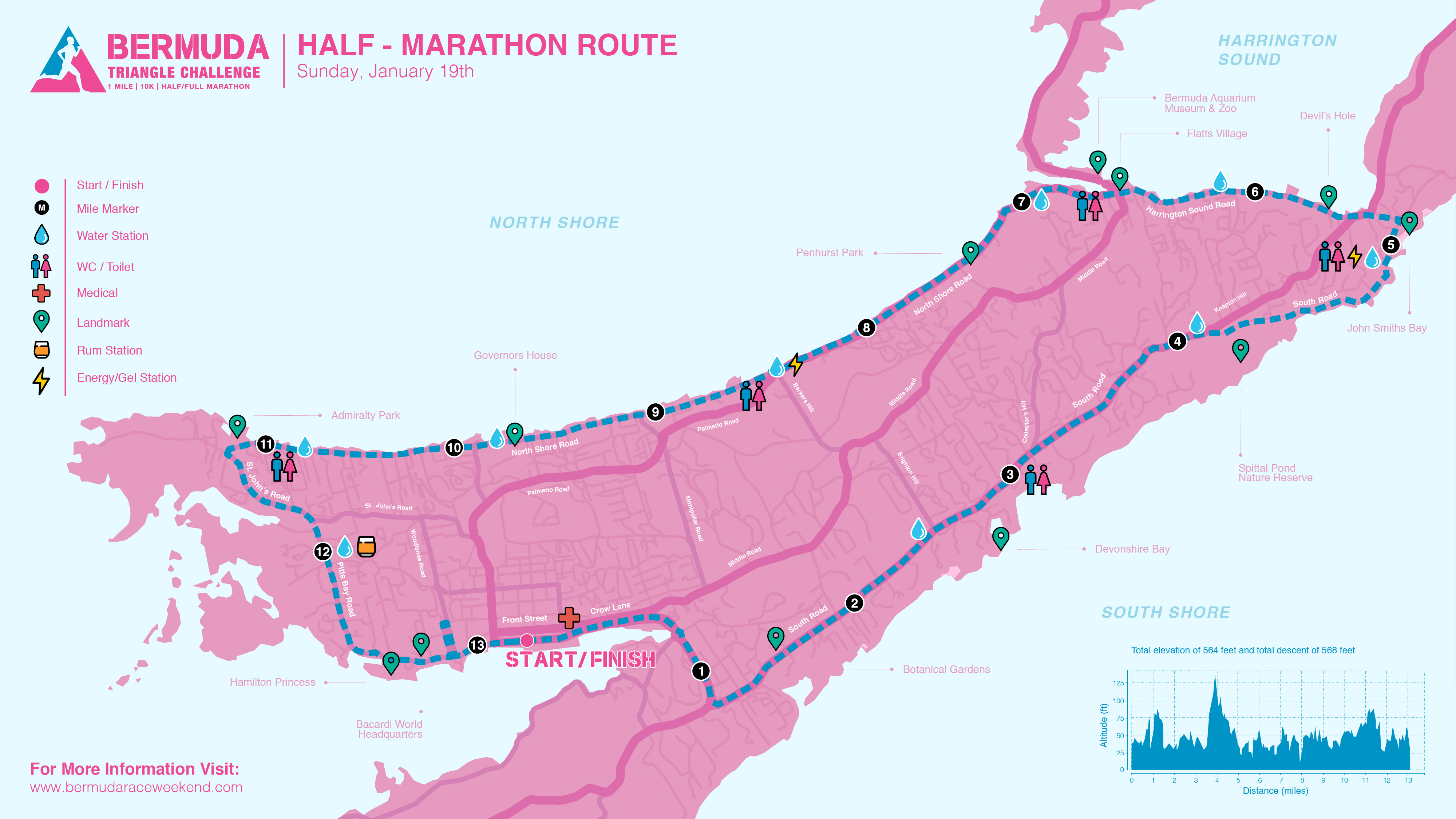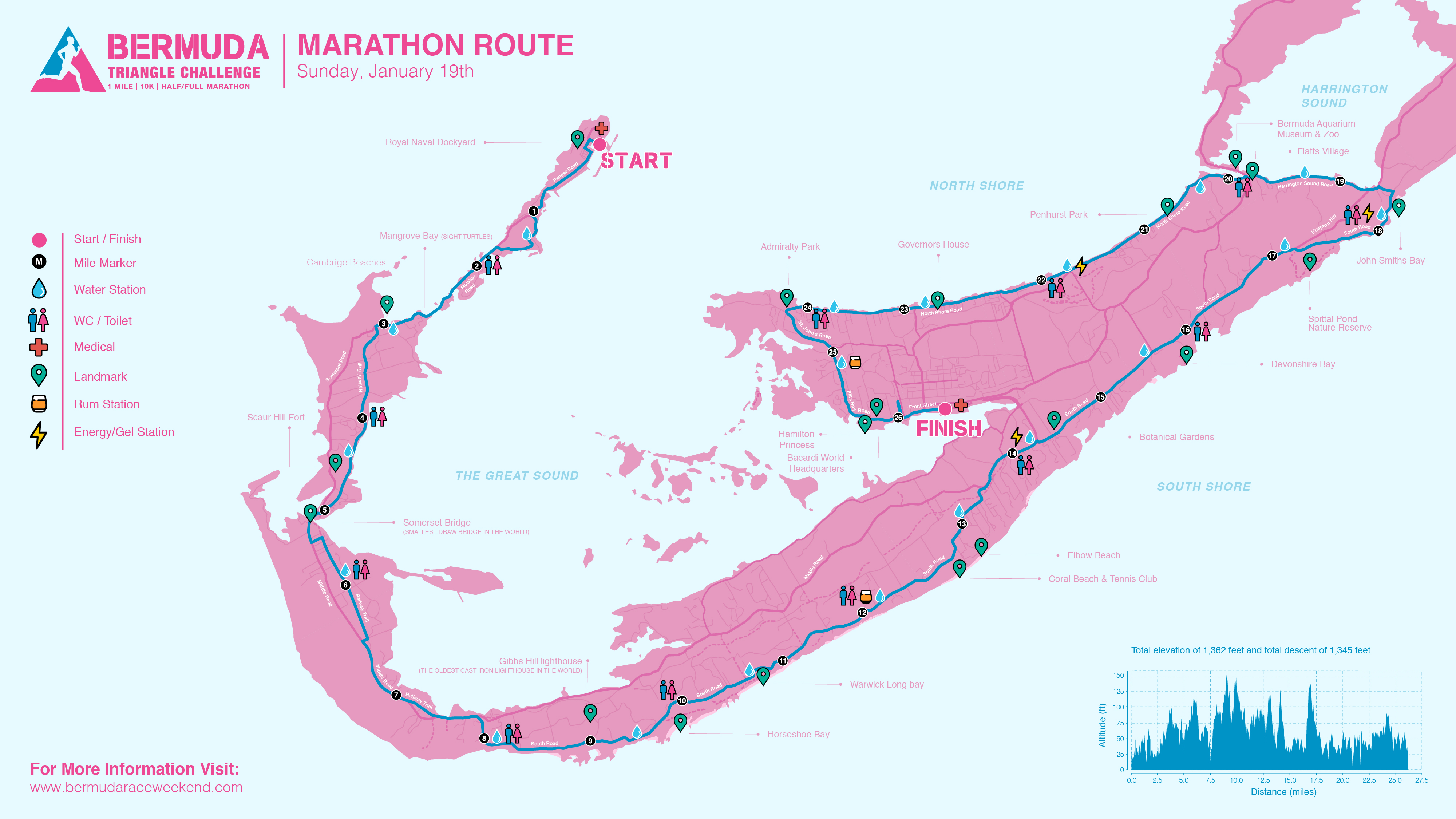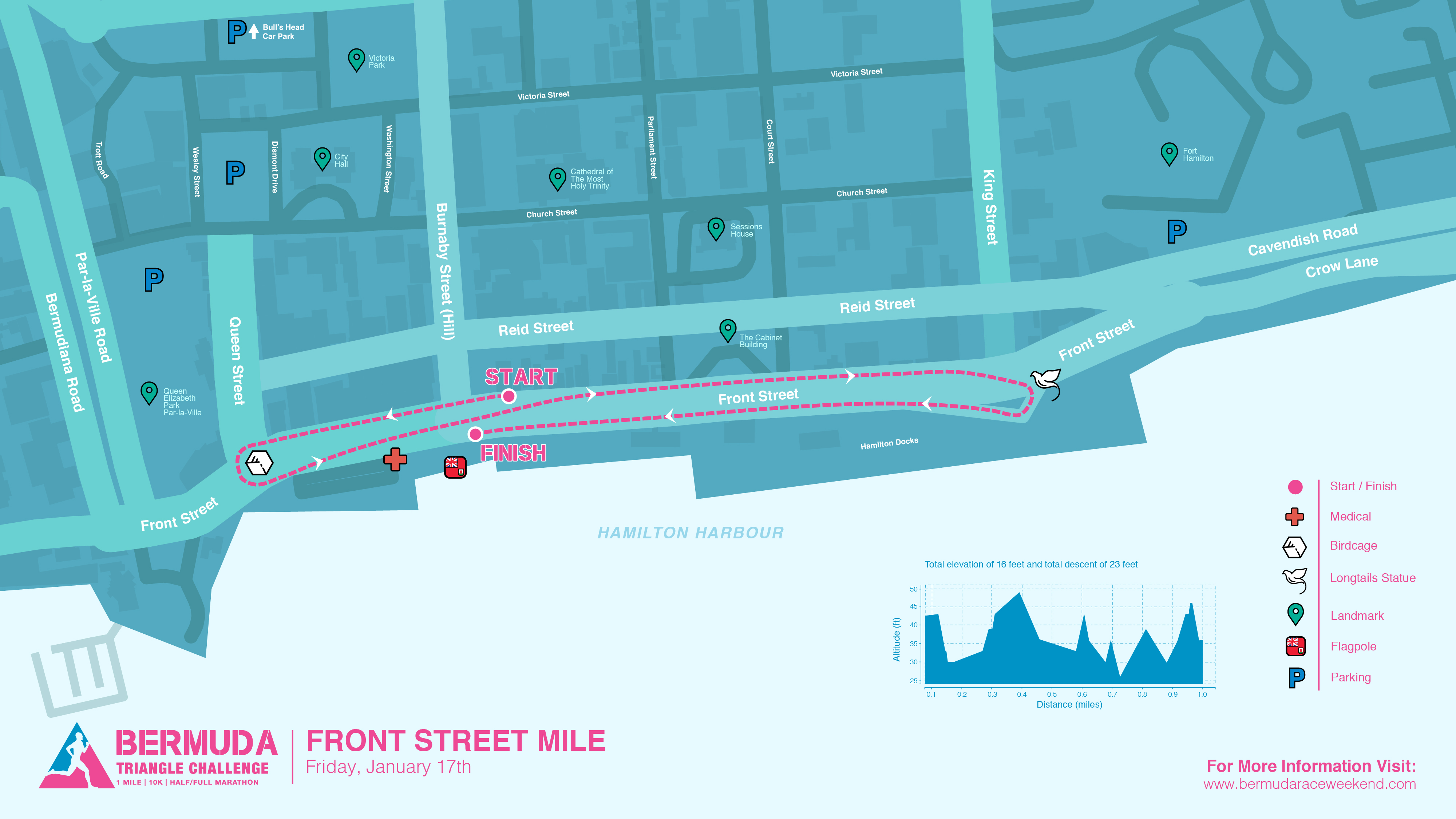 Map & Direction
Flag Pole
•
Front Street
Hamilton
,
Pembroke
,
Bermuda
HM11
Get Directions