Denton Breakfast KiwaniS Club invites you to our 35th Turkey Roll Bicycle Rally! We have five (5) routes, one especially for families with kids and challenged riders. There will be plenty of sag wagons and rest stops, including the Rudy's Bar-B-Q for the 68 milers. We're following the same routes as last year, each just as well marked and as welcoming as ever.

The Ride Send-Off: Saturday, November 18, 2017, at 9 a.m. from Immaculate Conception Catholic Church (ICCC), 2255 N. Bonnie Brae, in Denton. Denton Breakfast Kiwanis members will be there as early as 7 a.m. to welcome and register riders. The church is at the corner of Windsor and Bonnie Brae (From 380, travel north; from Loop 288N, travel south). Enter the ICCC campus from Bonnie Brae for registration and parking.

Early Packet Pick-Up: Riders registered by November 9 may pick up their rally packets
starting at 9 a.m. to 6 p.m. on Monday, November 13, at the Denton Bicycle Center,
1700 N. Elm, Denton, TX 76201, until noon on Friday, November 17. To pick up your packet later on Friday, please come to ICCC between 5 and 7 p.m.

Routes: All routes will start on Windsor Drive north of the church, passing through North
Lakes and Evers Parks, to Sherman Drive. You'll turn left, and pass the Sherman Drive Fire Station and Loop 288 underpass. The 8-mile route ends at the Water Works Park Rest Stop; turn around here.

The other routes continue out on Sherman Drive. Pass Route 2153, and turn left at Zachary Road (8.6), just beyond the Zachary Road Rest Stop. Follow winding Zachary Road until you hit Burger Road (mile 10.4). Then, turn right on Burger, which hairpins back to Route 2153, where you turn right (mile 12.8). Then you'll turn right again on Running Bear Road (mile 14.2), soon reaching the Wishbone Pass Rest Stop on Highway 455 by Lake Ray Roberts. This is the decision point for all riders. You must reach Wishbone Pass by 11 a.m. to continue on the longer (52 and 68 mile) routes.
For the 29-mile route, Wishbone Pass is your turnaround; so go back to the start via Running Bear Road, Route 2153, Burger, Zachary, Sherman, and Windsor. Please note that Burger Road meets up with Route 2153 twice. Turn left at the first Burger (16.4) for a smoother ride to Zachary. As you exit North Lakes Park, turn left on Bonnie Brae to enter the church campus, where you'll find fun and hot dogs. There are five rest stops on this course, each with water, sports drink, and bananas.
The 39-mile course follows the 29 mile route to Wishbone Pass. Then turn right on Highway 455 and cross the Lake Ray Roberts Dam. On this route, you'll find the rest stop at Pilot Point (mile 21.9). After the rest stop, turn right onto Route 377 and then right again onto Route 3524 immediately after Dennard's (24.8) through Aubrey, where you'll continue onto Route 428; and back to Sherman, Windsor, and the ICCC grounds. We've got a hot dog waiting for you. There are six rest stops on this route.
For those riders who want more, we offer the 52 and the 68 mile routes. Make sure you reach Wishbone Pass by 11 a.m., and from Wishbone Pass, turn left on Highway 455. At Marion Road, just before Sanger High School, you'll head right and ride several scenic country roads (Lois, Huling, and Chisam). Look for the Lois Road Rest Stop (mile 20.8). You'll arrive at Lone Oak Rest Stop at mile 27. This is your return for the 52-miler, which follows little-traveled I35 frontage roads back to Lois Road and then to start. On the return from Wishbone Pass, please note that Burger touches Route 2153 twice. Take the first left onto Burger to ride the full 52 or 68 miles. Then turn left on Zachary and right on Sherman toward home and hot dogs.
For the 68-miler (109 KM), go right on Lone Oak Road and left onto Hemming. You'll cross Lake Ray Roberts four times, hit the Rudy's Country Store and Bar-B-Q Rest Stop (mile 34.7), and head west on 922 to Valley View Rest Stop on the town square. From here, head south on still little-traveled frontage roads to Lois Road, Wishbone Pass, and home, where the Syracuse Sausages and hot dogs are waiting.

All routes begin and end at the Immaculate Conception Catholic Church. All except the
8-miler pass the Water Works Rest Stop and Wishbone Pass, headquarters for first aid
and minor repairs. Our well-marked route is supported with maps you can access on your
phone.
Helmets are required, and the Turkey Roll happens rain, snow, or shine. No refunds.
2017 Turkey Roll t-shirts are guaranteed for all registered riders present.

Registration Fees: $30 if received by September 30, 2017; $35 from October 1 to November 9; and $40 starting November 9 to the day of the rally. Online registration closes Wednesday, November 15, at 5 p.m.
We and the Kids of Denton appreciate your patronage of this event. If you want to learn more about what WE (DBK) do, visit http//:DentonBreakfastKiwanis.org
Event details and schedule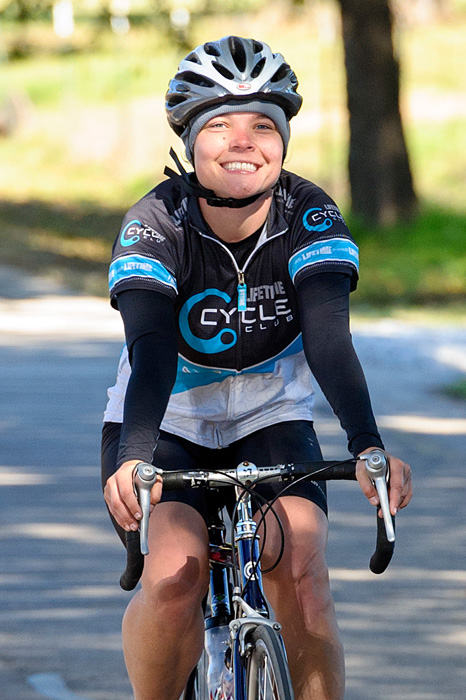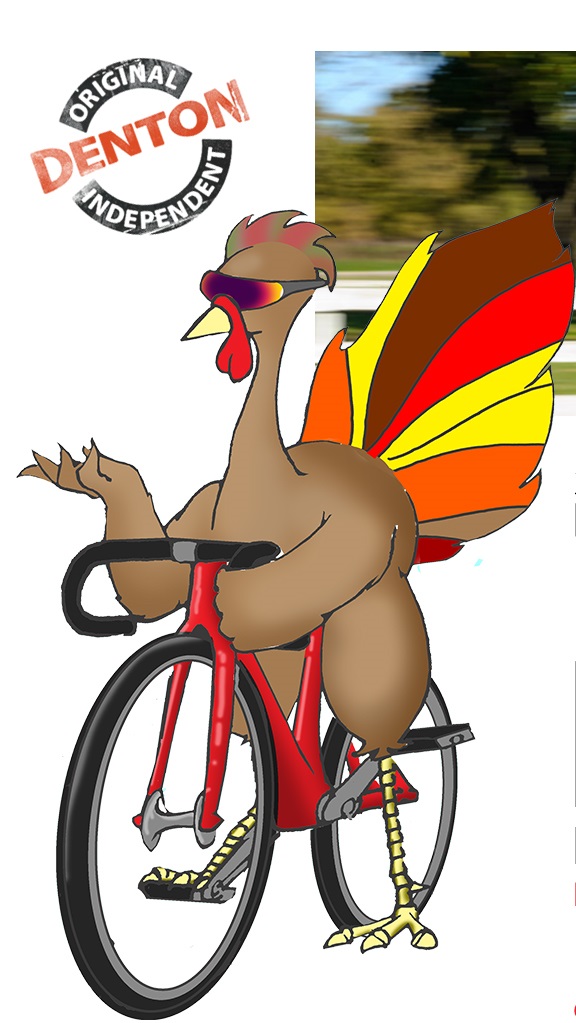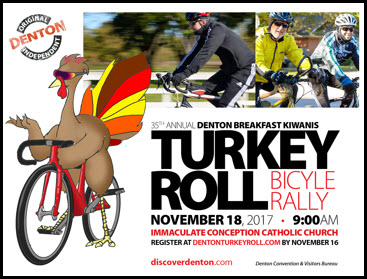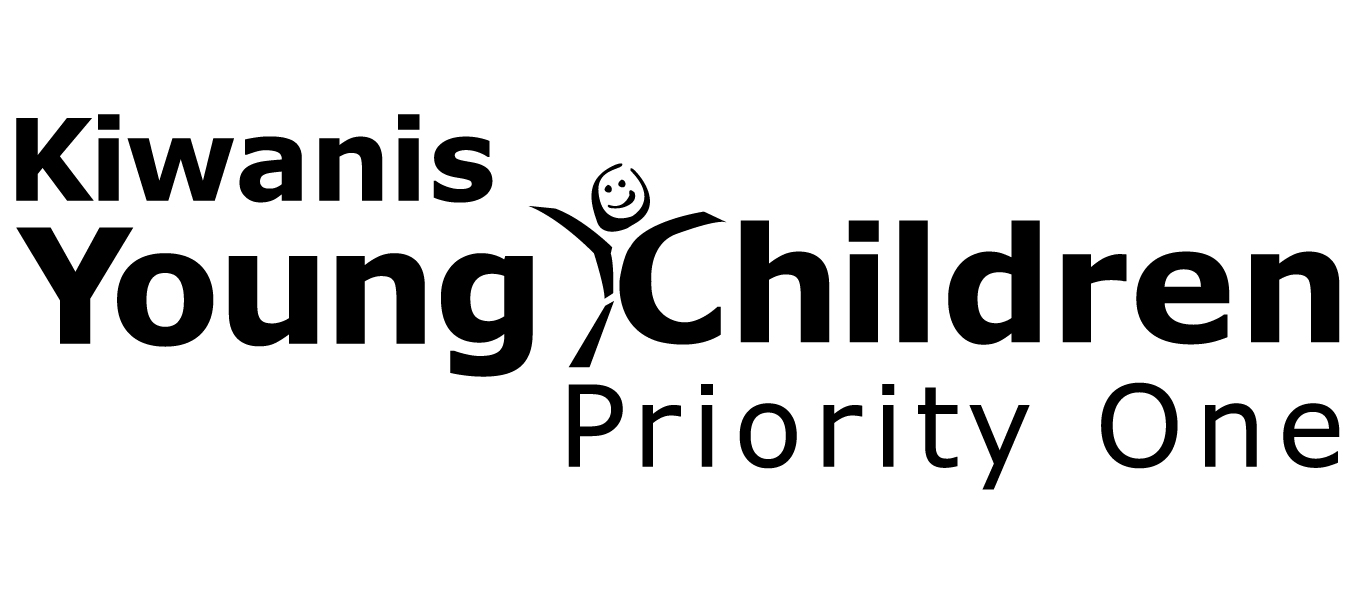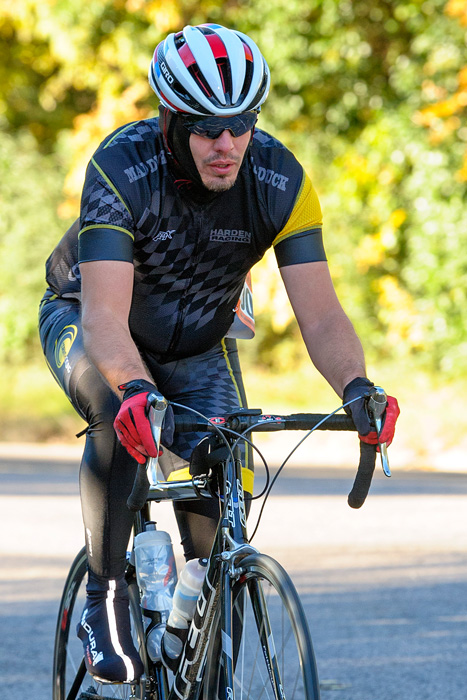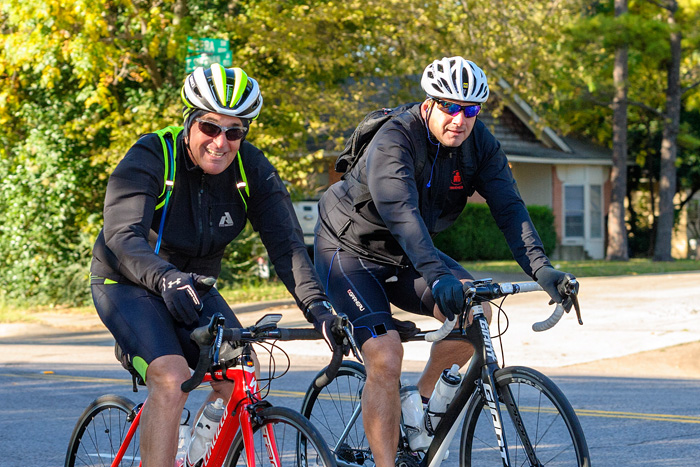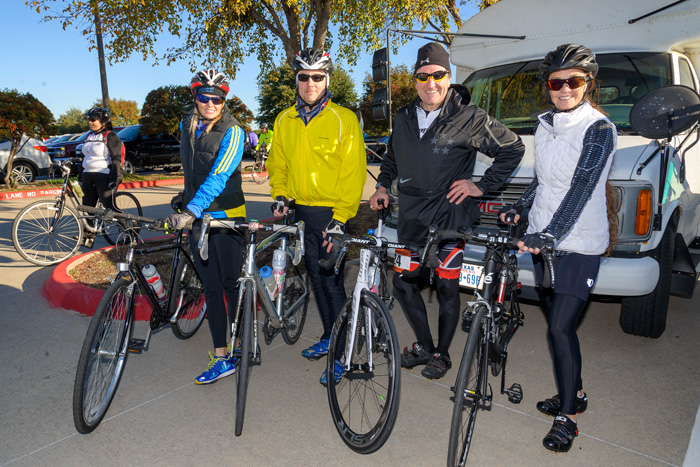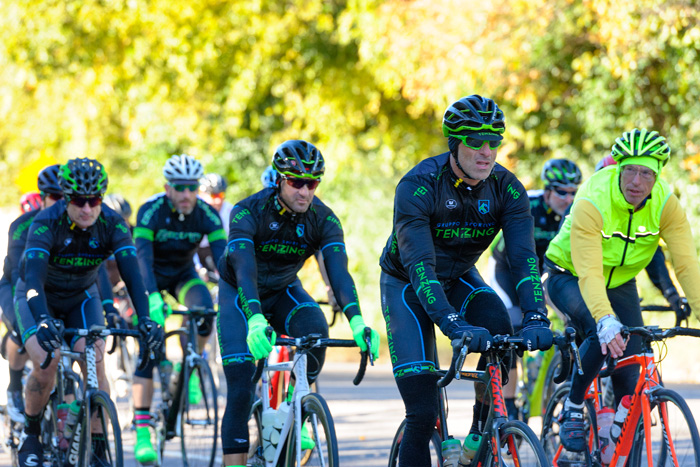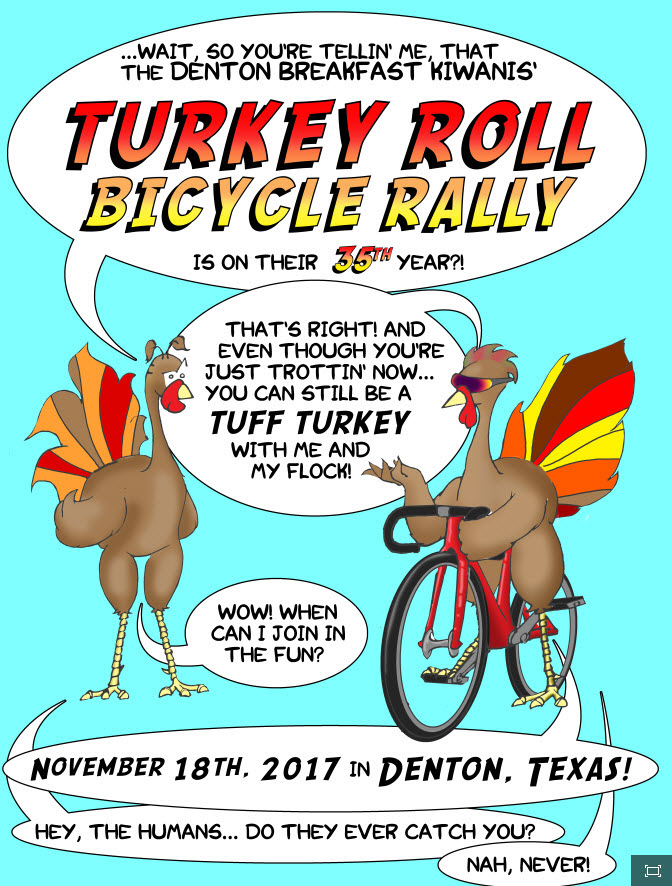 Map & Direction
Immaculate Conception Catholic Church Gym
•
2255 N Bonnie Brae
DENTON
,
TX
76207
Get Directions