The Twilight Tri will be an evening indoor event at the Cuyahoga Falls Natatorium. Participate in our beautiful state of the art facility, with an outstanding aquatics center, newer Cycleops bikes and sports floor track.
All participants will need to show a photo ID upon check in at the Natatorium
No Refunds - No Transfers - No Deferrals
Event details and schedule
The Tri will begin promptly at 8:00 pm; it will be a 20min swim-20min bike-20min Run event.
The swim pool is 25 yards with 6 lap lanes, We also plan to use the lap pool
A fleet of Cycleops bikes are available. Each person must weight prior to the competition in in order to accurately measure their bike performance.
The running track is upstairs and is a 1/8 mile track.
All transitions times are 5 min. It is your responsibility to be in place when your waves starts.
If you would like to be assigned a swim lane together with a friend please let us know via email to NCMultisports@aol.com
We are looking for volunteers to assist as counters for the event.
Please send an email to us at NCMultisports@aol.com if you are able to volunteer!
There will be packet pick up and weight in on Friday, December 8, from 4:30 to 7:00 pm.
Packet pick up on race day will start at 07:00 pm
No Refunds - No Transfers
Event details and schedule
For 2016 we will be offering an Elite Wave start for those that feel they can be in contention for the overall male and female spots.
The Overall winners of the 2015 Twilight Indoor Tri were Ekateria Pinkney(Female) and Gabriel Piriz (Male)
Each person will be offered a free seven day pass to check out the facilities. We would encourage you to attend one of the indoor cycling classes to experience the Cycleops bikes
Results from 2015 are posted at www.NCMultisports@aol.com
We will have early packet pick up on Friday, Jan 8, from 4:30 - 7:00 pm.
The first wave will start at 08:00 pm.
No Refunds - No Transfers - No Deferrals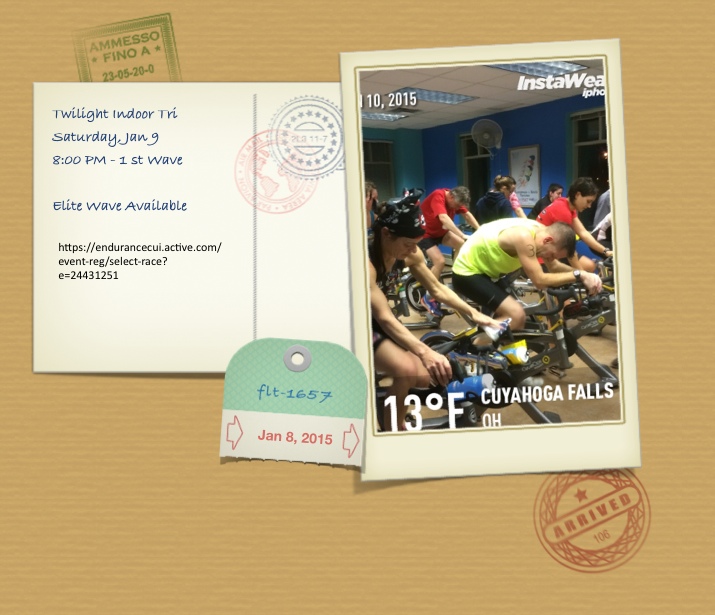 Map & Direction
Cuyahoga Falls Natatorium - Corner Stow & 3rd St
•
2345 Fourth Street
Cuyahoga Falls
,
OH
44221
Get Directions