Save on this event with ACTIVE Advantage
Your Advantage member discount automatically applies at checkout
Save on this event with ACTIVE Advantage
Members save up to $10 on registration fees and more!
Get up to
$10 OFF
this event
Advantage members save up
to $10 on registration fees!
Media
11 Photos and Videos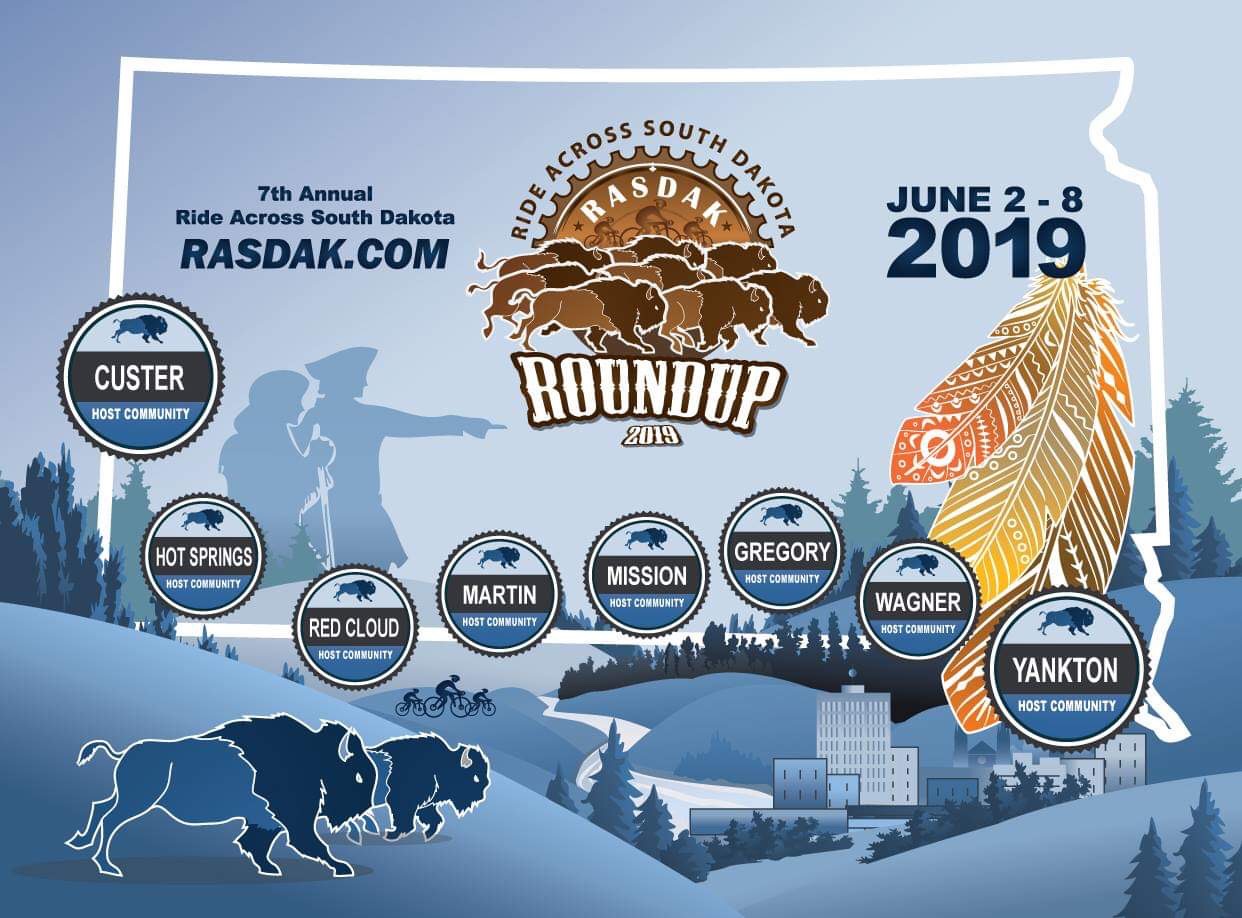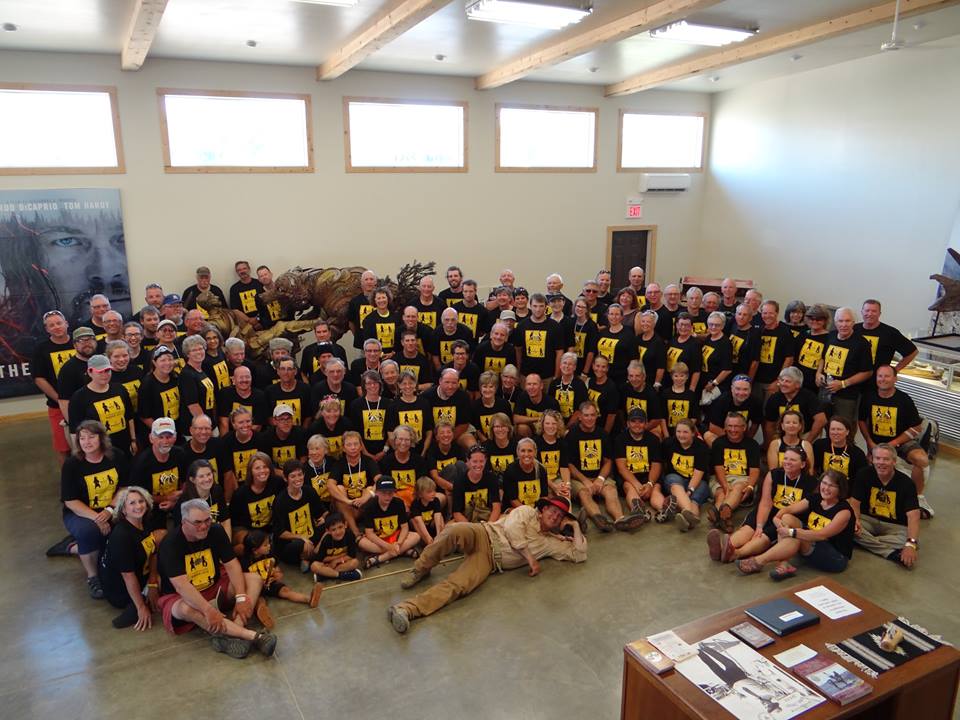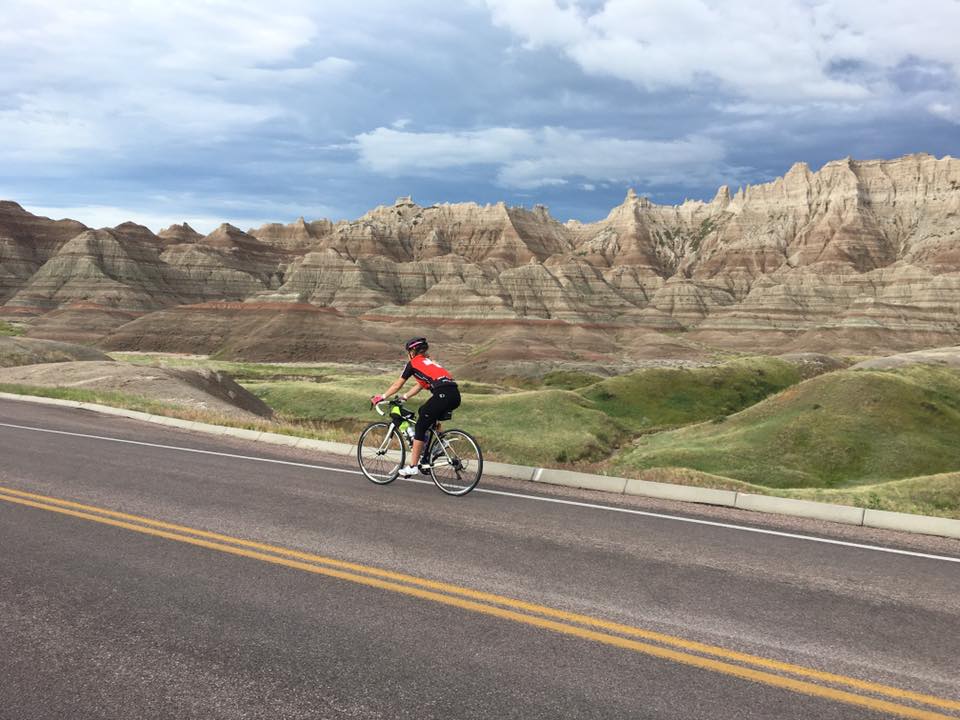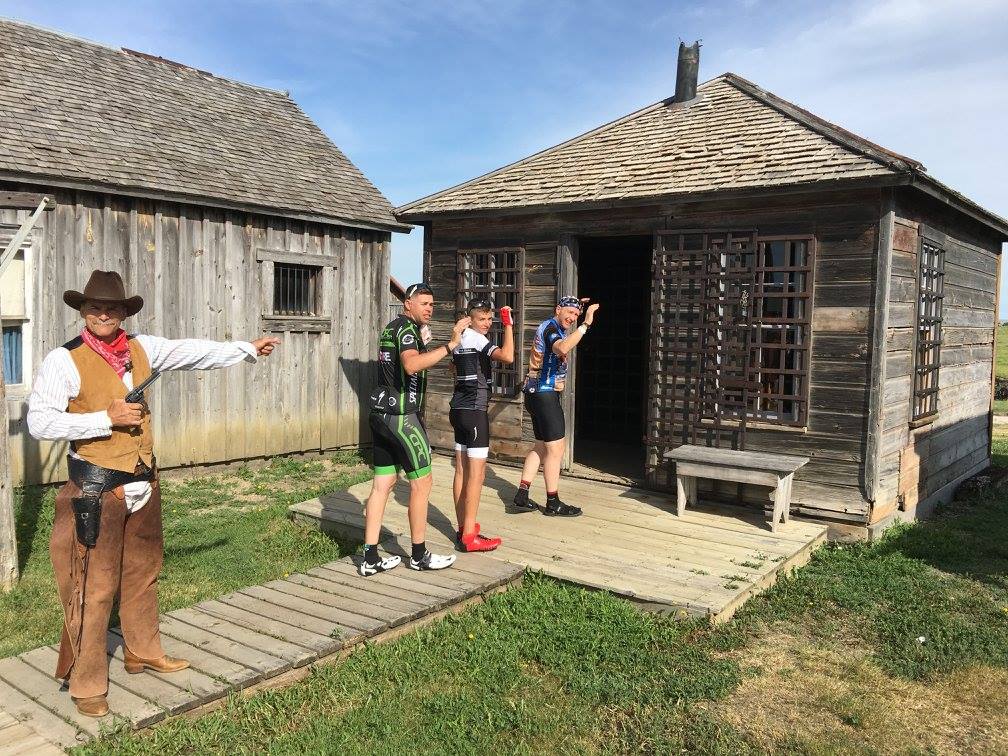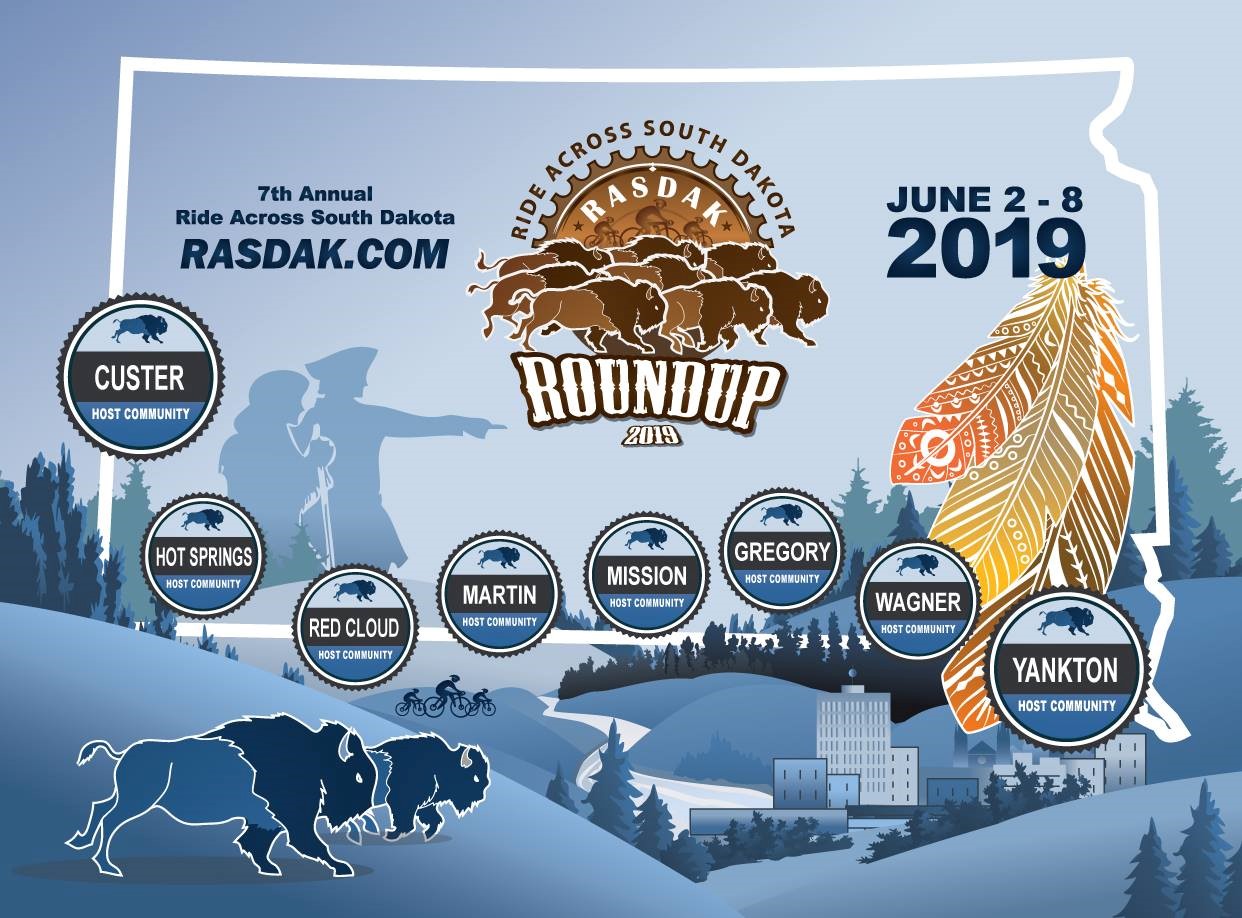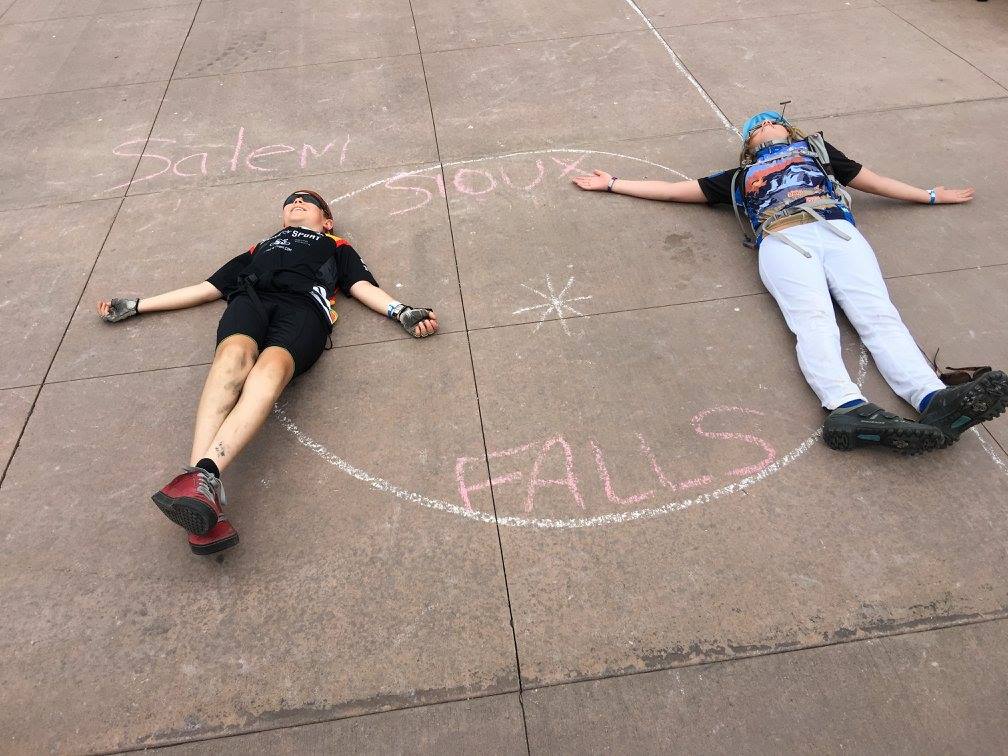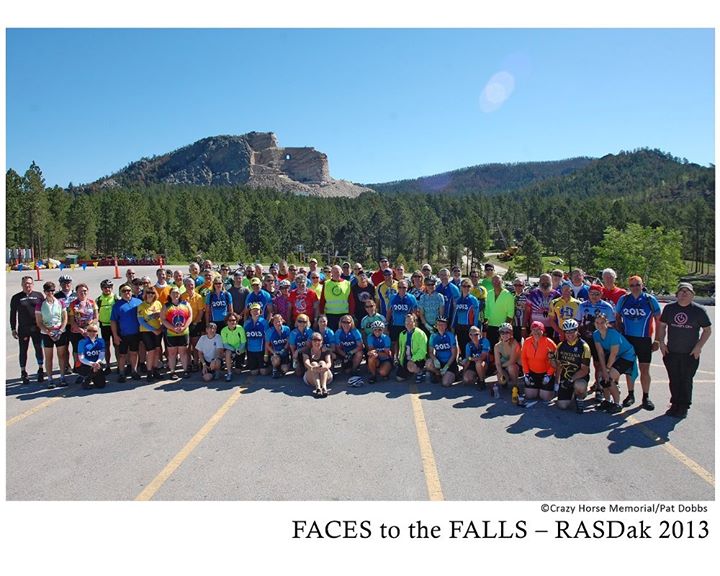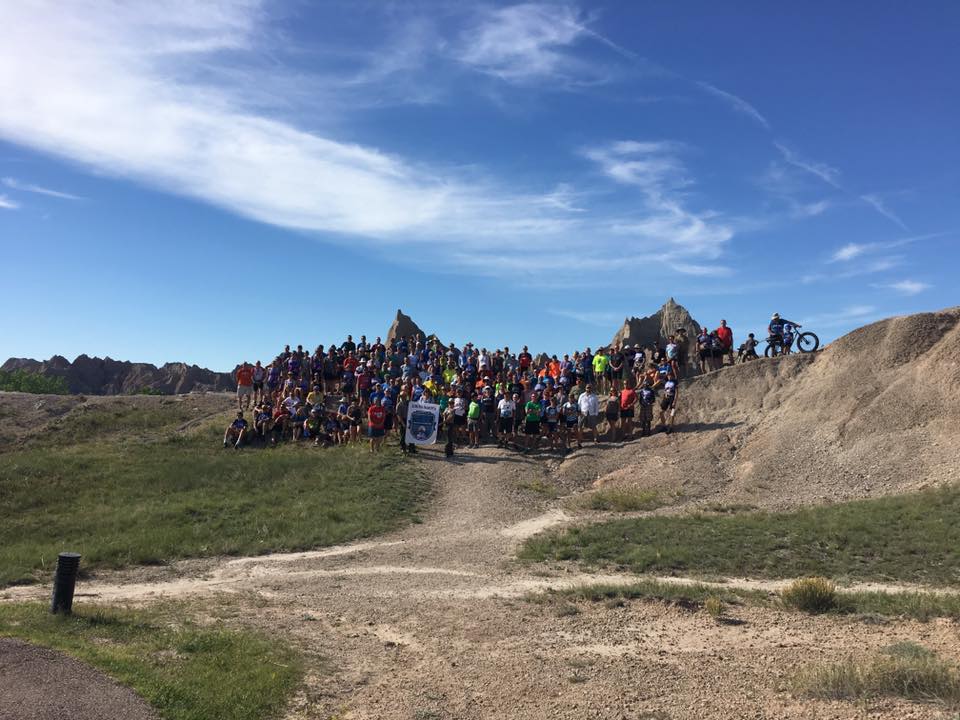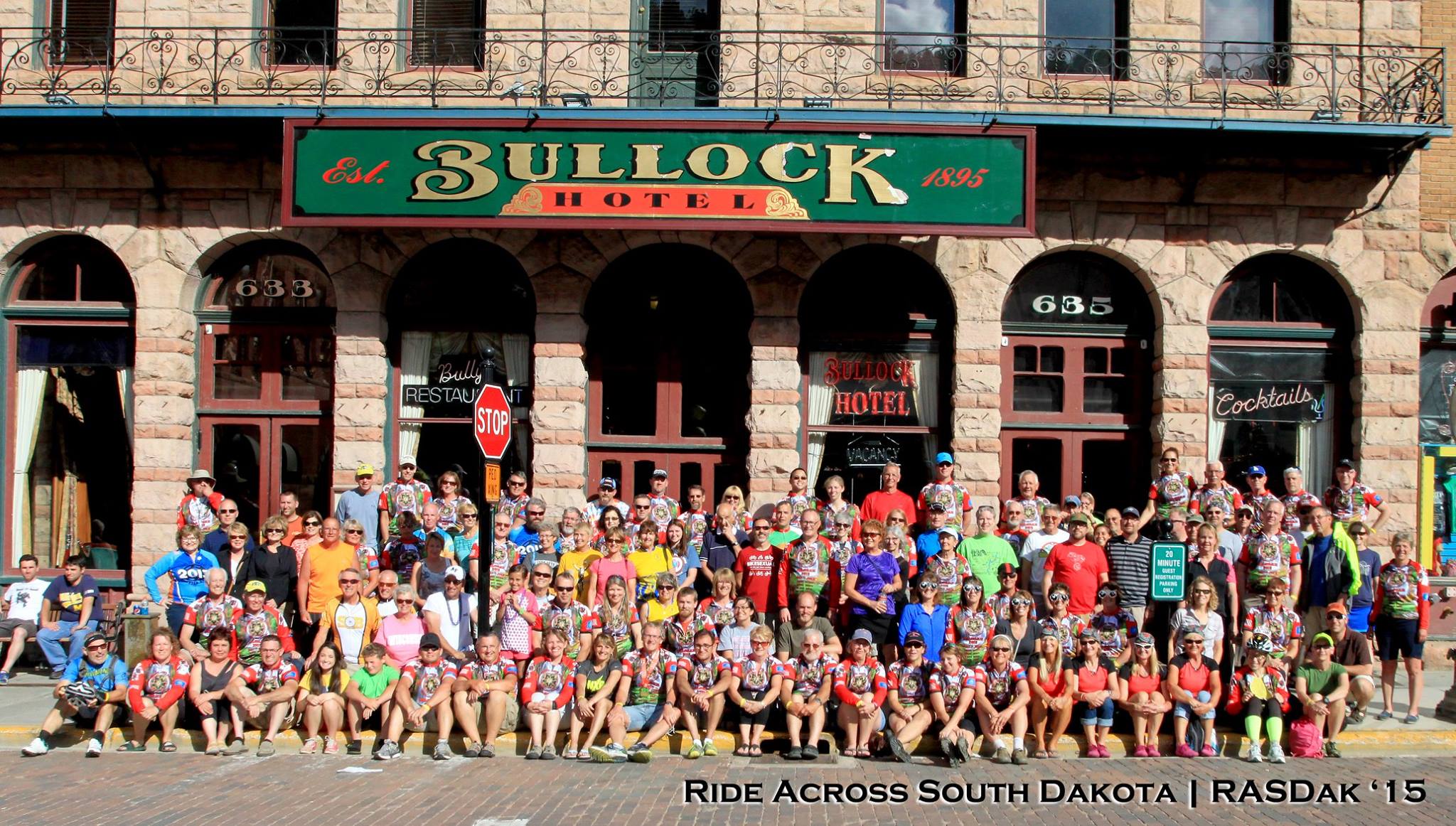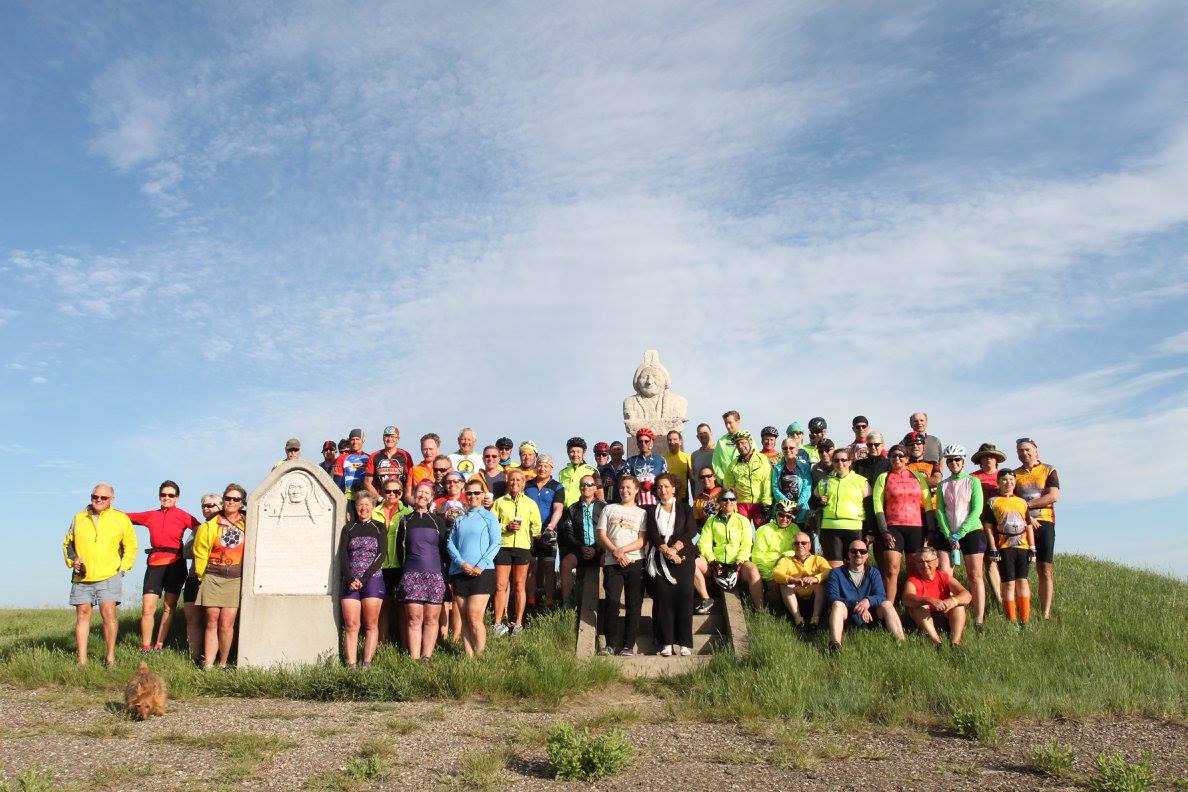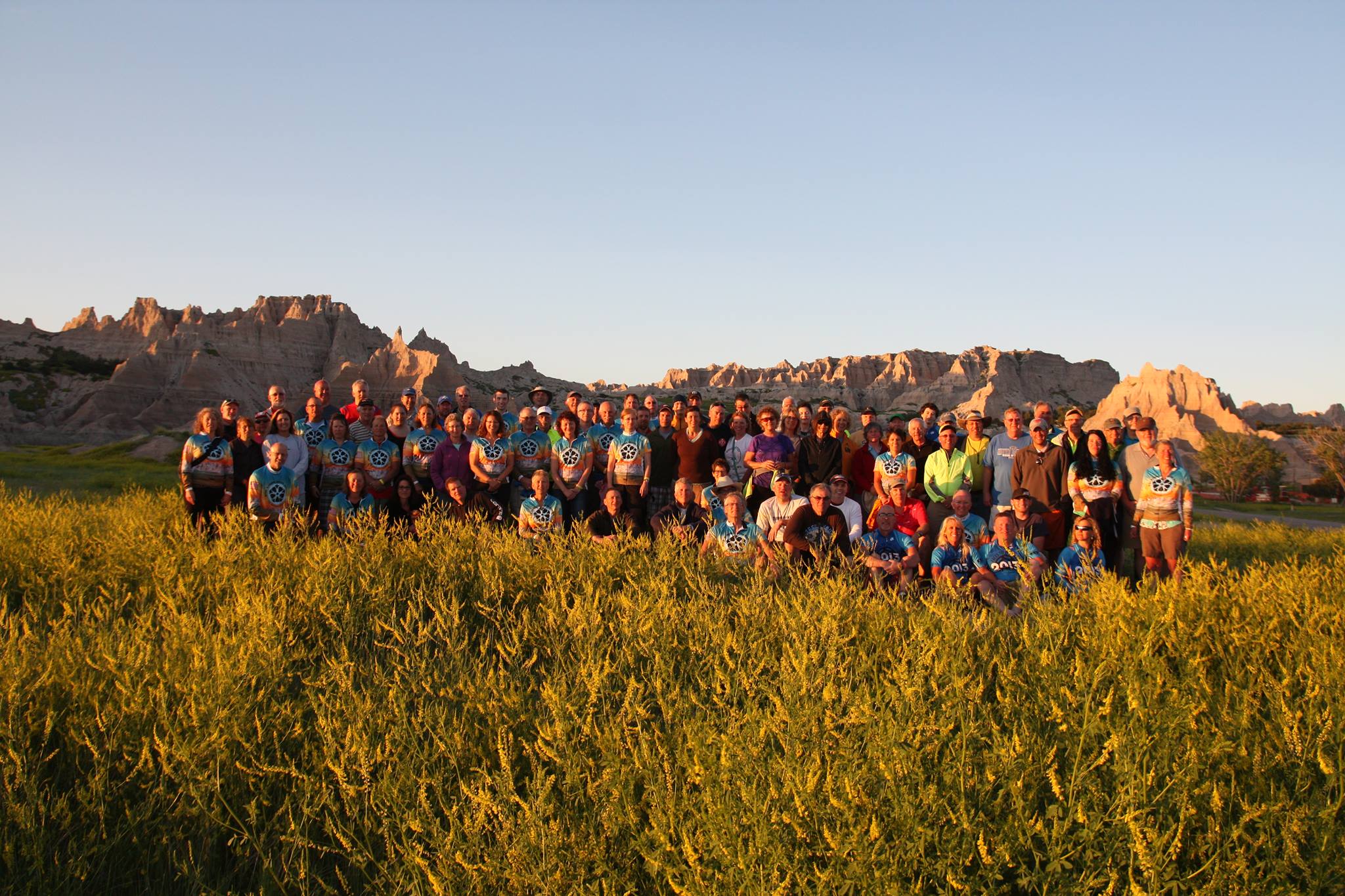 June 02 - 08, 2019
Monday, Tuesday, Wednesday, Thursday, Friday, Saturday, Sunday
Custer High School
1645 Wildcat Lane
Custer
,
SD
57730
View Map
Ride Across South Dakota (RASDak)  announces its 7th year, 7 day, 7 overnight stops bicycle tour. RASDAK Round Up 2019—more than just a bike ride.  

RASDak Round Up 2019, the seven day, seven city bicycle tour across South Dakota, will begin its tour in Custer, SD on June 2, 2019.  Cyclists will overnight in Hot Springs, Red Cloud, Martin, Mission, Gregory, and Wagner.  The 469/504 mile tour will end June 8, on the historic Meridian Bridge in Yankton, SD.  

 

RASDak 2019 will showcase the rich diversity of natural terrain making up South Dakota.  Cyclists will begin their journey in Custer, pedaling through pine forests, grass prairies with the option of exploring lakes, caves and hot springs. As cyclists head east, the terrain will transition to open grasslands, buttes and sand hills. Cyclists will end their week in Yankton, after pedaling through the pristine Missouri National Recreational River Valley.  

 

2019 RASDak Round Up is more than just a bike ride for cyclists.  Cyclists will experience first hand Native American history, art and culture as the route passes through the Pine Ridge, Rosebud and Yankton Reservations. Cyclists will have the opportunity to visit  historic South Dakota schools, churches, missions, museums, forts, and bridges.

  

 

RASDak is supported by volunteers, and sponsors. Proceeds from the ride are used to support bicycle tourism along with communities and groups that help make RASDak possible. RASDak provides a $500 scholarship to a high school senior making a difference in his or her community. In 2019 scholarships will be awarded to eight seniors in Custer, Hot Springs, Red Cloud, Martin, Mission, Gregory, Wagner and Yankton.  Since 2017, RASDak has donated numerous Saris bicycle service stations to support bicycling on various trails in SD. In 2019, RASDak will donate a Saris repair station to Custer State Park in honor of its 100th birthday. RASDak, and its riders, financially  support community groups that are providing snack stops, meals and shelter to the riders and support crew. Sponsors for RASDak include the South Dakota Beef Industry Council, SDN Communications, Spoke-n-Sport, Harlans Bike & Tour, and South Dakota AARP. 

 

RASDak riders are diverse. This year, RASDak is expecting over 200 riders will register for the tour.  Ages of the riders will range from13 to 80 and will represent  30 states and Canada.

  Registration for RASDak is limited.  Full-week and single-day riders are welcome. Registered riders receive on-route support and camping accommodations. Regular food and rest stops are provided along the way.  Riders may obtain further information and register for the ride on the RASDak website at www.

rasdak.com

 or visit the RASDak facebook page.        

   







                                                 

     

   







                                                 
Event details and schedule
Saturday June 1  Our RASDak adventure will begin in Custer. Nearby attractions include Crazy Horse Memorial (world's largest mountain carving), Jewel Cave National Monument (3rd longest cave in the world), and Custer State Park (considered one of the 10 best state parks in the US and celebrating its 100th birthday). For those that want to warm up for RASDak, check out the 34th annual Volksmarch, which is a 10K hike up Crazy Horse Memorial, and is the most popular organized hike in the US.
Custer to Hot Springs (Sunday June 2) 52 miles  We will explore Custer State Park and Wind Cave National Park as we bicycle to Hot Springs. Our first stop will be Sylvan Lake and the historic Sylvan Lake Lodge. Sylvan Lake is widely considered to be the crown jewel of Custer State Park. From there we will take the scenic Needles Highway before we head south to visit Legion Lake Lodge and Blue Bell Lodge. After Custer State Park we will enter Wind Cave National Park. Wind Cave was the first cave to be designated as a national park, and is considered the densest in the world. It contains 95% of the boxwork formations ever found. The Park also includes the largest remaining natural mixed-grass prairie in the United States. Our destination is Hot Springs, home of the Mammoth Site - the largest concentration of mammoths in the world. Relax and enjoy the 87F water of Evans Plunge, the Black Hill's oldest tourist attraction.
Hot Springs to Red Cloud Indian School (Monday June 3) 69 miles  Our first stop will be Angostura Reservoir, known for its scenic views and beautiful beaches. From there we will journey across the Pine Ridge Indian Reservation, enjoying views of the Badlands and pine covered buttes. This reservation is home to the Oglala Lakota Tribe, which has 46,000 enrolled members. This is also where the final ghost dance was held. Our destination will be the Red Cloud Indian School. The school carries on Chief Red Cloud's mission to educate Lakota youth, to be able to walk in both the Lakota world and the white man's world. He is buried nearby at the historic Holy Rosary Church cemetery. Also on the campus is the Holy Rosary Mission Church, well known for its beautiful interior. This is also the home of the Heritage Center, which includes over 10,000 Lakota and other Native Art. We will be able to see work from the Red Cloud Indian Art Show. This art show is the largest and oldest Native art exhibition of its kind, hundreds of artists from across North America will have their work on display.
Red Cloud Indian School to Martin (Tuesday June 4) 63 or 49 miles  Our first stop will be Pine Ridge, home to Billy Mills, the first American to win the 10K at the 1964 Olympics. Then our trip will take a more somber turn as we visit the Wounded Knee Historical site. It was at this site in 1890 that more than 250 Lakota were killed, most of them unarmed. Our day will conclude at Martin and as you look to the south you will see the sandhills. The sandhills are the most intricate and largest wetland ecosystem in the United States. Just to the southeast is the Lacreek National Wildlife Refuge, established in 1935, and also where the Trumpeter Swan was reintroduced to the Northern plains in 1960.
Martin to Mission (Wednesday June 5) 91 miles We journey to the Rosebud Indian Reservation, home of the Sicangu Oyate (the Upper Brule Sioux Nation). We will get off highway 18 to explore the magnificent views of Crazy Horse Canyon. Along this route we will see Crow Dog's Paradise, site of an annual Sun Dance. Later we will come to the Saint Francis Mission, founded in 1886 by the Jesuits. You will want to visit the beautiful church, and the Buechel Memorial Lakota Museum. The museum is home to many Lakota artifacts, and also historic photographs of Chief Spotted Tail. Our next stop will be at Rosebud where Chief Spotted Tail is buried. Rosebud is also the headquarters for the Tribe. Our destination will be Mission, which is home to Sinte Gleska, a four-year private tribal college. The college was founded in 1971 and is named after Chief Spotted Tail.
Mission to Gregory (Thursday June 6) 69 miles  Our first, and final stop on the Rosebud Reservation, is Okreek. From there we come to, Carter, which was a memorable stop in year one of RASDak! Our next stop will be Winner, birthplace of Frank Leahy, legendary Notre Dame coach. The area from Winner to our destination of Gregory is known for some of the best pheasant hunting in the world. This is also the area where Oscar Micheaux, considered the most successful African-American filmmaker of the first half of the 20th century, homesteaded in 1905 and began his film making career. While in Gregory check out the Gregory Buttes Observation Park which overlooks the town, and you can't miss the large pheasant and gorilla statue in Gregory, which is the school mascot. 10 miles south of Gregory is the Carlock Dance Hall, one of the last of the old dance halls.
Gregory to Wagner (Friday June 7)  88 or 67 miles Here we explore the scenic Missouri River valley. We are offering a side trip which shows off even more of the river valley. We will cross the river at Fort Randall Dam, which forms the 11th largest reservoir in the US. Just downstream from the dam is the historic Fort Randall which was established in 1856. You can still visit the Chapel building. This also marks the start of the Missouri National Recreational River, where the river remains undammed and unchannelized. It is also the location of the Karl E Mundt National Wildlife Refuge, which protects one of the most critical bald eagle habitats in the country. We are also entering the land of the Yankton Sioux Tribe, home of the Ihanktonwan Nation. Their tribal headquarters is Wagner, which will be our overnight destination.
Wagner to Yankton (Saturday June 8)  71 miles This route will follow the Missouri River, much of it designated as a National Recreational River. Springfield will mark the start of Lewis and Clark Reservoir, which attracts over 1.5 million visitors a year. This reservoir is formed by the last of the six Missouri River Dams, Gavins Point. Our destination is Yankton, which was visited by Lewis and Clark in 1804, and was the first capital of the Dakota territories in 1861. Yankton has a rich history and has 26 individual properties and 6 districts that are listed in the National Register of Historic Places. Fittingly, we will be completing our journey on the historic double-decker Meridian bridge, which was converted to pedestrian/bike trail traffic in 2011.