Brief Description: A scenic course, featuring rolling hills, on the campus of WCU and along the Tuckaseigee River in Cullowhee, NC
Proceeds: The proceeds of the race will go to students at WCU to assist in professional presentations and travel to conferences. We have a strong tradition of undergraduate research and professional engagement, which often leads to student travel and presentations at conferences in his or her field of study. Race proceeds will assist students with the expense associated with these outstanding opportunities. Many students are not able to engage in professional development without financial assistance. The race is hosted by the School of Health Sciences and the Department of Campus Recreation & Wellness.
Event details and schedule
Half Marathon Race Fee:
$40 through March 5th
$60 March 6th - March 31st (Pre-registration ends on March 31st at 4pm)
$80 Race Day Registration (including in person registration on March 30th, 31st or April 1st)
5K Race Fee:
$20 through March 4th
$25 March 5th - March 31st (Pre-registration ends on March 31st at 4pm)
$30 Race Day Registration (including in person registration on March 30th, 31st or April 1st)
All sales are final. Refunds and transfers are not allowed under any circumstances.
All participants will have access to the Campus Recreation Center for use of showers and other facilities before and after the race.
There will also be a bag drop at the Campus Recreation Center the morning of the race.
Plenty of free parking available.
Pre-Registration Closing Date: March 31st @ 11:59pm
Must be at least 13 years of age on race day to participate.
Packet Pick-Up
Packets may be picked up on Thursday (March 30th) or Friday (March 31st) from 4:00pm-8:00pm in the Heealth and Human Sciences building, Room 204 at Western Carolina University. The address for the HHS Building is:
Health and Human Sciences Building, WCU
4121 Little Savannah Rd
Cullowhee, NC 28723
Race day packet pick-up is also available on Saturday, April 1st from 6:30am-7:30am at the Campus Recreation Center. Packets are not available outside these time frames.
Parking
As you enter campus, take the second exit from the traffic circle onto Norton Drive. The Campus Recreation Center will be on the right. Turn right onto Memorial Drive and there is plenty of parking along the street.
Race Shirts
All race participants will receive a short-sleeve technical shirt. All participants registered by March 5th are guaranteed a shirt on race day. Those registered after March 5th may have to pick up their race shirt at the Campus Recreation Center following the race if supplies run out on race day.
Race Weekend Schedule of Events
Thursday, March 30
4:00pm-8:00pm
Packet Pick-Up at Human Sciences building, Room 204
Friday, March 31st
4:00pm-8:00pm
Packet Pick-Up at Human Sciences building, Room 204
Saturday, April 1
6:30am-7:30am
Race Day Packet Pick-Up & Registration at WCU Campus Recreation Center

8:00am

8:20am

Half Marathon start

5k Start

9:00am

11:00am

5k Awards

Half Marathon Awards

11:30am
Course Closes
Training Program
Every 2017 half marathon or 5k registrant will receive an electronic copy of a basic training program.
Rules and Regulations
You must be able to complete the half marathon in 3.5 hours or less, otherwise you will be running the course at your own risk.
The course closes at 11:30am and course accommodations will also be discontinued at that time. Participants still on the course are doing so at their own risk.
5K Awards begin at 9am and Half Marathon Awards begin at 11am, regardless of participant's status of completion of the race.
You must be in good health and physically prepared to take on the challenge of the half marathon and/or 5K.
You must be 13 years old or older to participate in The Valley of the Lilies Half Marathon.
Race numbers (bibs) are required to participate. No bandits.
Bibs are non-transferable.
Coaches, baby-joggers, strollers, bikes, dogs or other pets, wagons, in-line skates, skateboards and other wheeled devices will not be allowed on the course. Strollers and baby joggers are permitted on the 5K course at the participant's own risk. Keep in mind there are gravel paths along the 5K course.
Participants assisted in any way during the race will be disqualified. This includes having any non-registered runners/walkers alongside a participant during the race.
Walkers are welcome, but the half marathon course will officially close at 11:30am. Participants are welcome to complete the course at their own risk. If unable to walk the half marathon course in 3.5 hours or less, it is recommended to participate in the 5K as an alternative.
No full ear-covering headsets for listening devices (iPod, MP3 players, etc.) are allowed. Earbuds that do not fully cover earways or obstruct traffic noise are allowed, but it is recommended that they be kept at a low volume in order to hear traffic and other people because of the "open course" structure of the race.
Protests related to actions of any race official or volunteer will only be accepted in written form. Verbal protests will not receive responses. All decisions of the race directors are binding.
All sales are final. Refunds and transfers are not allowed under any circumstances.
Cancellation Policies
Entry fees are non-refundable and entries are non-transferable. Once you have registered and we have received your fee, you will not receive a refund for any reason. You may not give or sell your number to anyone else. You may not transfer your application to the following year. If you registered and are unable to participate in the race, we will reserve your t-shirt for 30 days, available for pick up from the Campus Recreation Center at WCU. If, after thirty days, you have not picked up your shirt, it will no longer be available for you. No refunds will be given due to weather and/or race cancellation.
Weather Policy
Race officials may cancel, delay, or change the event in case of extreme weather or other conditions that may affect the safety and health of the participants. In the event of cancellation, refunds will NOT be issued. Please note that race officials will do everything possible to hold the race.
WCU Campus Recreation & Wellness
Get ACTIVE on the Go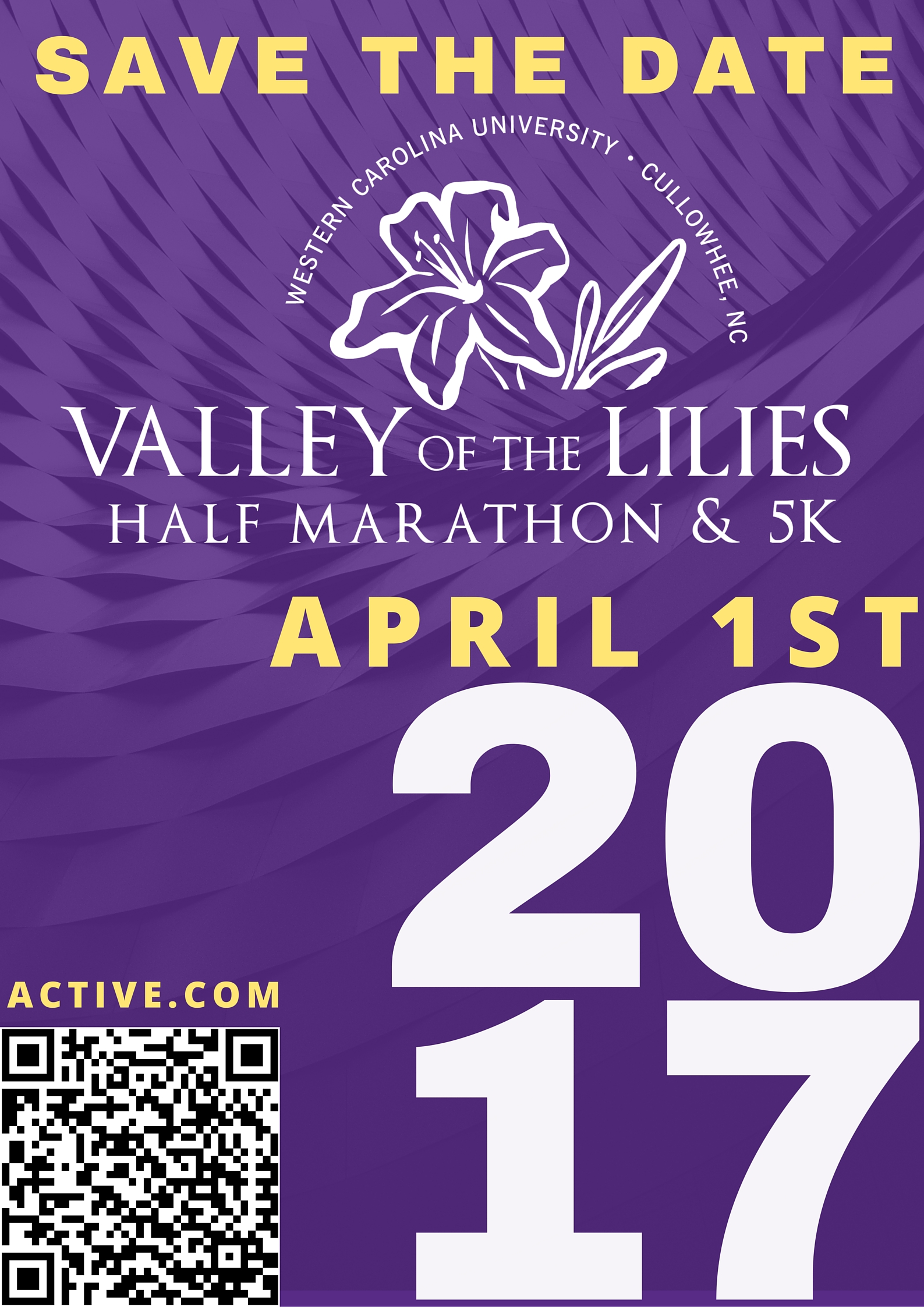 Map & Direction
Campus Recreation Center
•
379 Memorial Drive
Cullowhee
,
NC
28723
Get Directions