RESULTS
Dennis Krzykowski Memorial 5K 2017
DK5K
7/4/2017
Place
Place
Place
ALL
SEX
DIV
DIVISN
TIME
PACE
NO.
NAME
1
1
1
M20-29
16:24
5:17
139
MEINEKE ZACH
2
2
1
M13-19
17:21
5:35
119
BARNHART ANDY
3
3
1
M40-49
17:26
5:37
124
PILLING ERIC
4
4
2
M20-29
17:41
5:42
121
ROSENAU ALEX
5
5
1
M30-39
17:50
5:45
147
COOK JACK
6
6
2
M13-19
18:52
6:05
99
SORRELL GREG
7
7
3
M20-29
19:33
6:18
182
WILL TREVOR
8
8
3
M13-19
19:41
6:21
68
RATHKAMP ANDREW
9
9
4
M20-29
20:00
6:27
113
SCHLABACH FREDERICK
10
10
2
M30-39
20:10
6:30
56
DUECKER DAVID
11
11
4
M13-19
20:39
6:39
104
PECOR NOAH
12
12
5
M20-29
20:44
6:41
164
SCHLABACH THOMAS
13
1
1
F40-49
20:46
6:41
143
ABBOTT ALLISON
14
13
2
M40-49
21:03
6:47
21
WIPPENFURTH AL
15
14
5
M13-19
21:06
6:48
114
SCHLABACH NICHOLAS
16
2
1
F20-29
21:09
6:49
149
MASSARINI TESS
17
15
6
M13-19
21:22
6:53
135
NEPERUD JAKE
18
3
1
F30-39
21:26
6:54
176
MARTICKE KRISTEN
19
16
1
M00-12
21:32
6:56
115
CHRIASTENSEN CONNOR
20
17
7
M13-19
21:36
6:57
13
SCHILKE ALEX
21
18
1
M50-99
21:38
6:58
134
NEPERUD DAVE
22
19
2
M50-99
21:49
7:02
142
FERRY PATRICK
23
20
6
M20-29
21:59
7:05
118
KARPIN CHRIS
24
4
1
F13-19
22:02
7:06
65
O'NEIL CAITLYN
25
5
2
F30-39
22:16
7:10
140
HAYES LINDSEY
26
21
3
M40-49
22:26
7:14
43
VOLLMER MARK
27
22
8
M13-19
22:33
7:16
101
LEVY JAKE
28
23
9
M13-19
22:40
7:18
46
ERICKSON BENJAMIN
29
24
7
M20-29
22:44
7:20
193
KOWALESKI TIM
30
6
1
F50-99
22:47
7:20
148
DROLET BETH
31
25
10
M13-19
22:50
7:21
204
PEARSON CALVIN
32
26
3
M30-39
22:55
7:23
155
WOYCKE JUSTIN
33
7
2
F50-99
23:04
7:26
117
KIMPLE KAREN
34
27
3
M50-99
23:08
7:27
158
SULLIVAN PATRICK
35
28
11
M13-19
23:24
7:32
35
PATRICK ANDREW
36
29
8
M20-29
23:57
7:43
146
KOWAELSKI ANTHONY
37
30
4
M30-39
23:59
7:43
41
PATRICK JAMES
38
8
2
F40-49
24:07:00
7:46
179
D'CUNCHA LISA
39
9
2
F13-19
24:08:00
7:46
95
THORISON MEG
40
10
3
F13-19
24:15:00
7:49
53
ADAMO SAVANNAH
41
31
4
M40-49
24:21:00
7:51
145
BACHTEL STEVE
42
32
5
M40-49
24:22:00
7:51
42
SCHMIDT GREG
43
33
5
M30-39
24:23:00
7:51
77
REGENFUSS MEGAN
44
11
3
F30-39
24:26:00
7:52
120
TOLL CRYSTAL
45
34
4
M50-99
24:36:00
7:55
172
HULLENBRAND PHILIP
46
12
3
F40-49
24:39:00
7:56
163
CASEY RYKKI
47
35
5
M50-99
24:42:00
7:57
93
SEEKE TIM
48
13
4
F13-19
24:59:00
8:03
196
TENPPENNY LORRAINE
49
14
1
F00-12
25:06:00
8:05
166
BLUM MIA
50
36
6
M30-39
25:07:00
8:05
165
BLUM KURT
51
15
4
F40-49
25:25:00
8:11
150
HOWELL KYM
52
37
2
M00-12
25:39:00
8:16
116
KADER BLAKE
53
38
7
M30-39
25:43:00
8:17
12
MARTINELLI ANDY
54
16
4
F30-39
25:51:00
8:20
57
DUECKER TIFFANY
55
39
8
M30-39
25:52:00
8:20
64
KRYKOWSKI BRETT
56
40
6
M40-49
26:02:00
8:23
178
LAUX MICHAEL
57
17
5
F40-49
26:10:00
8:26
144
BACHTEL KATE
58
18
3
F50-99
26:12:00
8:26
151
O'CONNOR AMY
59
19
4
F50-99
26:15:00
8:27
136
PERSCHALLA LINDA
60
41
6
M50-99
26:33:00
8:33
89
MILLER DAVID
61
42
12
M13-19
26:36:00
8:34
36
PATRICK MATT
62
43
9
M30-39
26:38:00
8:35
49
ZIMBRIC LUKE
63
44
7
M40-49
26:51:00
8:39
10
LIVINGSTON JEREMY
64
45
3
M00-12
26:58:00
8:41
201
PEARSON ROBBIE
65
20
2
F00-12
27:15:00
8:47
103
LEVY ANNA
66
46
7
M50-99
27:24:00
8:49
100
LEVY BEN
67
47
13
M13-19
27:24:00
8:49
94
THORISON NICK
68
48
10
M30-39
27:38:00
8:54
157
YANOW JORDAN
69
49
8
M40-49
27:44:00
8:56
173
DOSETH THOMAS
70
50
9
M40-49
27:47:00
8:57
37
PATRICK JUSTIN
71
51
4
M00-12
27:56:00
9:00
106
KRZYKOWSKI SAM
72
52
8
M50-99
28:05:00
9:03
11
KASPRZAK KEN
73
53
5
M00-12
28:06:00
9:03
15
LOOS BRANDON
74
54
9
M20-29
28:10:00
9:04
25
WILTERDINK NOAH
75
55
11
M30-39
28:22:00
9:08
138
HAYES ALEXANDER
76
21
6
F40-49
28:33:00
9:12
169
DOBESH GINNY
77
22
7
F40-49
28:36:00
9:13
194
TENPENNY CLARE
78
56
10
M40-49
28:51:00
9:17
206
TENPENNY TRACY
79
23
3
F00-12
28:51:00
9:18
200
PEARSON DELANEY
80
57
10
M20-29
28:53:00
9:18
192
TENPENNY JOE
81
58
14
M13-19
29:02:00
9:21
84
JESKO TREVOR
82
59
9
M50-99
29:03:00
9:21
168
MIAZGA BILL
83
60
15
M13-19
29:05:00
9:22
167
SHEFFIELD JACK
84
61
10
M50-99
29:07:00
9:23
153
KASUN ANDREW
85
62
11
M50-99
29:18:00
9:26
76
SEVERSON RANDALL
86
63
16
M13-19
29:24:00
9:28
38
FORKHEIM CONRAD
87
64
12
M30-39
29:28:00
9:29
79
JONES MIKE
88
65
17
M13-19
29:32:00
9:31
205
PEARSON HENRY
89
66
11
M40-49
29:34:00
9:31
171
OHM WILLIAM
90
67
11
M20-29
29:40:00
9:33
85
JESKO ZACH
91
24
5
F50-99
29:42:00
9:34
20
SZCERBINSKI SHELLY
92
68
12
M20-29
29:44:00
9:35
96
THORISON MICHAEL
93
25
5
F30-39
29:49:00
9:36
81
ALLMON MARY
94
69
13
M30-39
30:09:00
9:43
82
LEMOINE MICHAEL
95
26
6
F30-39
30:26:00
9:48
75
MORTISCH COURTNEY
96
27
2
F20-29
30:27:00
9:48
141
RUVALCBA STEPHANIE
97
28
7
F30-39
30:28:00
9:49
2
HAMMEN LYNN
98
29
3
F20-29
30:29:00
9:49
195
TEGGE MAKENA
99
70
12
M40-49
30:31:00
9:50
202
PEARSON ROBERT
100
30
5
F13-19
30:44:00
9:54
69
RATHKAMP STEPAHNIE
101
31
8
F40-49
30:50:00
9:56
39
PATRICK CRYSTAL
102
32
9
F40-49
31:17:00
10:04
184
MARCA JULIANNA
103
33
8
F30-39
31:42:00
10:13
32
MCLEOD JENNA
104
71
12
M50-99
32:38:00
10:31
45
TAYLOR JOHN
105
34
10
F40-49
33:13:00
10:42
9
LIVINGSTON MARCIE
106
35
9
F30-39
33:16:00
10:43
127
STRAUSS LAUREL
107
36
11
F40-49
33:17:00
10:43
122
RUDICH ALLIE
108
37
6
F50-99
33:21:00
10:44
112
PIERCE JULIE
109
38
10
F30-39
33:30:00
10:47
156
WOYCKE KIM
110
39
4
F20-29
33:43:00
10:51
152
VANSLETT KATE
111
40
4
F00-12
33:48:00
10:53
16
VAN LAANEN JULIA
112
72
6
M00-12
33:48:00
10:53
17
VAN LAANEN WILL
113
73
13
M40-49
33:49:00
10:53
19
VAN LAANEN CHAD
114
41
12
F40-49
33:50:00
10:54
18
VAN LAANEN CATHERINE
115
74
13
M50-99
33:51:00
10:54
4
PACEY GARY
116
75
14
M40-49
33:51:00
10:54
185
COVERT CHAD
117
76
14
M30-39
34:03:00
10:58
5
MORTENSON DAN
118
77
14
M50-99
34:09:00
11:00
98
THORISON TIM
119
78
7
M00-12
34:10:00
11:00
186
COVERT PARKER
120
79
15
M30-39
34:10:00
11:00
197
QUACKENBON PAUL
121
80
15
M40-49
34:12:00
11:01
67
SEWARD JAMES
122
81
8
M00-12
34:19:00
11:03
162
KISON BRADEN
123
82
16
M40-49
34:31:00
11:07
160
KISON SHAWN
124
83
15
M50-99
34:36:00
11:08
44
STENFORS KEN
125
42
6
F13-19
34:37:00
11:09
33
PATRICK ABIGAIL
126
43
7
F50-99
34:43:00
11:11
97
THORISON AMY
127
44
13
F40-49
34:52:00
11:14
66
BRADY LAUREN
128
84
16
M50-99
34:54:00
11:14
88
KASS LENNY
129
45
14
F40-49
35:01:00
11:16
129
PIERSON PAM
130
46
15
F40-49
35:34:00
11:27
203
PEARSON JENNIFER
131
47
11
F30-39
35:43:00
11:30
174
PEARCE KARI
132
85
17
M50-99
36:14:00
11:40
28
MORAL GREGG
133
48
8
F50-99
36:27:00
11:44
159
BELLIN LORI
134
49
5
F20-29
36:32:00
11:46
26
MANTEL KASEY
135
86
18
M50-99
37:05:00
11:56
137
KIMPLE JOE
136
87
9
M00-12
37:26:00
12:03
50
ZIMBRIC LIAM
137
50
16
F40-49
37:32:00
12:05
170
OHM ANE
138
51
17
F40-49
37:50:00
12:11
161
NELSON DANIELLE
139
52
9
F50-99
37:56:00
12:13
175
NIEMAN-HOEBERT SHARON
140
53
5
F00-12
38:04:00
12:15
51
SCHICK LILLY
141
88
10
M00-12
38:05:00
12:16
48
ZIMBRIC KELLAN
142
54
10
F50-99
38:13:00
12:18
180
TREU MARY
143
55
6
F20-29
38:14:00
12:19
181
WILL KATRINA
144
56
12
F30-39
38:26:00
12:22
47
ZIMBRIC KARI
145
89
17
M40-49
38:27:00
12:23
52
SCHICK JOSEPH
146
90
11
M00-12
38:41:00
12:27
187
MARIA ALEXANDER
147
91
19
M50-99
40:17:00
12:58
6
WERNECKE JR BILL
148
57
13
F30-39
40:18:00
12:59
8
WERNCKE ELLEN
149
92
12
M00-12
40:50:00
13:09
188
MARIA KYLE
150
58
6
F00-12
41:01:00
13:12
199
KORTEN JENNA
151
59
18
F40-49
41:02:00
13:13
191
KORTEN CORIUNA
152
60
11
F50-99
42:28:00
13:40
34
PATRICK IRENA
153
61
19
F40-49
42:28:00
13:41
14
LOOS JULIE
154
44:38:00
14:22
207
LOOS DDDDM
155
62
12
F50-99
44:39:00
14:23
125
DUECKER JEWNNIFER
156
63
20
F40-49
44:41:00
14:23
123
ADAMO AMY
157
64
13
F50-99
44:49:00
14:26
102
LEVY JANICE
158
65
14
F50-99
45:00:00
14:30
130
VOGT LISA
159
93
20
M50-99
45:00:00
14:30
183
PATRICK WALTER
160
66
14
F30-39
45:08:00
14:32
23
ENDERS TINA
161
67
15
F30-39
45:08:00
14:32
22
ENDERS TINA

The run was initiated in 1995 as a memorial for Dennis Krzykowski, a Cedarburg resident who died of cancer in June of 1994. Dennis was an avid fitness enthusiast and a person who gave tirelessly of his time to churches, schools, and civic groups in Cedarburg during the 14 years he lived here. Through this event, we thank him for his many contributions to the community.

The event is a fundraiser for the Cedarburg Community Scholarship Fund. Since 1973, CCSF has raised and distributed money to graduating high school seniors who reside within the Cedarburg School District. In that time, CCSF has awarded over $2,000,000 to help more than 2,500 students. For more information, please visit the CCSF website at CCSF.info.
Event details and schedule
Registration:

Online registration deadline: Monday June 26, 2017. Note: only participants registered by this deadline are guaranteed a T-shirt.

Note:

Schedule of Events July 4, 2017:
6:45– 7:20AM
Registration and packet pick-up. Same day registration is available at a higher fee.

7:30 AM
Start for runners and walkers.

8:30 AM
Awards presentation.
Cedarburg Community Scholarship Fund
Get ACTIVE on the Go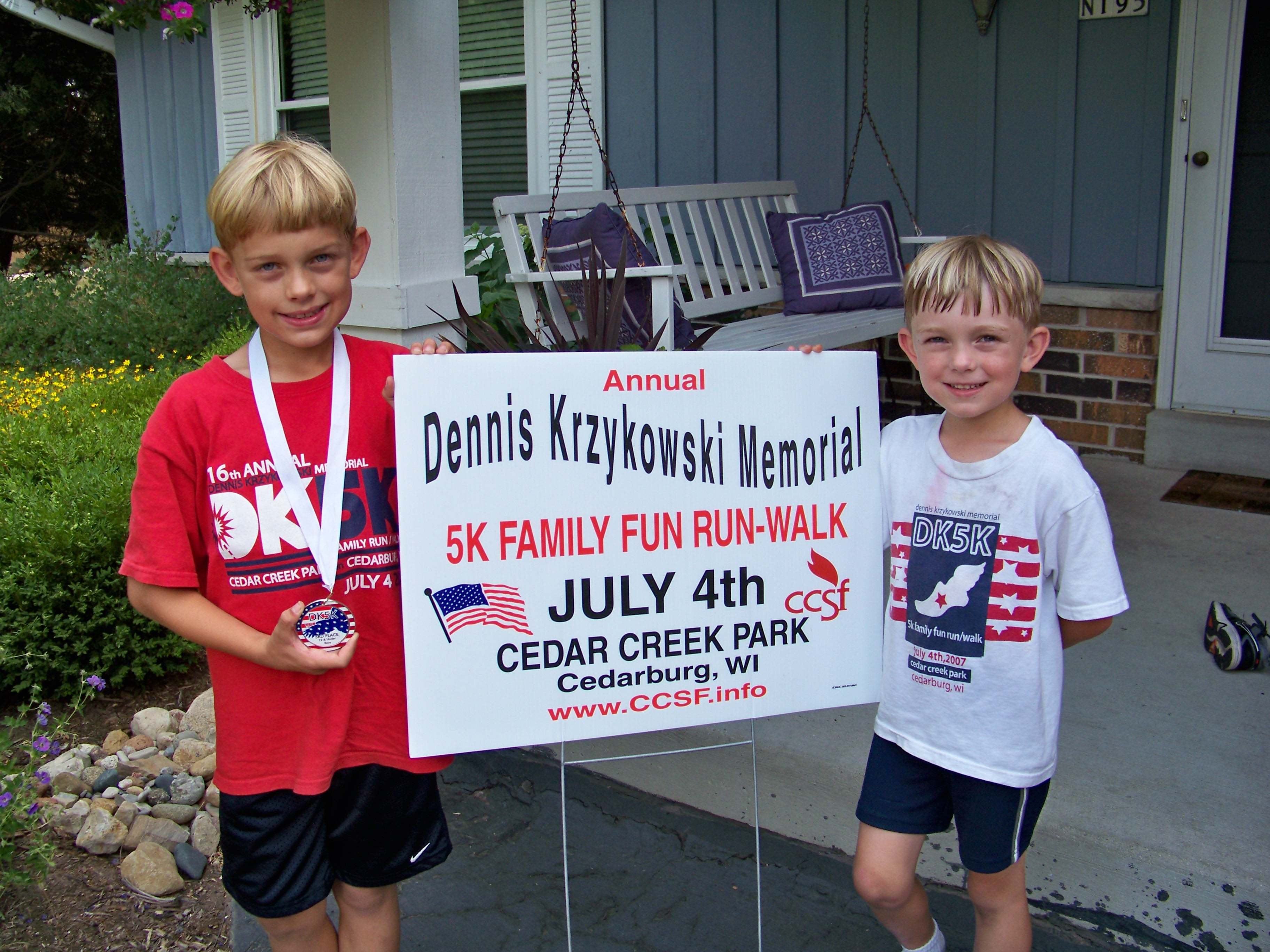 Map & Direction
Cedar Creek Park
•
Portland Rd (between Mill and Hilbert)
Cedarburg
,
WI
53012
Get Directions