NOTE: ONLINE REGISTRATION CLOSES AT NOON ON APRIL 9, 2015.
FIRST ANNUAL 5K + ROBOT RACE
Sunday, April 12th | Alewife, Cambridge MA
Why
To support Vecna Cares Charitable Trust bringing healthcare technology and innovation to underserved communities in the US and abroad.
What
HUMANS: 5K Race
ROBOTS: 100m Robot Sprint Challenge
Who
Enthusiastic runners, walkers, volunteers and sponsors such as yourself make this a fun and successful event! Come out, promote innovation through technology, and make a difference.
About
A family-friendly 5K race for individuals, families and teams. Dress up as a robot or bring your unique gadgets and enhancements for special prizes.
Register a robot for the sprint challenge. Must have a driver (out of line-of-sight for part of the challenge) and a chaperone for the course. Drivers will be seated at the control center. Autonomous or teleoperated robots will complete the straight 100m course (on Vecna's headquarters), partially out of line-of-sight of the drivers. Robots will be required to receive a "Dixie" cup of confetti at the 50m water stop. Robot categories and waves may be established based on the qualities of the entrants.
When
Sunday, 12 April 2015
Times
7:00 am – Onsite Registration
9:00 am – Kids' Run
9:15 am – 5K Start
10:00 am – Robot Sprint Challenge
10:30 am – Awards Ceremony

Where
Starting at 36 Cambridge Park Drive, Cambridge, MA 02140

Route
The course will be around Alewife in Cambridge.
Register early on Active.com or on the day of the event.
Fees

Robot fee schedule is the same as humans

Individual 5K or Robot

$25 before 3/1/15

$30 before 4/8/15

$35 on Race Day

Team 5K or Robot (per person/robot)
$20 before 3/1/15

$25 before 4/8/15


$30 on Race Day
School Team 5K or Robot (per person/robot)
$15 before 3/1/15

$20 before 4/8/15


$25 on Race Day
Post-Race Party
Immediately following the 5K, celebrate Vecna Cares' cause with food and beverages. We will also host an awards ceremony, a bumper raffle and more!
Volunteers
It takes the help of countless volunteers to make a successful race, please contact us at robotrace5K@vecna.com if you'd like to volunteer.
Sponsors
If you are interested in sponsoring the Vecna Cares Robot Race 5K event, please email us at robotrace5K@vecna.com.
Robot Race Info Session
Friday, Feb 20th, 2015, 2-4pm
This will be an interactive workshop with Vecna's lead engineers and roboticists. At this meeting, the Robot Race lead will discuss the rules of the event, reveal the course, and provide a list of robot kits that can help hobbyists and students get a head start on building their robots. A tour of our machine shop and demos of our robots will follow.
More info & RSVP at https://www.eventbrite.com/e/robot-race-5k-build-a-bot-info-session-tickets-15799573951

Build-a-bot Workshop
Saturday, March 21st, Session 1: 9-12am, Session 2: 1-4pm
These sessions are designed for Robot Race participants to get hands-on advice from Vecna's team of roboticists. Three stations will be set up to workshop robot hardware, software, and electrical. Race participants are encouraged to bring their robots and their questions!
More info & RSVP at https://www.eventbrite.com/e/robot-race-build-a-bot-workshop-tickets-15799741452

Practice Course
Saturday, April 4th, Session 1: 9-12am, Session 2: 1-4pm
This workshop is intended to test the robots on the official Robot Race course. Two sessions will be held. Bring your robot and your team.
More info & RSVP at https://www.eventbrite.com/e/robot-race-build-a-bot-practice-course-tickets-15799802635

Please contact the Race Director at robotrace5K@vecna.com with any questions.
Event details and schedule
7:00 am – Onsite Registration
9:00 am – Kids' Run
9:15 am – 5K Start
10:00 am – Robot Sprint Challenge
10:30 am – Awards Ceremony
The Vecna Cares Charitable Trust
Get ACTIVE on the Go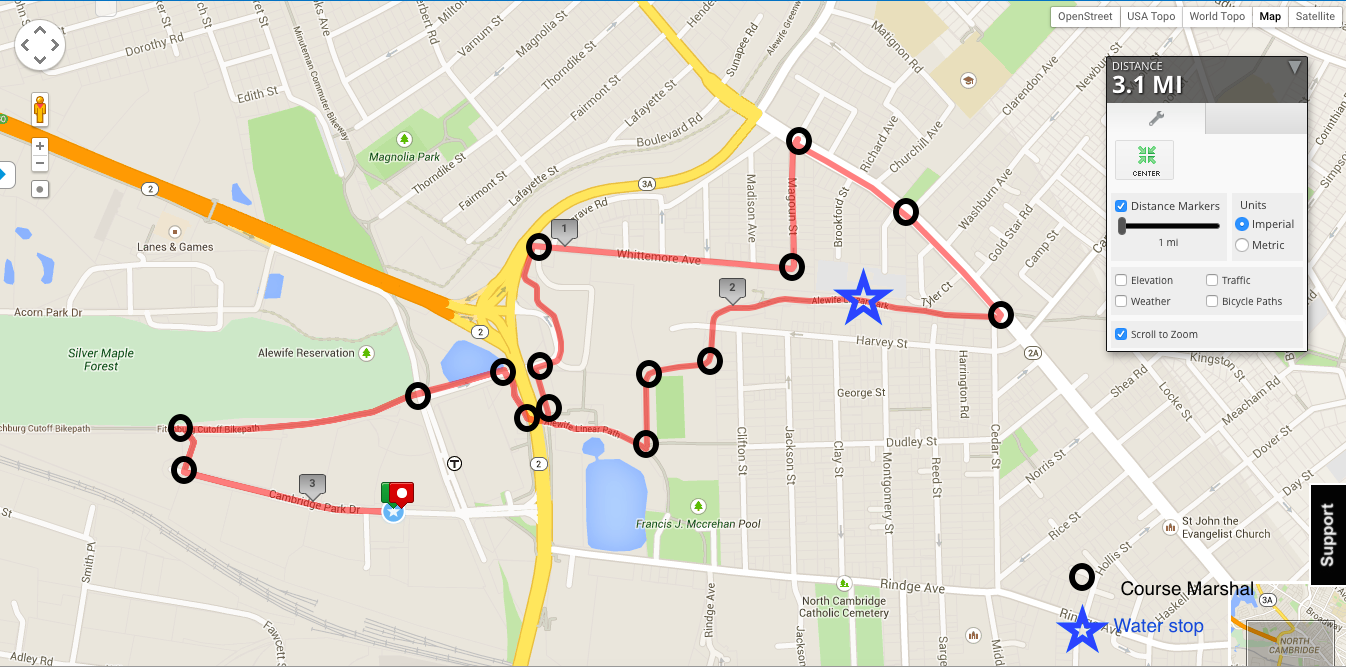 Map & Direction
Alewife / Vecna's Offices
•
36 Cambridgepark Drive
Cambridge
,
MA
02140
Get Directions