The start line is right beside the Pumphouse Theatre which is a 1km walk/warm-up run from Tri It.
You can either park near Tri It/Sunalta Community Centre and walk down, or you can park at Pumphouse Theare and simply drive to Sunalta Community Centre for the post race hot chocolate and fun.
Saturday Package Pick Up
If you have not picked up your package yet, you can pick it up between 3 - 4pm at Tri It Multisport. We will not have package pick up at the community centre after 4pm.
Race Schedule
4pm - Sunalta Community Centre Opens - you may leave extra jacket, bags, etc. here as there will be a staff on hand to watch everything. There are 4 washrooms here and you may use the gym to warm up.
4:35pm - please be at the start line!
4:46pm - RACE STARTS
5:30 - 8:30pm - post race celebration (awards twill be at 6:15pm)
Bernard Callebeaut will be selling gourmet chocolate after the race tomorrow to either go with your hot chocolate, or for Christmas gifts. They will be taking credit card or debit only.
The Course
There will be a lead cyclist.
We leave from the Pumphouse Theatre and follow the paths along the Bow River. The 3km route will turn around before the 10th Street Bridge, where the 6km route will continue under 10th Street, until the turnaround before they hit the Peace Bridge. They will then turn around and amke theirway back to the Pumphouse Theatre.
The pathways will be slipery and coverd in snow in sections so please plan to be careful.
The event is timed (non-chip timed).

Please ensure your bib is visible as you approach the finish line so we can get your manual time.
It will get dark quickly so PLEASE WEAR BRIGHT CLOTHING AND WEAR A HEADLAMP. All racers will be given a GLOWSTICK, but please ensure that even without that, you are visible. Wearing extra gowsticks is also encouraged.
Event details and schedule
Get ACTIVE on the Go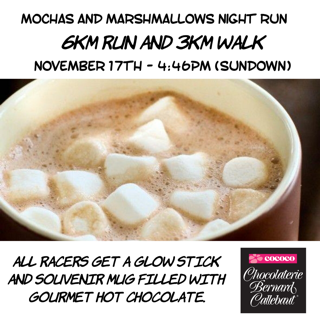 Map & Direction
Tri It Multisport
•
1703 10th Ave SW
Calgary
,
AB
,
Canada
T3C 0K1
Get Directions