The Sarah Kasunić Memorial 5K run/walk is to honor the life of an amazing young woman. 
Sarah Dorothy Ann Kasunić, age 23, of Butler, passed away Saturday, March 23, 2019, as a result of a vehicle accident in Tennessee. 
Born in Butler on July 26, 1995, she was the daughter of Thomas and Margaret (Karlheim) Kasunić. She was a member of Saint Michael the Archangel Roman Catholic Church and was developing her relationship with Jesus Christ.
Sarah was a traveling registered nurse, working in Knoxville, TN. Sarah's request to be an organ donor was honored and her family encourages others to give the gift of life. Sarah was able to donate her heart to a 10 year old girl in Michigan. 
 She was a graduate of Knoch High School Class of 2013.  She received an associate degree in nursing from Butler County Community College in 2016 and was the past president of Phi Theta Kappa.
Sarah had created a scholarship program to assist nursing students. All proceeds from the 5K registrations will go directly to her scholarship. "[The scholarship is] to continue her legacy and how involved she was with nursing and helping other people," said family friend Matt Wilson. 
 Her father said her two passions were to travel and to help people. Sarah taught us all to take risks, live life on the edge, and to enjoy the journey. But to also remember to help people all along the way, and to remember to focus on others first. 
 Our goal of this 5K run/walk is to celebrate the life of Sarah. We hope her friends, family, and the community will come to support this cause. I know Sarah is looking down from heaven proud of us for carrying her torch of love. 
 See you all on September 7th! 
If you are unable to attend the 5k, all memorial donations can be made directly to the BC3 Education Foundation, Attn: Sarah Kasunić Scholarship, 
PO Box 1203, Butler, PA. 16003-1203, to help support nursing education.
Event details and schedule
The Sarah Kasunic Memorial 5K will be on September 7, 2019.
8:00 AM - 9:30 AM Registration Opens
9:45 AM - 10:30 AM  5K starts for the participants who are RUNNING the event
10:30 AM - 11:45 AM 5K starts for the participants who are WALKING the event
11:45 AM - 12:30 PM Awards/Raffle Winners Announced
Please arrive no later than 8:00am to make sure you have time to check-in, get your 5K t-shirt, and enjoy complimentary beverages/food.  
Park in Parking Lot 6 (P6 on the map).  Use Parking Lot 3 (P3 on the backup/overflow parking lot.) Walk to Parking Lot 5 (P5 on the map for registration/t-shirt pick up). 
Runners will go first, and will start at 9:45am.  Then once the runners complete their 5K, we will have the walkers start at 10:30am.  The race will be ran on Shaffer Walking Trail (T on the map), which circles the campus.  You will need to complete 3 laps on the trail to complete the full 5K distance.  
Bring a copy of your signed waiver with you.  
Wear appropriate running/walking attire and footwear.  You will receive a free 5K event t-shirt at registration. 
We will have raffles of items to earn additional funds for Sarah's nurses scholarship.  Please bring cash for tickets for the raffle. 
Jefferds International Inc
Get ACTIVE on the Go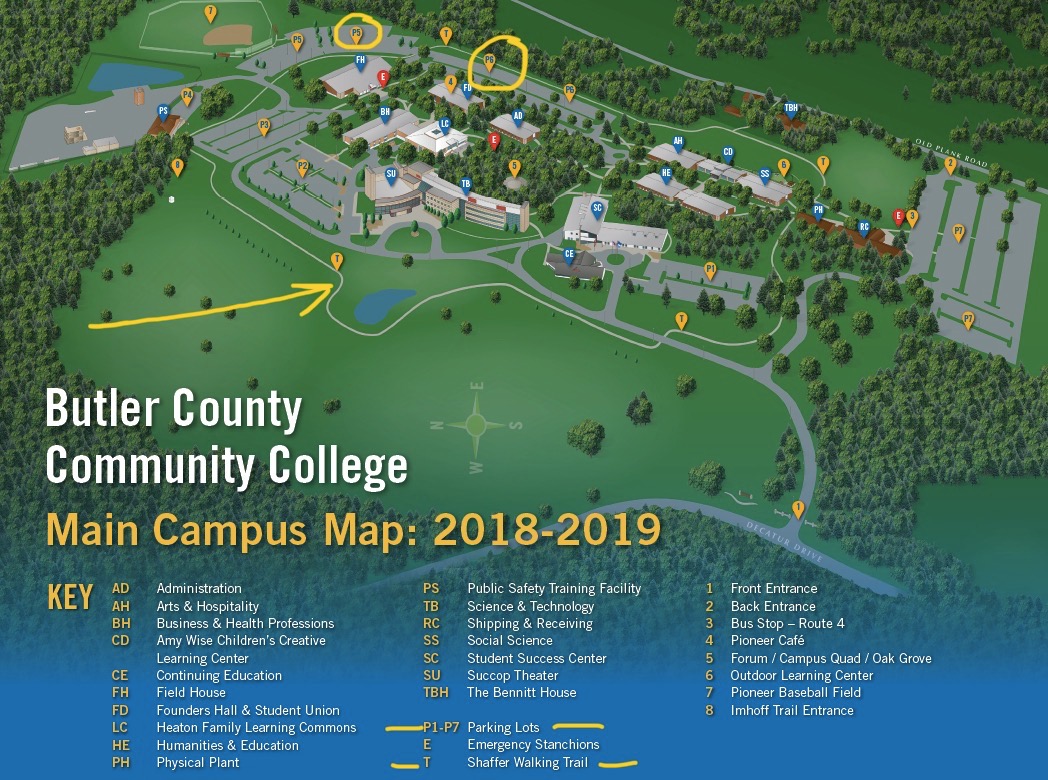 Map & Direction
BC3 Main Campus - Butler
•
107 College Drive
Butler
,
PA
16002
Get Directions