The fifth annual Mayor's 5K on the 5th Runway, hosted by Mayor Keisha Lance Bottoms, is back! Get ready to lace up your shoes and run or walk the fifth runway at Hartsfield-Jackson Atlanta International Airport on Saturday, September 7, 2019. Experience this special opportunity to race on one of the flattest – and fastest – courses in metro Atlanta!
This is a USATF-certified 5K course/AJC Peachtree Road Race qualifier.
The proceeds from the race will benefit the Mayor's Youth Scholarship Program and United Way of Greater Atlanta.
 Reminders:
No race-day registrations are permitted
Check-In and Bib Pick-up are from 4 to 6:15 a.m.
Use must register with your name as it appears on your
Government-issues ID (driver's license, passport, military I.D., etc.)
You must bring your Government-issued ID to pick-up your bib on race day
If parking at GICC or riding MARTA, the last shuttle will leave at 5:45 a.m.
Small Fanny packs 5" x 7" x 1" will be allowed.
Early arrival is highly recommended.
No access to the runway after the race begins at 6:30 a.m.
Virtual Race Participants

For those unable to participate in the ATL Mayor's 5K on the 5th Runway in person, the virtual option allows you to

run or walk anytime and anywhere, even indoors on a treadmill at your own convenience.

Participants will receive a commemorative T-shirt and medal four to six weeks after Sept 7.
Event details and schedule
4 – 6 a.m. | Check-In and Bib Pick-up
6:15 a.m. | Race Line-Up
6:30 a.m. | Official Start
7:30 a.m. | Finish
7:45 a.m. | Awards
WHAT TO BRING
Government-issued ID, keys, cellphone in fanny pack or arm band
• Government-issued ID is required: Registrant name must match submitted government-issued ID. Those without ID and/or cannot be screened will NOT participate.
• Bags are strictly prohibited (e.g., backpacks, shoulder bags, sling bags, etc.)
• No water bottles, hydration packs, etc. are allowed. Water will be provided.
• Small fanny packs at 5"x7"x1" will be allowed. Fanny packs and cellphone arm bands are subject to inspection.
Race numbers (bibs) are issued upon check-in and are non-transferable.
TRANSPORTATION & PARKING


• There is NO public parking or participant drop-off at Fire Station 33. Parking is very limited. MARTA and carpooling are highly recommended; however, FREE parking will be available at the Georgia International Convention Center (GICC). Shuttle service from GICC to the race course will begin at 4 a.m. and end at 5:45 a.m. Return shuttle service to the GICC will be available after the race, with the last shuttle departing at 9 a.m. from Fire Station 33.
• MARTA will begin north and southbound rail service at 4 a.m. When exiting the train, follow signs to the shuttle pick-up location. The shuttle service will be available from the Airport MARTA station to Fire Station 33 starting at 4 a.m. and ending at 5:45 a.m.
AWARDS
• Awards for the top men and women in each age group are as follows: 10-16; 17-24; 25-29; 30-34; 35-39; 40-44; 45-49; 50-54; 55-59; 60-64; 65-69; 70+ (Only timed runners can qualify)
• TEAMS: Require at least five member and can be a combination of m

en and women. Awards will go to Top team (fastest combined overall score) and largest team
ADDITIONAL INFORMATION
• 5K participants have one hour to complete the race.
• The runway must be cleared of race participants by 7:30 a.m.
• All runners and walkers must maintain a per-mile pace of 18 minutes, 30 seconds. Participants who are unable to maintain this pace will be diverted to a shorter route so they are able to complete the event by this time. There will be NO EXCEPTIONS, as this is a Federal Aviation Administration requirement.
• Chip timing will be used.
• All participants will receive a commemorative T-shirt and medal upon completion.
• There will be limited space for participants to warm up or stretch before and after the race.
• Walkers are encouraged to walk to the right, allowing runners to pass on the left.
• Participants must be ages 10 and up. Children under 18 must be accompanied by an adult.
• Spectators are not permitted.
VIRTUAL RACE
• If you cannot attend the race, don't sweat. We offer a virtual race/runner option in registration which allows you to run or walk anytime and anywhere, even indoors on a treadmill.  Complete the 5K on your own time and at your preferred location. You will receive a commemorative T-shirt and medal four to  six weeks post event.
 For questions about the race, email atl5kinfo@unitedwayatlanta.org.
United Way of Greater Atlanta
Get ACTIVE on the Go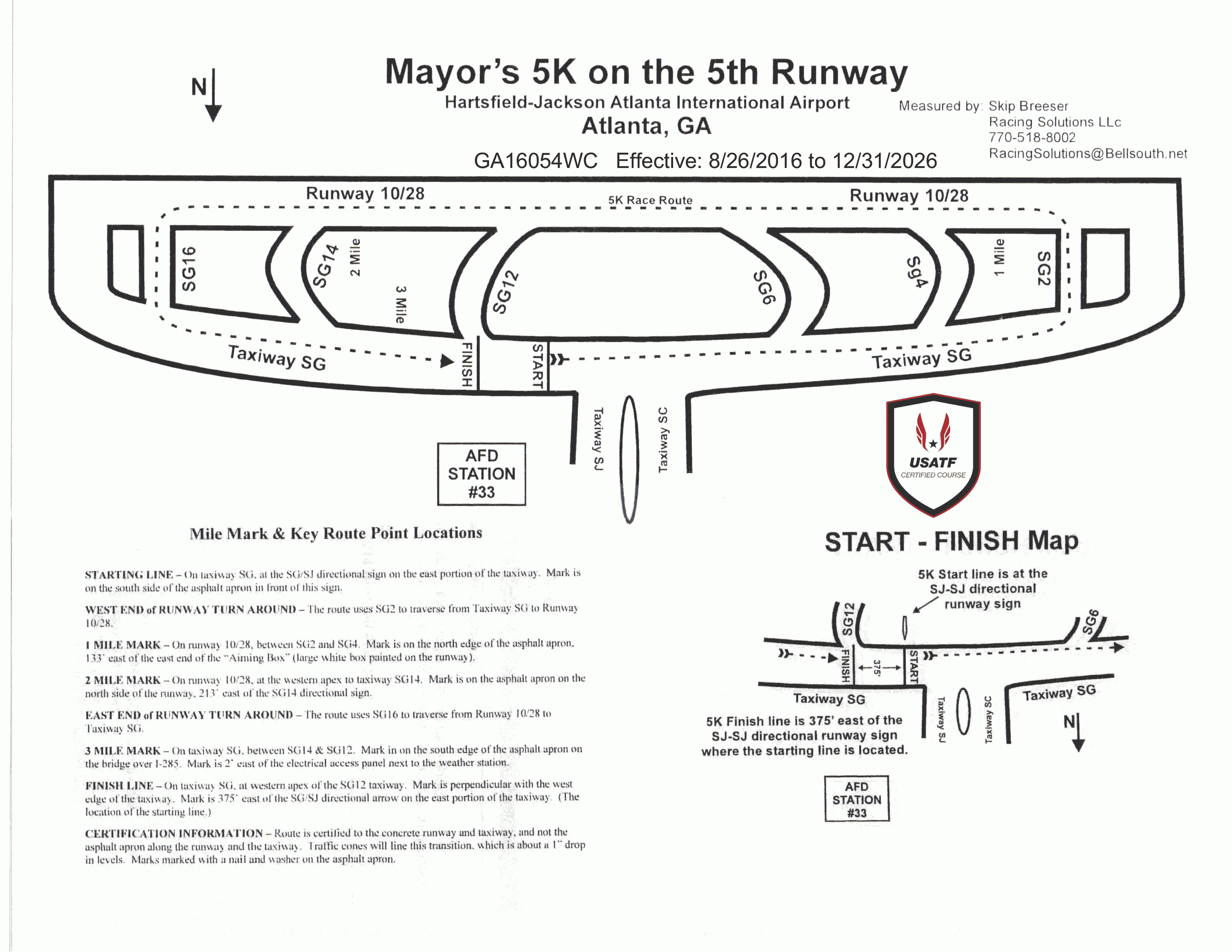 Map & Direction
Hartsfield-Jackson Atlanta International Airport/Fire Station 33
•
1401 S. Loop Road
Atlanta
,
GA
30337
Get Directions