The Grand Valley Triathlon Club would like to invite you to participate in the 5th annual Grand Valley Try-a-Tri indoor triathlon. This race is perfect for athletes of all abilities, whether you are a veteran triathlete or want to try your first triathlon. All proceeds from the race go to helping the Grand Valley Triathlon Club to raise money for the upcoming season in the collegiate circuit. New this year we have the option for you to donate to MyTeam Triumph, an athletic ride-along program created for children, teens, adults, and veterans with disabilities who would normally not be able to experience endurance events such as triathlons or road races. Be sure to sign up before March 17 to be guaranteed a t-shirt!
What to Bring

Participants should bring a swimsuit, goggles, a towel, a shirt, shorts, and running shoes. Optional items include a swim cap, water bottle, SPD compatible biking shoes for the spin bikes, and a bag to keep your belongings with you as you travel to the different stations.
Volunteers
We do not have a volunteer sign up on this registration page. Please email Rachel (kishmanr@mail.gvsu.edu) if you'd like to volunteer. Volunteers will get a free t-shirt.
Parking
It would be best to park in Lot C or Lot F as they are closest to the event facilities. View the parking map for these locations or the GVSU Maps & Directions page for more information.
Check In
Athlete and volunteer check in will be in the lobby of the pool (part of Building 11 on the parking map). Follow the signs from the parking lot.
Contact Info
Race director: Rachel Kishman - kishmanr@mail.gvsu.edu
Awards
Awards will go to the top three overall males and females, as well as the top four in each age group. 1st through 3rd place will receive a stainless steel pint glass, and 4th place finishers will receive free access to the Sufferfest app for one month. There will also be a raffle to give away additional prizes such as free race entries and other goodies - check out our sponsor list below to see the awesome prizes you could win! The awards ceremony will take place at 3:45 pm.
Sponsors
Health Motion Physical Therapy - Physical therapy specialists will be available for athletes after the race to perform stretching and massage services. They will also provide screenings for anyone who has concerns about any pain, ache, or injury they may have.
Village Bike and Fitness - The friendly and knowledgeable folks at Village Bike and Fitness have kindly donated two $25 gift cards to be raffled off at the awards ceremony.
The Sufferfest - The minions at The Sufferfest have donated the 4th place finishers free access to their app for one month.
The race directors of the Grand Rapids Triathlon and Michigan Titanium Triathlon have donated one free race entry to each of those races (excluding the Ironman distance at MiTi).
Rudy Project has kindly donated some merchandise and gift cards for free sunglasses for our raffle at the awards ceremony.
Road ID has donated brochures with free shipping codes for each athlete as well as gift cards for the raffle.
Uccello's Ristorante has donated cards to redeem in any restaurant for free breadsticks or pizza puffs for all athletes.
Event details and schedule
There will be 7 waves of 12 athletes each. Waves begin every 30 minutes to prevent overlap with athletes in prior waves. Athletes should arrive at least 20 minutes before the start of their wave. This will allow enough time to check in, get your number assignment in your wave, and place your bag in the transition area.
The race will consist of a 20 minute swim, 20 minute bike, and a 20 minute run.

The swim will take place in the Grand Valley Recreation Center pool. Participants will then have a 10 minute transition to the Rec Center where they will begin a 20 minute bike ride on stationary spin bikes. The final leg of the race will include a 10 minute transition to the Kelly Family Sports Center followed by a 20 minute run on Grand Valley's 300m indoor track.


Before your wave you will need to place your race bag in the designated area inside of the pool area. Once the swim is done you will grab your bag and follow the transition volunteer to the bike area. You will only have a minute or two to gather your things since most of the transition time will be spent traveling to the next leg, however you will have time to throw on shirts, shorts, bike shoes and anything else before you leave for the bike area. There will be 10 minutes for both transitions. Part of transition 2 will be on a sidewalk outside as you move from the Recreation Center to the Kelly Family Sports Center.
Refunds
Except in extreme cases that are out of the athlete's control (such as deployment), we unfortunately cannot offer any refunds. You can, however, transfer your spot to another athlete.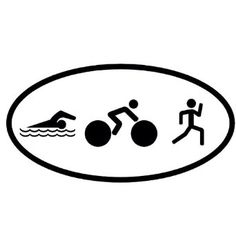 Map & Direction
Grand Valley State University
•
1 Campus Drive
Allendale
,
MI
49401
Get Directions