Celebrate our Blue Angels 10K Fun Run -Walk-Bike and Half Marathon with us.  Our fun run is a family event. All ages are invited to participate. You can run, walk, or bike , strollers are allowed  ONLY for the 10K.. Runners/Walkers are ONLY allowed to register for the Half Marathon. All registered participants receive an event t-shirt. Invite family and friends to cheer for you at the finish line at the Blue Angels Park aboard Naval Air Facility El Centro. For more information, call 760-339-2627/2482
Event details and schedule
Blue Angels 10k Event Details and Schedule:
The race begins at 8:00 am at Sunbeam Lake
Registration Dates for those who would like to register in person:
Dillard's entrance at the Imperial Valley Mall:                                                                                                                             
Saturday, February 24th: 1-5pm
Thursday, March 1st: 1-6pm

Friday, March 2nd: 11-6pm

Last day to register online at Active.com is February 28, 2018 at 12:00 am

Bibs can be picked up on March 02, 2018 from 11:00am-6:00pm at Dillard's (Located at the IV Mall)                

MWR patrons can pick up their bib number at NAF El Centro Fitness Center on March 2, 2018 from 10:00am-5:00pm                            

Bib pick up booth on the day of the event will be from 6:30am-7:30am at Sunbeam Lake    

Personal Checks will not be accepted. No refunds. Non- transferable  
First shuttle will be located at the Front Gate of the NAF El Centro
A free shuttle is available running back and forth from 6:30am-7:30am.                
After the event shuttle is available until 11:45am                                                                                                                                                                                                                                                                                                                                               
Blue Angles Half Marathon Details and Schedule:
The race begins at 7am at Desert Trails
Registration Dates for those who would like to register in person:
Dillard's entrance at the Imperial Valley Mall:                                                                                                                        
Saturday, February 24th: 1-5pm
Thursday, March 1st: 1-6pm

Friday, March 2nd: 11-6pm

Last day to register on Active.com is February 28, 2018 12:00am

Bibs can be picked up on March 02, 2018 from 11:00am-6:00pm at Dillard's (Located at the IV Mall)    

MWR patrons can pick up their bib number at NAF El Centro Fitness Center, March 02, 2018 between the hours of 10:00am-5:00pm

Bib pick up at Desert Trails 05:30am-06:30am

Personal Checks will not be accepted. No refunds. Non- transferable
First shuttle will be located at the Front Gate of the NAF El Centro
A free shuttle is available running back and forth from 05:00am-0630am

After the event shuttle is available until 11:45am
Morale,Welfare, and Recreation
Get ACTIVE on the Go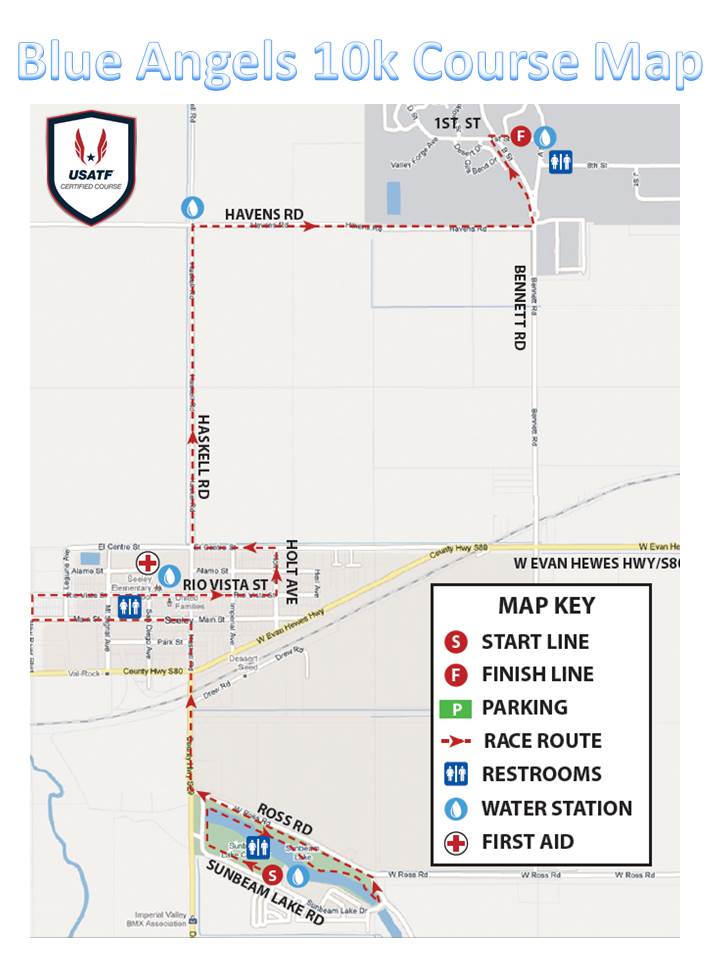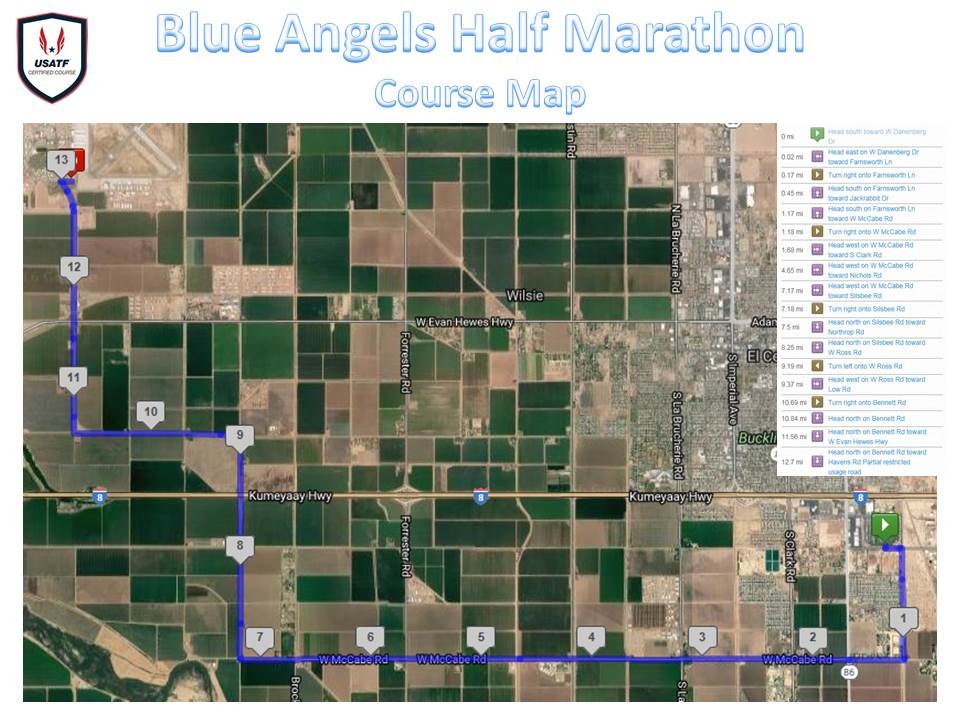 Map & Direction
Blue Angels 10K Sunbeam Lake
•
1750 Drew Rd, Seeley CA 92273 Blue Angels Half Marathon, Desert Trails RV
225 Wake Ave, El Centro
,
CA
92243
Get Directions