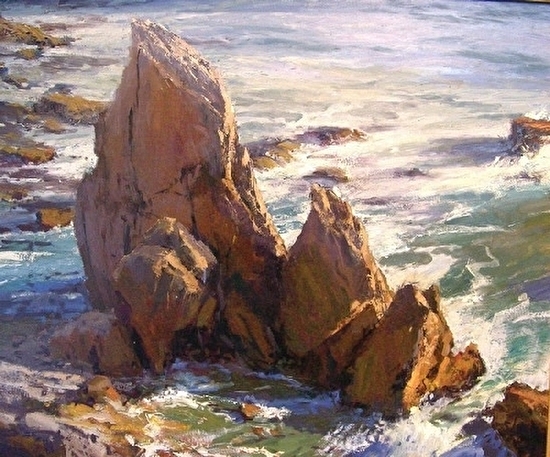 Plein Air Painting at Laguna Beach with Jeff Horn
Presented by Sedona Arts Center
and Laguna College of Art and Design

July 15 - 18, 2013

Join Jeff Horn for four days of painting in the landscape at beautiful Laguna Beach Locations. There are two aspects to good painting. One is grounded in an understanding of sound basic principles: Design and Composition, Drawing, Value and Color Theory. The other is the painter's personal vision, insight and inspiration. This workshop will emphasize the first aspect and is therefore open to all levels of painters. "There are no advanced problems just advanced solutions." Come paint, have some fun and grow in the process!

Hosted by Laguna College of Art and Design, this workshop will meet for the first morning session and final afternoon session in a painting studio at the College. This studio will also be a back-up painting location in case of a bad weather day.

Not Included: Lodging, meals & travel expenses.

Cost: $750 per person
Deposit:$200 per person
Balance:$550 Due June 15, 2013
Cancellation Policy: Initial deposit is non-refundable. After balance is paid on June 15, 2013 there are no refunds on the total amount. It is recommended that you purchase travel insurance which can protect you by refunding monies paid if you need to cancel your trip due to an emergency. Travel insurance is very affordable and can protect you in other ways as well. If the Arts Center cancels the expedition for any reason, all payments will be refunded.
About Jeff Horn

"I prefer to paint directly from nature and I love being outdoors where I can see, hear, feel, smell and even taste the scene around me. For me, the painting is a translation of nature and my experience of it. If I am successful, I take the viewer with me to feel the moment. I believe good painting is not a slavish copy of visual details, but an emotional response to a moment in nature."

Jeff Horn is a professor emeritus of Drawing and Painting from Irvine Valley College in Irvine California. During his tenure he wrote the curriculum for the first California Community College Plein Air Painting course. He exhibits his outdoor landscape paintings at The Laguna Festival of the Arts each summer and at his home studio annually in Costa Mesa, California. He also is a frequent exhibitor To the California Art Club and Laguna Plein Air Painters events. Most recently, Jeff's work is featured in the Bennington Center for the Arts show entitled "Saving Paradise". He received the Excellence in Painting Award at the 2012 California Gold Medal Exhibition. He enjoys painting from nature while out of doors and he actively supports several land conservancy efforts in California with his paintings.

WORKSHOP MATERIALS LIST (copy and paste into new document to print)

It is crucial that workshop participants are fully familiar with how to assemble, operate and disassemble their easel before the workshop.
Recommended Reading
Carlson's Guide to Landscape Painting,
John Carlson (ISBN) 0-485-22927-0
Composition and Out Door Painting, Edgar Payne
Paint:
Titanium White large tube 150ML.
Alizarin Crimson OR Permanent Red
Ultramarine Blue
Cadmium Yellow Light
Viridian Green
Cadmium Orange Light
Cobalt blue
Cerulean
Cadmium Red Light
Yellow Ocher
Burnt Sienna
Canvases, boards, canvas or linen boards 8x10 to 12x16
Brushes (Filberts, Flats, Rounds and Brites) #4 to #8
Palette (not white)
Palette knife (not plastic)
Paper towels or rags and plastic bags
Mineral Spirits (Gamsol recommended)
Container for cleaning brushes (a small one that snaps or screws shut)
ADDITIONAL EQUIPMENT FOR OUTDOOR PAINTING
Lightweight lawn chair or stool, Water bottle, Hat, Umbrella
Rubber gloves, Sun screen, Insect Repellant, Sturdy Shoes
Map & Direction
Sedona Arts Center
•
P.O. Box 569
Sedona
,
AZ
,
United States of America
86339
Get Directions