Description
We're sorry, but this activity is over. The last meeting was Friday, October 25, 2013.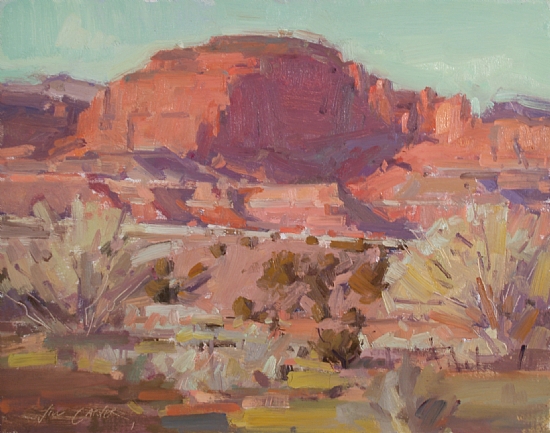 Jill Carver
From Source to Studio
Oct 21 - 25, 2013

The first three days of this class will be spent painting outdoors. We will examine why observation and study direct from nature is so crucial in our development as artists. But will endeavor to put ?plein air painting? in its larger context i.e. that plein-air painting is, more than anything else, about ?learning to see? and being a dedicated student of nature. It is about being effective ?hunter gatherers? and harvesting information. We will complete various exercises in the field to enable us to: 1) gather accurate color note information 2) start deconstructing the landscape into shapes of color rather than nameable objects 3) pay particular attention to the notan theory of dark and light arrangements 4) group values together 5) make our sketchbook key in the process of studying and developing ideas.
On Day 4 and Day 5 we will bring all the information we have gathered back into the classroom and start refining some of our ideas into strong studio pieces. Through group discussions and brainstorming sessions, the emphasis will very much be on motif and design. There will be a demo on most days as well as group critiques and discussions. Evening get-togethers will be encouraged on a couple of evenings, as that is when much of the important dialogue, analysis and learning occur. A ?team? atmosphere will be very much encouraged.
Level: Advanced Beginner to Advanced Student.
This workshop will coincides with the Sedona Plein Air Festival during Jill will be keynote speaker. It should be a great week with a lot of fabulous artists in town too.

Jill Carver will be the Keynote speaker for the 2013 Sedona Plein Air Festival on Wednesday evening Oct Both studio and plein air work by Jill will be available for viewing and sale. Jill's Keynote will address the transition from plein air to studio work that is involved in her larger paintings. This workshop meets during the week of the Festival with the accumulated paintings from the Festival on display Saturday, Oct 26.


TUITION: $650 Students may choose to use a payment plan during the registration process. Your position in the workshop can be held with a $100 deposit. The balance is due 30 days before the workshop is held.

About Jill Carver

My work walks the 'line' between abstraction and realism, and I enjoy that 'dance' or 'tension'. As I keep reminding my students, artists should think of themselves as poets rather than journalists. I want to say something specific about my reaction to a place or a moment in time - to capture the essence but not the whole. I process any idea through analyzing it in terms of shapes of abstract color rather than content. Certain elements will be eliminated totally and others exaggerated to achieve that goal. I particularly enjoy taking something ordinary or incidental and creating an iconic image of it that celebrates nature and challenges the viewer to be more observant of their surroundings.

Originally from London, England, Jill Carver moved to the United States ten years ago. Before becoming a full time professional artist, she was a curatorial research assistant at the National Portrait Gallery in London for 12 years. Jill currently divides her time between Austin, Texas, and Rico, Colorado.

A 'painter's painter', recognition for her work has come quickly, and she has won numerous awards including Artists Choice, most recently at the Laguna Beach Invitational in 2009 and previously at Telluride in 2009 and at Plein Air Easton in 2008. She has participated in the prestigious Maynard Dixon Country event for four consecutive years, and is a popular and highly regarded teacher.

In January 2009 the editors of Southwest Art Magazine named her as one of ten artists to watch. They followed up with a feature length article in June of 2010. To view the article click here.
Peter Trippi, editor of Fine Art Connoisseur, named her as one of three artists to watch in the Sept/Oct 2010 issue of FAC. To view that article click here.

---
Class meets 10 - 5 on the first day, with subsequent meeting times and locations to be arranged by the instructor.
Activity
From Source to Studio #JC13p
Price
Standard charge: $650.00
Type
Workshops
Meeting dates
Mon-Fri, Oct 21-25, 2013
Activity Category
Workshops
Activity Sub-Category
Plein Air (outdoor painting)
Registration dates
Last day for Internet registration: Dec 31, 2013
Status
3 openings remaining
Gender
Coed
Skills
All Levels
Location
Sedona Arts Center Campus
Instructor
Jill Carver
Supervisor
Department Staff
Season
2013 Workshops
Term
--
Map & Direction
Gallery Building
•
89A and Art Barn Rd.
Sedona
,
AZ
86339
Get Directions