GOTR Napa Valley Details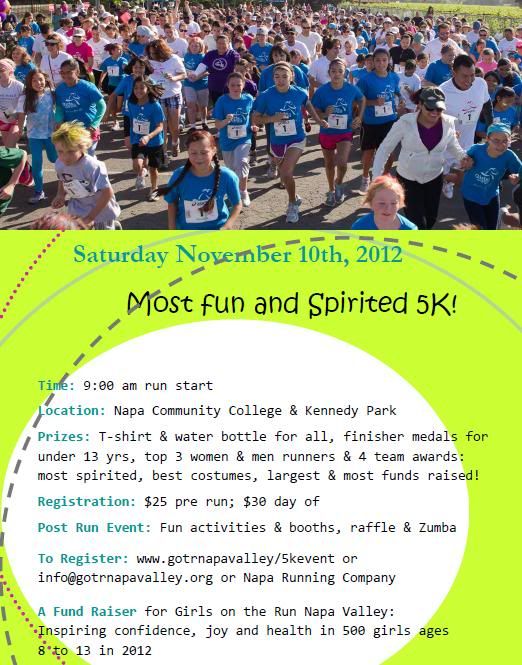 Course Map
Team Creation Instructions:
If you want to participate with a team someone designated as the 'team captain' must click on the Team Captains - Create your Team above. Once the team has been created it will appear on the registration form and all members, including the captain, should select their team.

Team Fundraising Instructions:
If your team would like to fundraise for GOTR Napa Valley the captain must log in to www.active.com/teams and click on Create Fundraising Page.

Individual Fundraising Instructions:
Each individual will also have the opportunity to create an individual fundraising page during the registration process. If you join a team your individual fundraising page will be inked to the team fundraising page.


Girls on the Run Napa Valley 5k! Run or Walk on bike trails along the napa river with a Start and finish around the Napa Valley Community College Track. RAIN OR SHINE!
• 9:00 a.m.: 5K (3.1 miles): Open to all (day of registration starts at 8:00am)
• 9:30 to 11:00 a.m.: FUN BOOTHS & Zumba post run with Awards & Raffle at 10:30!Fun raffle prizes from Napa businesses (need to be present to win).
WHY: Get out and MOVE IT by doing something healthy for yourself & your family while supporting Girls on the Run Napa Valley!
GOODIES: T-shirts, water bottles, Zbars & Luna bars & water for all participants.
• 5k finishers: Medals given to all GOTR & children (13 yrs age & younger).
• Awards given to the 1-3 overall male & female finishers AND to teams with best customes, most spirited, largest and most funds raised!
Girls on the Run Napa Valley is a non-profit organization that helps inspires young girls to be confident, joyful and healthy using a fun, experience-based curriculum which creatively integrates running while preparing to complete a community service project and a 5k fun run! In 2012, GOTR will inspire 500 girls with 375 in financial need and 315 Latina. GOTR needs to raise $105,000 for 2012 with $35,000 remaining until the end of the year. Help inspire the next Olympian, President , or Teacher!
Online Donations
Click here to donate to Girls on the Run Napa Valley
Get ACTIVE on the Go