Featured in Men's Health, MSN.com, and LA Confidential as a top fitness program in the country!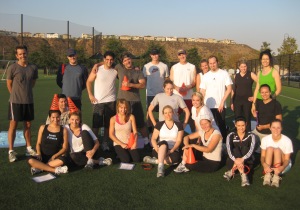 Too often exercise programs focus only on the body, yet our mind and emotions play a key role in our level of commitment and motivation. At SONKI FITNESS, we focus on all three facets (mind, body, & soul) to ensure our clients can get in shape AND stay that way for life.
SONKI FITNESS is definitely the type of fitness outlet that needs to be experienced firsthand, especially if you're unfamiliar with this kind of training or want a break from the monotony of gym life. It's a results oriented and reliable way to "get in the best shape of your life" that will reciprocate exactly what you put into it on a physical level. But you may find the real rewards come with the friendships forged and the experience of self improvement on a collective scale.
Everyone has preconceived limitations, and SONKI FITNESS is where those limitations are met and then bulldozed aside...
"You and your program have changed my life..." -- Kate S. "Hands down, joining Sonki Fitness is the best thing I've ever done for myself!" -- Genevieve C."I am AMAZED at the results after just 4 weeks." -- Julie B.
"This is honestly, the first time exercise has been fun for me and not an obligation!" -- Beth M.
Also, join us in Hawaii for our
Sonki Fitness Vacation
!
Additional Date Information
Mornings and evenings