Razorback Gymnastics Camp for Girls
Razorback Gymnastics Camp for Girls
Date
Start: Saturday, June 22, 2013 @ 1:00 PM (CDT)
Address
University of Arkansas
101 Bev Lewis Center




Fayetteville

,

AR

72701
Registration Closing Date
Saturday, June 15, 2013 @ 11:59 PM (CDT)
Online registration will close once 200 campers have registered and paid. "Participants are not contracting with the University of Arkansas or the State of Arkansas with regard to participating in this camp, and the University of Arkansas and the State of Arkansas do not run or have any responsibility for the camp."
Resident Camper: $515
Day Camper: $385
WHO CAN ATTEND: The camp is designed for all female gymnasts ages 7 and up, from beginner to elite. Previous experience is recommended.
---
FACILITIES:
Gymnasts will train in the Bev Lewis Center. This multimillion dollar facility is home to the Razorback Gymnastics Team. The training gym is considered to be one of the finest facilities in the country. Dedicated in April 2003, the center is named for Women's Athletic Director Bev Lewis. The 15,000 square foot, air-conditioned facility is complete with a fully-equipped training room and includes:
ALL STATE OF THE ART EQUIPMENT:

• 3 Vaulting stations into foam & resi pit
• 4 sets of Uneven Bars into foam & resi pit
• 1 single Bars into foam and resi pit
• In-ground Channel single bar
• Trampoline single bar
• 5 Reflex Balance Beams
• Resi pits for end & side Beam dismounts
• 2 Low Beams
• 50'x50' Floor Exercise
• Tumbling strips into foam & resi pit
• 50' Rod Floor
• 50' Tumble Trak
• 2 in-groundTrampolines
• Spotting belts on all equipment
---
AIR TRAVEL:
Overnight campers arriving via air at Northwest Arkansas Regional Airport must call no later than three weeks prior to the camp date to arrange transportation to camp. Call (479) 575-4479 to make travel arrangements. There will be a one-way $45 transportation charge ($90 round trip) to and from the airport, via Super Shuttle Service.
---
HOUSING:
Overnight campers will be housed in a
BRAND NEW
residence hall, which is a double occupancy hall, located near the Bev Lewis Complex! Gymnasts will have supervision from camp staff at all times and the residence hall will be staffed around the clock. All camp counselors will be staying in the residence hall each night supervising overnight campers.
---
ROOMMATES:
A roommate request may be made on the camp application. Make sure your roommate puts you down on her application as well. Anyone who does not specify a roommate will be paired with another gymnast of approximately the same age. There will be two gymnasts assigned per room.
---
SCHEDULE: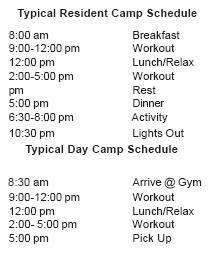 ---
CAMP RULES:
NO LEAVING DORM AT NIGHT (even if you have a car!!) You will be removed from camp if this occurs.
Parents are not allowed to take kids away for lunch during camp.
No food or drink allowed in the gym. Water Bottles (with water in them) are the exception.
No parents in the gym or the observation deck. This becomes a distraction for the kids and coaches.
COACHES—If you are coming to observe, please watch from the observation deck on the second level of the Bev Lewis Center. You may discuss skills with designated coaches in between the morning and afternoon workouts.
SAFETY FIRST ALWAYS! No Diving into pits head first. Please ask your camp coaches before attempting any skills.
Only one person at a time allowed on the trampoline.
No running or horseplay in the gym.
You must ask permission to leave the gym for any reason.
You cannot leave the camp without permission of Director.
NO GUM in the gym!
No smoking, drugs, or alcohol.
No profanity.
No cell phones during gym time.
No going into anyone else's room without permission.
No tampering with the windows in the dorm rooms.
We are not responsible for lost or stolen items.
Report any illness or injury to an athletic trainer.
Any lost keys to dorms will COST $150
---
Group Discounts:
Group discounts are awarded to groups of 10 or more gymnasts.The discount for day campers is $10 per participant, and the resident camper discount is $15 per participant.
GROUP REGISTRATION MUST BE MAILED IN TOGETHER IN ORDER TO RECEIVE THE DISCOUNT. NO EXCEPTIONS!
---
WHAT TO BRING:
Everyone should bring t-shirts, shorts, leotards, personal gym equipment (grips, wrist guards, & tape). In addition overnight campers need to bring pajamas, toiletries, pillow, blanket/sleeping bag, towels, bed linens for a twin bed, door decorations (optional) and bathing suits.
---
CANCELLATIONS/REFUND POLICY:
There will be a $75 administrative fee for all cancellations and a $20 fee for NSF- returned checks. This is in addition to any online registration fees.
Upon receipt of deposit, each camper will receive a packet of information that will include an emergency health and insurance information form which is to be filled out and returned with the balance by the final deadline. Any applications that are sent after the deadline of June 1st, 2013, must be paid in full.
---
FOR FURTHER INFORMATION
Contact:
Jaime Pisani
Office: (479) 575-4479
Fax: (479) 575-2203
jpisani@uark.edu
Fees
$385 day camper
$515 resident