Hi!...My name is April Hartsook and I am Fitness Philanthropist~ the Creator and Driving Force behind the "Want Different....DO Different" Health and Wellness Lifestyle Movement, a Television Public Figure and TV Personality, a Life Coach, Model, and an Ambassador in helping raise awareness and funding to find a CURE for ALS ( Lou Gehrig's Disease)
Having witnessed the Courageous fight of Jon Blais in 2005 as the only person having been diagnosed with ALS, to not only compete but COMPLETE the IRONMAN in KONA HAWAII, my calling was born.
TIMELINE:
*Oct 2005 Jon Blais become the only person to COMPLETE an Ironman at the Ironman World Championships in KONA Hawaii having been diagnosed with ALS ( Lou Gerhig's Disease)
*April 2007 Karen Kelly "O'Riordan" racing in Brazil, we meet on the race course, she proceeds to inform me of her need to get to the finish line to get a Kona slot to race for Jon Blais (fighting for his life now confined to a wheelchair form ALS) and for her mother and her Grandfather who both died form ALS
*May 2007 Jon Blais Dies from ALS
*May 2007 I join the BLAZEMAN FOUNDATION FOR ALS in honor of my friend, mentor and coach Rosemary Craig dying from ALS
*Oct 2007 Karen competes in Ironman World Championships wearing Jon's bib #179
*Dec 2007 My beloved friend Rosemary Craig Dies from ALS
* 2008 the FIGHT IS ON, for 5 more years Karen and I fight raising awareness and funding to help[ find a cure for ALS
*Aug 2012 Karen is diagnosed with ALS
*Aug 2012 I begin Campaign to get to Kona to race for Karen , for Rosemary, for Jon and for all those still suffering from ALS
*Mar 2013 KONA FOR KAREN YouTube Video
we make the final round with KONA INSPIRED race slots
*June 2013 notified we didn't win the slot,
*Sept 2013 Karen Kelly O'Riordan Dies from ALS
*Oct 2013 April to KONA for Karen's Celebration of Life Ceremony with Gary Hewlett, Christine Kelly, Hadley Hewlett, Scott Rigsby & many more
My IRONMAN Races consist of ~2.4 mile swim...112 mile bike...26.2 mile run...it is the Ultimate Endurance platform in which I have learned the FINISH LINE isn't the REWARD~ the JOURNEY of self discovery through GIVING ...SO OTHERS MAY LIVE is the REWARD!!!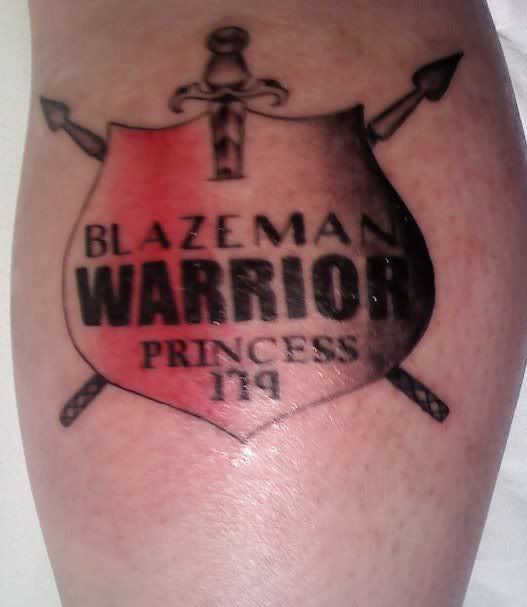 I became a Blazeman Warrior Princess to honor Jon Blais and his Life, to raise money for the funding of research towards a CURE for ALS, and for my friends, ~ Rosemary Craig, who showed me that the tools I needed to trudge the road of life, and Karen Kelly who showed me what COURAGE truly looks like!......Rosemary, Karen and Jon lost their lives to the deadly disease of ALS, and eventually Richard will too and it is my greatest wish to raise as much money as possible... to Inspire HOPE...to instill Courage and Determination...and above all to fund research for a CURE...I simply cannot do this alone...I NEED YOU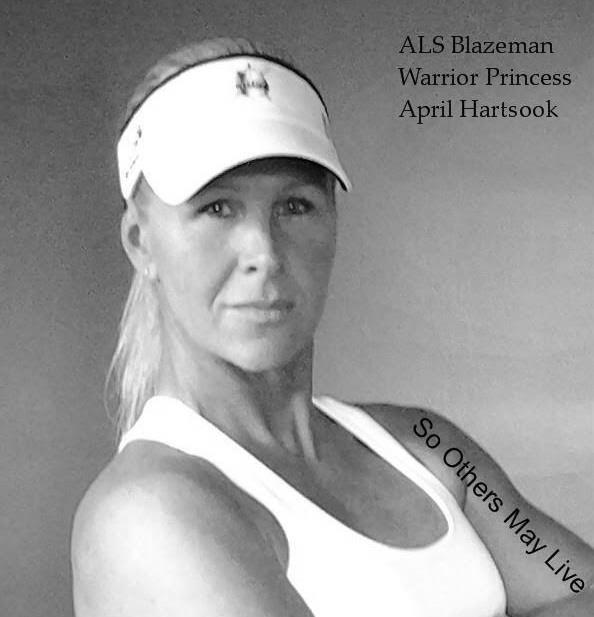 Jon Blais (August 30, 1971 – May 27, 2007), also known as Blazeman, was an American triathlete. Born and raised in Seekonk, Massachusetts, he moved to San Diego, California, because of its reputation as a mecca for triathlon. He worked as a special education teacher. On May 2, 2005, at age 33, he was diagnosed with amyotrophic lateral sclerosis (ALS or "Lou Gehrig's disease"), a terminal muscle-wasting illness. He was permitted to enter the 2005 Ironman Triathlon in Hawaii, a life-long dream. He is believed to be the first person with ALS to attempt the Hawaii Ironman. As Blais put it, "Finishing the race is huge for me. No one is beating ALS. No one has done anything but walk away and die." With a total time of 16:28:56, more than half an hour before the cutoff, he "log-rolled" across the finish line and is certainly the first person with ALS to finish this race. He died on May 27, 2007.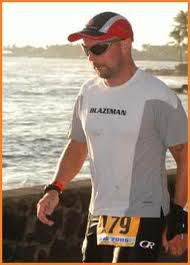 April Colescott


Create Your Badge
Each day in our lives people are placed before us to teach us something about ourselves...about our hearts...about our faith...about our love...about our courage...and about giving of ourselves to another...To all those who have taught me along my RACE in life thank you for sharing this point in time with me..
To Jon "Blazeman" for leading this Warrior Princess on her way and teaching us that "Together" we are indeed stronger than alone...Your Love touched us ALL Jon and your legacy lives on in those of us who heard your call to arms....To Rosemary RIP, & Karen "Kelly" O'Riordan RIP your sacrifices have taught me more about the woman I am striving to become than I could have possibly imagined, to my new friend and fellow WARRIOR RET Marine Richard Thiede TOGETHER we are going to CHANGE THE WORLD AS WE KNOW IT and as long as I have legs and a voice SO WILL YOU!!!~ To Bob and Mary Ann Blais for your love and support in all I do...to My 3 Incredible Children and my incredible Man Randy!...It is through each of you I find strength...and through your support I conquer...and through your LOVE I promise to keep "DOING DIFFERENT" ...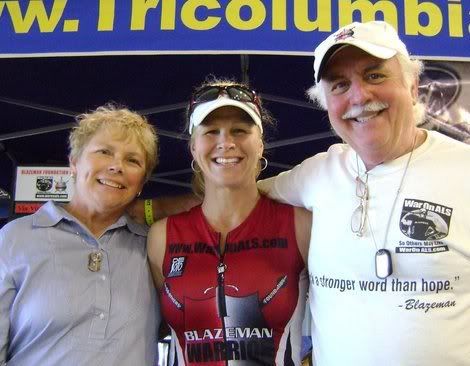 2014 EVENT/RACE SCHEDULE
FROSTY 50K WINSTON SALEM NC JAN 4, 2014
IRONMAN PANAMA 70.3 PANAMA CITY FEB 16, 2014

CYCLE FOR ALS (SPIN EVENT) MAR 1, 2014 RI

WHITE LAKE HALF IRONMAN WHITE LAKE NC APR 6, 2014

IRONMAN NEW ORLEANS 70.3 NEW ORLEANS LA APR 13, 2014

SAVAGE 100 MILER SAVAGE MN MAY 17, 2014

CHALLENGE ATLANTIC CITY 140.4 ATLANTIC CITY NJ JUN 15, 2014

CHALLENGE ROTH 140.6 ROTH GERMANY JUL 20TH, 2014

IRONMAN LOUISVILLE LOUISVILLE KY AUG 24, 2014

ROCK N ROLL HALF MARATHON VA BEACH VA AUG 31, 2014

CLIMB FOR COURAGE CHARLOTTE NC SEPT 11, 2014

IRONMAN WORLD CHAMPIONSHIPS KONA HI OCT 12, 12014

MARINE CORP MARATHON WASHINGTON DC OCT 26, 2014

ROCK N ROLL HALF MARATHON GEORGIA NOV 8, 2014

MISTLETOE HALF MARATHON WINSTON SALEM NC DEC 6, 2014

Quote from April after ALCATRAZ TRIATHLON 2010

~ "It wasn't the 55 degree water...the insane Cross Currents of the San Francisco Bay...or even the thought of sharks circling beneath me... that got me through the Swim...It was an undying faith that through LOVE, GROWTH and COURAGE my father was standing at the foot of the shore waiting to meet me with open arms....and as the tears filled both of our eyes...I KNEW, it was going to be a fantastic race!"....YES I CAN DO ANYTHING!!!!! April Hartsook San Francisco Triathlon at Alcatraz

QUOTE from April after Louisville IRONMAN :

"Antibiotics needed for bacterial infection after Swimming 2.4 mi in the Ohio River :$40...Crutches, knee brace and ankle wrap needed after crashing on the 112 mile Bike leg: $75...Meeting a stranger and Helping him Run the 26.2 mile marathon to see him become an IRONMAN...PRICELESS..."...."Thank You Michael Baffi for allowing me to walk the Journey with you!"...IRONMAN April Hartsook Blazeman Warrior Princess

Exert from April's White Lake Half IRONMAN Race Report:

"I was thinking about that very moment in time...I was thinking where my life's choices had taken me...where being at a RACE...talking to a complete stranger...sharing the journey through the physical and mental obstacles before us...was the exact place in life I was supposed to be...I felt so alive...I felt so filled with a sense of purpose...not EGO driven...but heartfelt and Spirit driven...I was beginning to see that my soul was full and I was given the venue in which I am supposed to administer His message....I was being taught yet again that placing another's needs before our own...is the truest test of mans Will to become more Spiritual and his desires to grow closer....giving of oneself to help another is the ultimate reward received on earth...

We managed to make it to that final mile....and as I began to share some final thoughts I wanted him to know that he now had a responsibility...he looked at me funny...I said..."Your job now is one day in your life you will be called upon to put someone else before you...it may be a race...it may be at work...it may be with your children...your wife...or a complete stranger...but your job is to give of yourself without expecting anything in return for your service...to share love with someone simply because it is the right thing to do"...he looked at me...we both had tears in our eyes...he had done his job...he was about to round the corner and cross the finish line to the amazement of all his family and friends...and I began to slow down...and he goes..."Where are you going?"...I said this one is for you...."Go ahead and run my friend"..."show them the IRONMAN you are"...he hugged me and said thank you for saving me and for giving up your race for me I will never forget you"...and I slowed far enough back to watch him run as fast as he could...his three small boys ran out from the crowd screaming GO DADDY GO....his wife cheered...his friends yelling...he grabbed those boys hands and for a moment they saw their father as "Superman"...and my heart grew ten times its size inside my chest....I quietly ran towards the finish line...and then began to walk towards the line on the ground....and I knelt down...laid on the ground...closed my eyes and cried as I rolled across the finish line thinking of JON ( just as he taught us all to do)....and I said to myself...."I have been waiting ALL day to do this!"....it may not have been a PR (personal Record)...but it was indeed a PR(PERFECT ROLL).....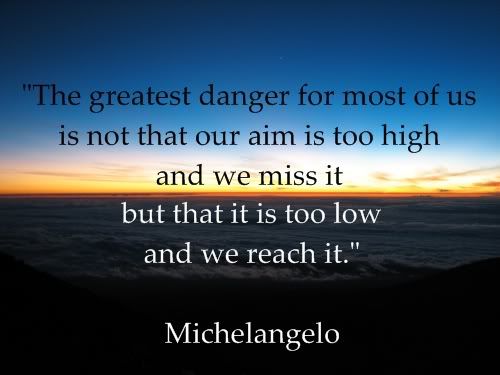 The reward for Personal Sacrifice can only be measured within the Heart...Making the difference in the life of another human being is the greatest reward on Earth!!!...Thank you "AL Best" for allowing me to walk the journey with you!!....April Hartsook "White Lake Half IRONMAN ..

Only as a Warrior Princess can one withstand the path of knowledge...A Warrior cannot complain or regret anything... Her life is an endless challenge, and challenges that cannot possibly be good or bad... Challenges are simply challenges... Nobody is born a warrior, in exactly the same way that nobody is born an average man... We make ourselves into one or the other..It is through the path of a Warrior Princess that she discovers her Strength, her Courage, her Determination to Conquer and her Hunger to seek the Good in all of mankind...This Blazeman Warrior Princess will NEVER REST....Find a stronger word than HOPE....CURE

People follow Courage...They do NOT follow titles...How will you be remembered?...Which path will you Choose???