Its that time of year again, time for the NF Endurance Team to hit the Long Beach Marathon! I am back this year as a Team Captain, and need your help to reach my goal of raising $5000 for CTF!
Last year I ran the full marathon in Long Beach! That was 26.2 miles! I felt amazing when I crossed that finish line surrounded by my family and friends. I knew I could do anything if I just put my mind to it. This year I will be running the 5K and focusing on speed. Why? Because we are racing for a cure and I want to get there fast!

The Children's Tumor Foundation is a great cause which focuses on finding a cure for all 3 forms of Neurofibromatosis. I have NF2, which is a debilitating neurological disorder that causes brain and spine tumors to grow. My Grandma Norma, Mom, and Uncle Eric were all paralyzed and deaf before having their lives tragically taken by NF2. I was diagnosed as a baby and have had brain surgery, multiple spine surgeries, radiation therapy and am now deaf and suffer from chronic pain and disequilibrium. My son JT is only 7 years old and is already blind in one eye from NF2. At this point the only way I know how to fight, is to RUN. If we don't fight back we can't expect to win!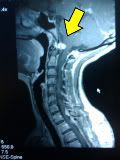 In the last year I was diagnosed with a brainstem tumor I've named Mo Fo. Mo Fo thought he was going to do some damage, but I had him zapped with Gamma Knife and I know in my heart his days are numbered as that radiation soaks into him. I was lucky to be able to have Gamma Knife on Mo Fo, and may not be so lucky with every single one of the countless brain & spine tumors I have. The only way I can beat this disorder is to achieve our pipe dream of a drug treatment for NF2 tumor growth. How do we reach that goal? We support the Children's Tumor Foundation!
We are running for a cause, and make no mistake about it, we are making a difference with every step!! The NFET is the largest CTF program funding NF research; indeed all donations to the NF Endurance Team are restricted for use in the CTF science and research programs. Our goal is to reach $2 million in 2010 - one dollar for each person in the world who has NF. For more specific information please visit our Team Fundraising Dollars at Work!!
So What Can YOU Do To Help?
1. You can donate here on my page, every dollar helps and is much appreciated!

2. You can join us in Long Beach! Being a part of the team is an amazing experience, and you will know that you are part of a motivated and awesome team of people working toward a genuinely good cause! You can walk 3 miles, or run that full marathon you have dreamed about, or anything in between! To get started just visit the events tab at The NF Endurance Website!

3. You can be a NFET Volunteer and Cheerleader! Just contact me for more information!

To learn more about NF, a very common genetic disorder and information on current research CLICK HERE.