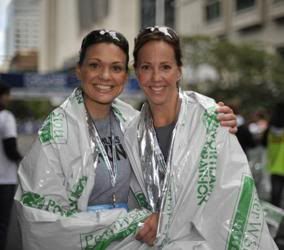 &nbsp&nbsp&nbsp&nbsp&nbsp&nbsp
Thank you for donating and/or fundraising for our unique program and allowing us to utilize financial resources to in turn help other charities, organizations and worthwhile causes.
Donations to The Portland Marathon Going the Distance Foundation are used in two ways:
1. As independent donations to a variety of local charities and organizations
Through the Going The Distance Foundation and the Marathon Direct Giving Program, many direct donations are given by the event to our volunteer groups. The Portland Marathon recruits over 4,500 volunteers annually to assist with our event. Our volunteer program has served as a vehicle for providing school and organizational credit and experience for a host of local charities, nonprofits, sport, school, and service clubs. Each year we have many success stories shared with us on how the program continues to benefit others.
2. As a platform for any Portland Marathon event participant or volunteer to raise funds for the charity of their choice, if not listed on our official charity list
Designate which charity you are raising funds for. Funds will be distributed at the end of the season. If you are raising funds for an unofficial event charity, your donation will be presented to that charity with your name as the provider of the donation funds. Please submit questions about the Going The Distance Foundation Program to info@portlandmarathon.org.