4th ANNUALBRIGANCE BRIGADE FOUNDATION 5.7K CHAMPIONSHIP RACE AND 1.57 MILE FAMILY RUN/WALK plus a KIDS FUN RUN!

Please read the following information. If you have questions about the registration, please email andrea@bluecheetahtiming.com
If you want to register and pay for an entire team all at the same time, please contact us and we will send you a form and information.
Join the Brigance Brigade Foundation on Sunday, April 30th, 2017 at 9 am for the 4th annual BBF 5.7K Championship Event at Baltimore's beautiful Canton Waterfront Park (3001 Boston St, Baltimore, MD 21224).
In 2017, we #RaceforALS to honor former Baltimore Raven O.J. Brigance's 10 year anniversary of his ALS diagnosis; a decade of embodying that All Things Are Possible Fighting ALS.
In solidarity with his tremendous strength and service, we will race, run, walk, stroll, roll, and raise funds for ALS families, just in time to kick off the month of May -- ALS Awareness Month. Join us!
In honor of O.J. Brigance's jersey number (#57), the 5.7k Championship Event features:
Timed 5.7k run/walk

$

40 pre-registration, $45 April 29-30th)

1.57 mile run/walk ($35 pre-registration, $40 April 29-30th)

Kids' fun run/walk ($10 - all dates)

Virtual Racer - $40

Professional timing services provided by Blue Cheetah Sports Timing and Event Management, LLC
Proceeds equip, encourage, and empower those battling ALS and their families.
In 2016, participants from 14 states registered for the 5.7k Championship Event! This year, we've set a goal to increase participation and show ALS families they are not battling alone.
THIS EVENT IS RAIN OR SHINE! NO REFUNDS WILL BE GIVEN.
For those who want to participate without traveling to Baltimore, or who might not be able to race that day, we offer a BRAND NEW virtual race option in 2017:
- Sign up as a Virtual Racer with your family and friends
- Build your team page to collect donations
- Race your own 5.7k (3.54 miles) or 1.57 miles wherever you are – or -- sit back, prop up your feet, and feel awesome that you equipped, encouraged, and empowered ALS families!
- Engage with the Brigance Brigade Foundation on social media, share your training stories (successes and failures welcome!) and your times using hashtag #RaceforALS
- We will send you a race swag package so you can participate in style
Calling all Corporate Teams!
The Brigance Brigade Foundation Championship Event is a great way to honor your New Year's fitness goals, and create a memory that will be talked about around the watercooler for months to come.
Your team can feel GREAT because your registration and fundraising support will equip, encourage, and empower people living with ALS (PALS) in your community.
Whether you run, spin, stroll or walk – everyone who participates is a Champion. This healthy competition is good for you, your team, and your community. Hope to see you there!
What kinds of teams are welcome?
Families

Business teams or co-workers

Church groups

Sororities or fraternities

Business alliances

Wellness or health groups

Community organizations

Cheerleading or other sports teams

…and more!
1.57 mile walk finishers and 5.7k finishers will receive a commemorative "tek" shirt and event swag. 5.7k Finishers will receive a marathon-quality commemorative race medal as well.
Top fundraisers will receive some fabulous incentive swag – to be unveiled in Spring 2017!
Following the race, participants will have access to our Celebration Village which will feature post-race snacks and beverages, harbor views, tents and tables, and music and entertainment for all ages including a kid's fun zone!
Race fees are non-refundable and the Event is rain or shine (and we mean it!)
ABOUT THE BRIGANCE BRIGADE FOUNDATION
The foundation was founded by former Baltimore Raven, O.J. Brigance and his wife, Chanda. O.J. Brigance is currently the Director of Player Engagement for the Baltimore Ravens and was a key player for the Ravens during the Super Bowl XXXV Winning Season of 2000.
He was diagnosed with ALS in 2007, and this year we will honor his decade of dedication to the ALS community. Proceeds from the race will benefit the Brigance Brigade Foundation which equips, encourages and empowers people living with ALS (Lou Gehrig's disease or amyotrophic lateral sclerosis). The Brigance Brigade Foundation improves the quality of life for ALS patients and their families by providing access to much-needed equipment, support services, and resource guidance.
Read more about the Brigance Brigade Foundation, the 5.7k Championship Event, and ALS here: www.brigancebrigade.org
Event details and schedule
The 5.7K race will start at 9 am on April 30, 2017, followed by the 1.57 Mile Family Walk/Run and the Kids Fun Run.
PUBLIC PARKING:
FREE parking will be available for participants at the Canton Crossing Waterfront Parking lot, located at 1410-1500 S. Clinton Street, Baltimore, MD 21224 from 6:00 AM – 2:00 PM on race day.
Thank you to our Parking Sponsor COPT Property Management Services!
See image of parking area at www.brigancebrigade.org
*We highly advise runners to arrive before 8:15 AM to avoid traffic.
Packet pickup will be held at Canton Waterfront Park on Saturday April 29, 2017. Hours will be announced soon and will be posted here and on our website, www.brigancebrigade.org. Participants may also pick up their packet on the morning of the event, starting at 7 am. Please bring your ID to packet pickup.
Awards will be given to our top 3 overall Male and Female 5.7k Finishers and to our top 3 para-athletes.
Questions about fundraising or fundraising page set up? Contact Amanda or Kelly at the Brigance Brigade: 410-878-2030 or info@brigancebrigade.org
Questions about registering for the race via active.com? Contact Blue Cheetah Sports Timing: andrea@bluecheetahtiming.com or 443-760-0568
Questions about the details of the race? Visit : http://www.brigancebrigade.org/brigance-brigade-foundation-5.7k
http://www.brigancebrigade.org/how-you-can-help/events
Blue Cheetah Sports Timing, LLC
Get ACTIVE on the Go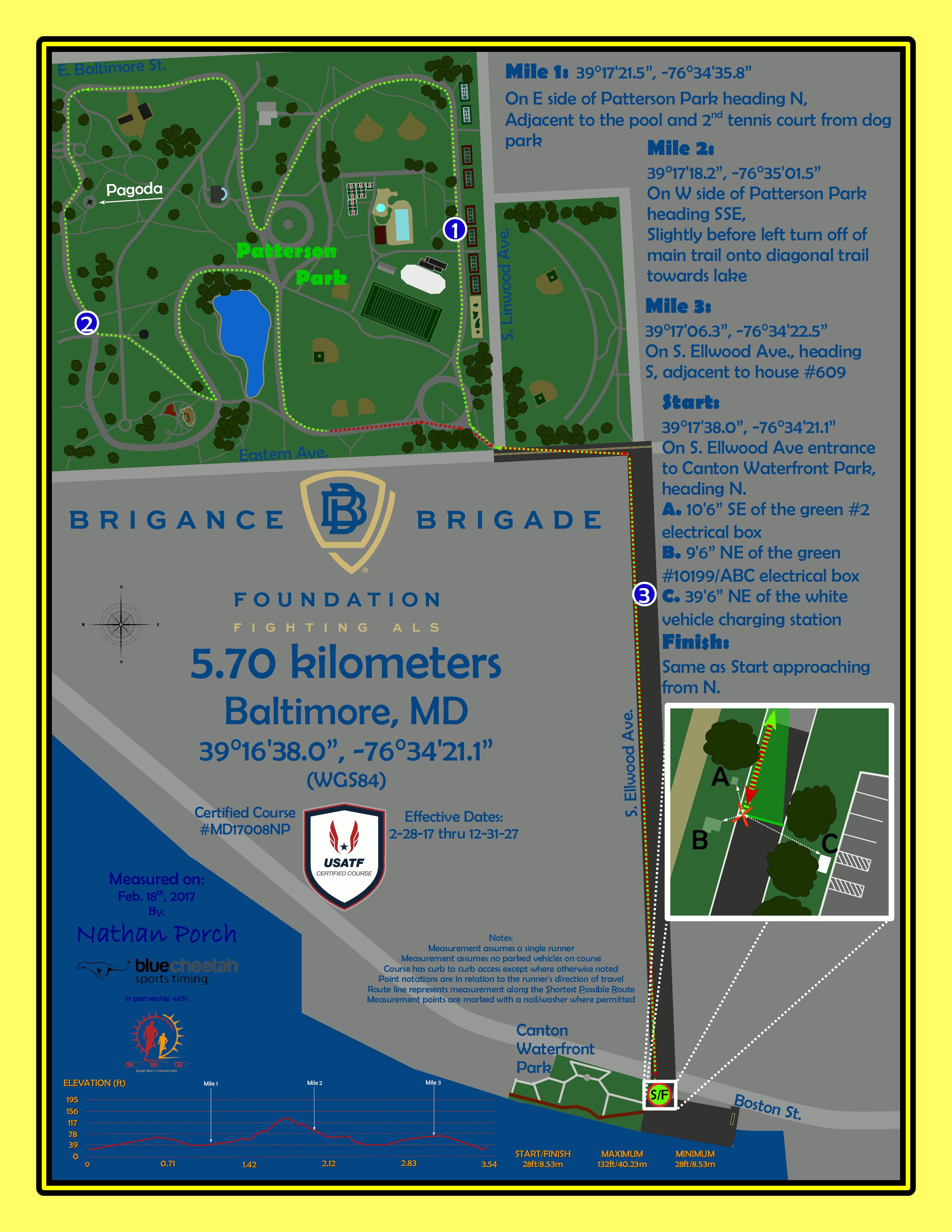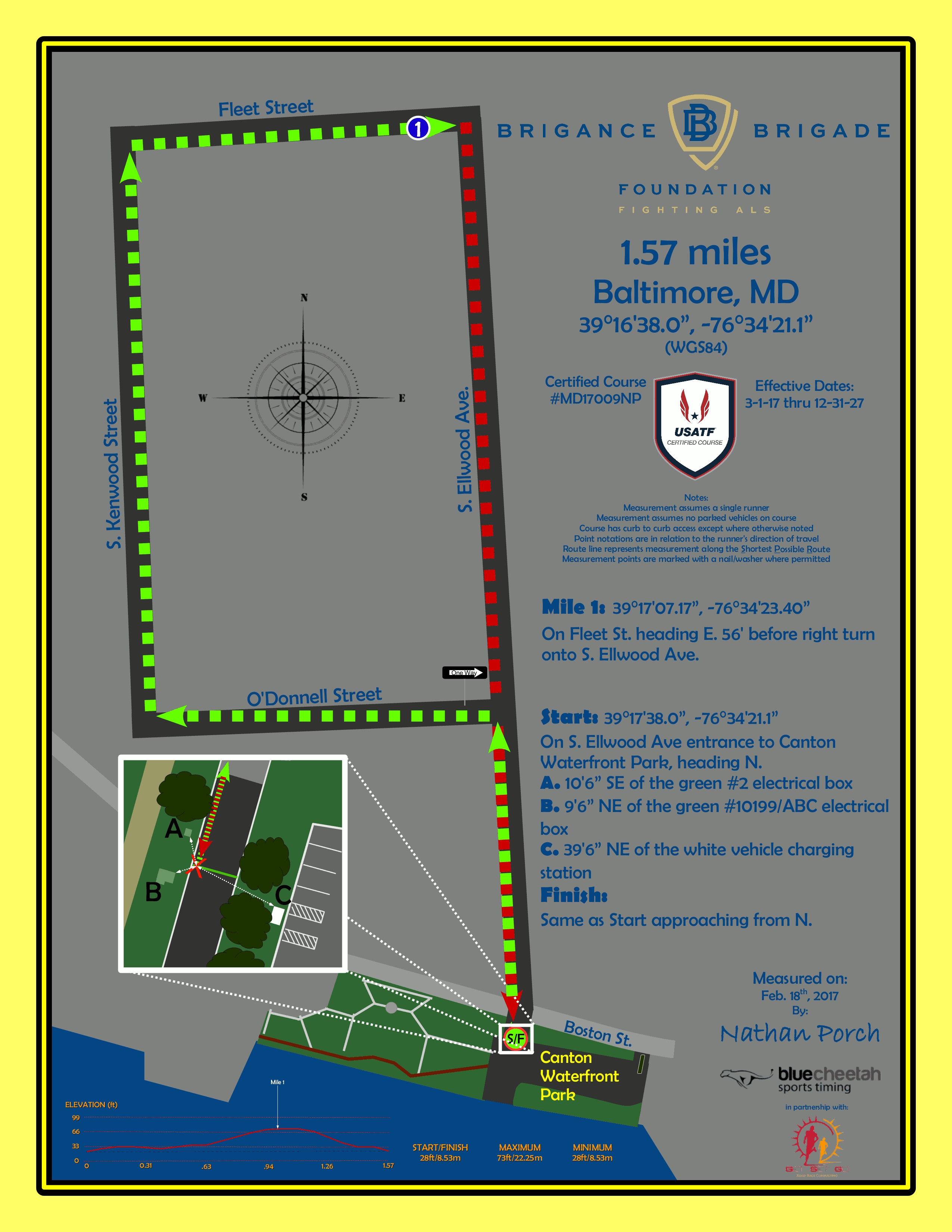 Map & Direction
Canton Waterfront Park
•
3001 Boston St.
Baltimore
,
MD
21224
Get Directions